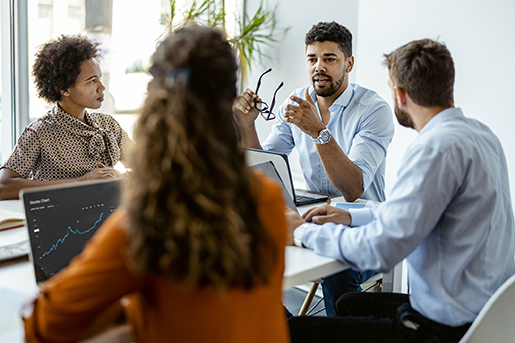 The tech industry is constantly evolving and with world events shaking the global tech landscape, MSPs must try to keep pace. Covid-19 triggered challenges across the board for business owners, and despite continued uncertainty, data collected in CompTIA's Trends in Managed Services 2022 suggests that a majority of MSPs remain optimistic about the future.
What has the pandemic and subsequent events set the industry up to do, and what should MSPs understand about the latest industry trends?
CompTIA recently heard from a trio of industry thought leaders at a UK Business Technology Community meeting in Bristol, UK and got their take on these topics and more. Here's a look at what they had to say.
Trending Towards Optimism
Understanding the impact Covid-19 has had on MSPs is crucial when looking at the future of the technology industry at large. There are two ways to look at the pandemic, the initial effects, and what it has set the industry up to do.
Initially, MSPs everywhere had to double down on new areas of focus to bridge gaps and support their customers moving to fully remote business models. These necessary adjustments set the industry up for success in the event of an economic crisis.
"Covid meant that all of you made your businesses so much more agile, that if a recession did come it would benefit you quite a lot because you can pivot far more than the big players in the market," said Jason Kemsley, director at Uptime Solutions.
Getting Ahead: Preparing for a Macroeconomic Crisis
What would a macroeconomic crisis mean for MSPs and how can your business prepare? According to Greg Jones, business development director at Datto in the EMEA region, "Be that value add, look at how you can challenge the status quo within your clients' businesses and just ask them some quite frank questions around their business processes."
Just as you would expect a lawyer, doctor or anyone else in the professional services industry to present you with all your options, you must do the same for your clients. According to Dan Scott, IT nation community director at ConnectWise, "If you believe that something is the right thing to be talking about, always have the conversation. If a client says no and gives you a reason, then you will at least have explained the risk, they've understood the risk and they've accepted the risk."
A cybersecurity breach or ransomware attack is the last thing anyone wants to face, especially in times of economic downturn. Open and honest conversations with those you do business with will help you to gain a holistic understanding of their needs so that you can mitigate risk and better support them.
"Some of our fastest growing partners are the educators that are going out there and cascading the information and knowledge of just what is happening in the industry," said Jones.

Related Content: What's Keeping MSPs Up at Night? | Trend Watch
Supply Chain Logistics
Supply chain shortages have caused lasting challenges for businesses everywhere. When shortages like this occur, it takes time for the supply chain to bounce back. Here are a few ways you can adjust to combat these shortages:
Get ahead of demand and push your timelines further out

Extend your lifecycles so that while you are waiting on equipment you can remain secure

Look at cloud technologies to offset when you can't get hardware
According to Mostyn Thomas, CEO of Astrix Cybersecurity, "If you're there when they [your clients] need you and you can provide a different point of view or a different way around the issue, you will be that trusted advisor."
Building on Recurring Revenue
No matter where in the world you run your MSP, a healthy amount recurring revenue is essential to running a successful business, but there is more to it than simply selling products. According to Trends in Managed Services 2022, 64% of MSPs rely on ad hoc work to pay their bills every month, meaning MSPs that have successfully gotten into the recurring revenue market are leading the industry.
"If the person next to you geographically or in the google search rankings is selling these items cheaper than you are, that revenue is gone. It's all about the value you bring to those services or subscriptions, which is a layer deeper than 'I've just got a lot of stuff on the books,'" said Scott.
The quest to build a profitable business requires MSPs to take an inventory of their full list of service offerings. Doing so will help you to understand where your revenue comes from and can allow for adjustments to be made to set you on a path to success. "Build to sell even if you're not going to sell, because it's a healthy business." said Scott.
The icing can become the cake if you educate your clients and build on your recurring revenue offerings to create substantial premium products.

Join the Conversation!
Check out CompTIA's communities to network with peers and industry thought leaders!