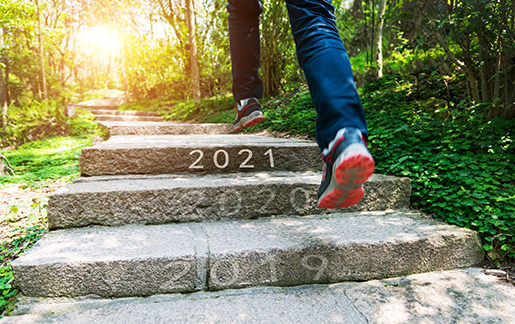 It's time to put 2020 in the rear-view mirror and look forward—to better times, new beginnings, and a brighter future. For CompTIA, that means focusing on a number of new initiatives, resources and projects all designed to provide more value to our members and the IT industry as a whole.
Here's a look at what to expect in 2021, a sneak preview of things to come this year:
1. Cybersecurity Takes the Spotlight
With cybersecurity in the news almost every day, most notably with the recent SolarWinds Orion hack, there will be no shortage of cybersecurity initiatives and resources coming from CompTIA in 2021. For starters, we're launching our brand-new Cybersecurity Advisory Council, comprised of some of the leading IT security executives in the industry, including chairs Tracy Holtz of Tech Data and Kevin McDonald of Alvaka Networks and vice-chair Kevin Nikkhoo of XeneX. In addition, the CompTIA ISAO continues to grow in membership and industry reputation. With timely insight on threat intelligence and recovery, members can also share best practices and collaborate on offensive and defensive strategies—a powerful combination to accelerate the cyber resilience of our industry.
2. CompTIA Hits the Big (OK, Little) Screen
CompTIA introduced its CompTIA World YouTube channel in August, and it's already home to a library full of content, including our first two series, "The Doctor Is In: Your Prescription for Business Transformation" with Dr. Georgette Fraser-Moore, and "Shoering Up Security" with MJ Shoer, executive director of the CompTIA ISAO. Coming soon to a monitor or mobile device near you: "Universal Truths from a Son of an SMB" with SYNNEX's Bob Stegner, our most recent IT Hall of Fame inductee, as well as series focused on managed service providers and public sector trends. Also, don't miss the latest updates from our new CompTIA World LinkedIn and Twitter outlets.
3. Emerging Tech Comes Together
You'll see a lot from CompTIA this year about leveraging and integrating technologies to solve specific business problems. Nobody ever hears, "Yes, I'd like to buy some blockchain please." But when blockchain, drones, IoT, AI, and other technologies work together, it's a beautiful thing. Several of our Industry Advisory Councils have been working behind the scenes on a project that demonstrates how multiple technologies are integrated together to address a business problem. Stay tuned in early 2021 to see the "Tech Together" project, which illustrates a multi-technology solution that would prevent a contaminated food supply. The councils are already planning a second project for later in the year.
4. Even More EmTech Initiatives
The Industry Advisory Councils have all been working hard to develop their own content and resources, with the goal of increasing awareness and adoption of their respective technologies—projects ranging from blockchain learning maps to a cloud application toolkit, to channel marketing strategies, to cybersecurity education for executives, to a drone master class for users, to an IoT reference architecture guide—and much more. Plus, the Emerging Technology Community plans to deliver an enhanced version of its popular Top 10 Emerging Technologies list, adding best practices for each tech on the list.
5. Seeing Each Other Again
At some point—and we can't say exactly when unfortunately—we are planning to get together again, in person. It may not be until the second half of the year, but peer-to-peer networking and collaboration have always been such a valuable benefit for CompTIA members, and we recognize that. It's why we've looked to incorporate more interaction in many of our online events, including live chats and social "happy hours." But we're all looking forward to being in the same room as soon as it's safe again. Until then? Save the date for the 2021 Communities & Councils Forum Online: March 16-17.
6. Master Classes to Help Evolve, Adapt, Innovate
The IT industry has always had a "you snooze, you lose" dynamic, meaning that tech companies of all shapes and sizes need to keep adapting, evolving and transforming. To help managed service providers stay ahead, CompTIA and the Managed Services Community are developing an MSP master class for 2021, a course designed to ensure MSPs have an effective, solution-focused business model. The course will cover the skills and knowledge needed to identify opportunities, design offerings and processes to better market, sell and manage your solutions. Stay tuned for more info later in the year, as well as details for a Cybersecurity master class as well.
7. Tools to Build a Better Partner Channel
Starting a partner channel from scratch is no easy feat. There's a lot to consider, roles to define and investments to make—all of which don't guarantee success without a good template to use as a foundation. Last year, CompTIA offered a sneak peak of its latest channel training session, Making the Decision to Build a Technology Channel. Later this year, the video course be available to all small-to-mid-sized businesses thinking about building a distribution channel to scale delivery of IT products or services. It's not just companies new to the channel that can benefit. Businesses with existing channels should always be looking to refresh or upgrade certain concepts and educate newer team members who may not be familiar with its intricacies.
8. Finding the Right Jobs and Talent in Emerging Tech
CompTIA's Advancing Tech Talent and Diversity Community is taking on the challenge of closing the gap between skilled tech workers and job openings by producing a guide to help IT hiring managers and IT pros find the right jobs. When published, the guide will provide IT hiring managers with more knowledge of the skills, certifications and qualifications required to fill jobs for emerging technology skills. In addition, HR managers will gain a better understanding of tech job skills/roles in support of IT hiring managers to deliver qualified candidates. The ultimate goal: provide talent managers with the knowledge they need to upskill their current workforce.
9. Channel Readiness Assessment
For every company with a successful, well-entrenched channel program, there are many more still struggling to build a program for their partners. In some cases, especially for start-ups, they're not sure where to start, what they need, or how to recruit partners. They don't know what they don't know. That's the impetus for a Channel Development Vendor Readiness Assessment project by the Channel Development Advisory Council. The quiz and comprehensive report card will provide vendors with a score as well as actionable steps to take, giving vendors a sense of where they are and what they still need to do to build a successful channel program.
10. New Website, More Focus for Members
We're launching a brand-new website for members early in 2021, one that will make it easier to find the content you're looking for, connect with peers and get more from your membership. Our new resource hubs are focused on industry trends, managing your business, technology solutions, IT workforce and diversity, and much more.
11. Because 10 Just Isn't Enough!
There's much more coming in 2021. Our four international Business Technology Communities (UK, Benelux, ANZ and Canada) have great plans to serve the industry. Benelux and UK start the year with a virtual meet-up this month, while the Canadian community is already working on a certification package to utilize the new Canadian Government Job Grant funding, and ANZ is continuing its IT Fundamentals initiative to get tech training into the hands of students and career changers. Meanwhile, our Technology Interest Groups focused on Artificial Intelligence, Advancing Women in Technology, and Drones will continue to host interesting conversations through our app and forums and will be hosting their own virtual meetings coming soon. Explore all our communities and Technology Interest Groups to find the one that's right for you, then join to make sure you stay up to date with all the latest events, info and trends.