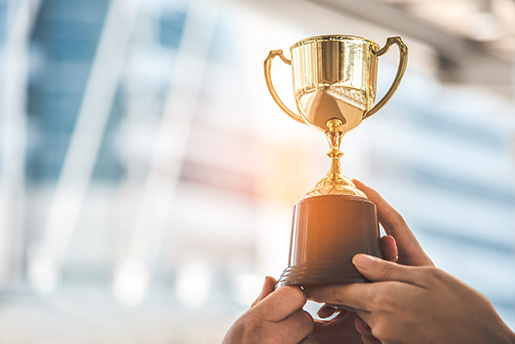 CompTIA's UK Spotlight awards show peer-to-peer recognition and are awarded to young professionals who exemplify leadership qualities in the tech industry as well as their own community. The individuals chosen for each award have made significant contributions to the industry as a whole and the organizations they work with.
Jones and Lloyd's positive impacts on the lives and careers of others and demonstrated commitment to advancing important social causes within the tech industry are just a few of the reasons for their selection, find out more about these deserving individuals who represent excellence within the CompTIA community.
A Strengthened Sense of Belonging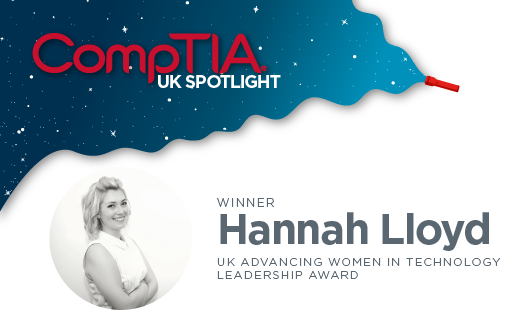 Lloyd knows firsthand the challenges of being a woman in a male-dominated industry but has never let that stop her from tirelessly working to achieve her goals and inspiring others to do the same. "It is essential for young women to have a relatable role model, and I hope to be able to help give them the confidence that if I can do it, anyone can," Lloyd said.
Elected to the CompTIA UK&I Community's executive council in 2017 at the age of 26, Lloyd has since committed her time to contributing to global issues such as advancing women in technology, cybersecurity and diversity, among others. "I am the youngest chair globally and the second female to hold the position in the UK. I have leveraged this position to diversify the community and increase the engagement of women in the industry and to bring women into the sector," said Lloyd.
"Actively engaging with women in the industry to encourage their involvement in CompTIA community meetings is so important to me, I am so proud of the work I continue to do in helping to not only diversify the council, but to strengthen the networks and sense of belonging among women in the IT channel," Lloyd said.
From organizing, maturing and running women's networking drinks at regional events in the UK and Benelux, being an advisor for the Advancing Women in Technology Interest Group (AWIT TIG) speaking on global panels, to engaging in various DEI activities at CompTIA, Lloyd's involvement in initiatives to advance women in technology is commendable.
Back when Lloyd was first elected to the council in 2017, she was one of three women, and now the council proudly has a 50/50 gender ratio, "I wish for such achievements to serve as a testament to women and girls that success and recognition is possible in any sector, including tech," said Lloyd.
Flying the Flag for Diversity and Inclusion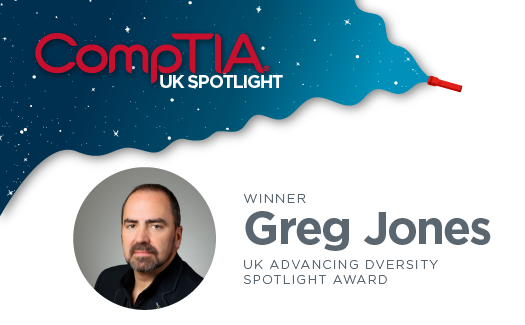 Jones's passion for advancing diversity, equity and inclusion in tech shines through his engagement in the industry and his community. "I truly believe with all the small actions we take as members of CompTIA, we are making a positive impact on the technology industry," he said.
As a dedicated CompTIA member, Jones' involvement spans from holding a seat on the UK&I executive council, being an active member of CompTIA's UK and Benelux Communities, to being an advisor for the AWIT TIG, "Being an advisor allows me to work with women across the globe to gain insight that can broaden the work I am already doing to advance diversity in the industry," Jones said.
Exemplifying what being a CompTIA member is all about, he gives his time to help others and takes action to support individuals of all backgrounds in the industry. "Giving back is something I am very passionate about," said Jones. "I try to give back and add value to the MSP community in any way I can."
By attending CompTIA events and making introductions, Jones has helped bring many new and diverse MSPs into the community and is always flying the flag for CompTIA's diversity and inclusion efforts and looking for more ways to get involved.
Jones is a strong and confident leader who is a champion for CompTIA and our efforts to diversify the industry every chance he gets, "I have seen the impact that opening up programs and incentives to CompTIA members without them having to be a Datto partner, supporting individuals in the community from all backgrounds and providing them with tools to succeed and thrive in the industry."