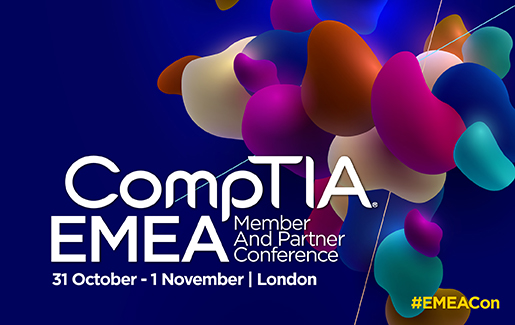 As technology becomes more entrenched in society, the future of our industry seems more and more like a wide-open expanse of pure opportunity. There is potential for new technologies to enable organisations across the globe to be more efficient, productive and profitable. And as these companies plan for that future, the demand for more IT horsepower spikes. That means the potential for those who work in technology is just as bright.
Attending the
2022 CompTIA EMEA Member and Partner Conference
, 31 October - 1 November is an opportunity that you don't want to miss. You'll benefit from the speakers you hear, the knowledge you gain and the people you meet – all in the heart of London. Here's a preview of what you can expect:
Unlock your full potential with CompTIA at the EMEA Member and Partner Conference!
1. Learn the Secrets to Success from Award-Winning MSPs
Is there a secret sauce for running a successful MSP? If there is, our panel of leading MSPs know how to make it. In this session you'll get to know each of these MSPs as they tell you the stories of how they've grown their businesses, what they may have done differently and where they faced obstacles along the way. Learn the recipe of their success and make it your own.
2. Get the Latest Scoop from CompTIA CEO Todd Thibodeaux
CompTIA's goal is to create the most respected place to start, build and supercharge your tech career. CEO Todd Thibodeaux will explain the steps we're taking as an organization to make that a reality, including our new initiative, and how all of us as a technology community can share our stories and knowledge to help people stay successful in tech careers.
3. Realise More Value from Your Business
How can you maximise the value of your MSP? With private equity firms and fellow MSPs trying to acquire "diamonds in the rough", the level of M&A activity has everyone buzzing. But as an MSP, do you know the value of your business, or how to maximise it? In this session you'll learn how to evaluate your business and what investors look for in potential M&A deals.
4. Consult Your Solicitor About Contracts, Cyber Insurance and Other Trends
Join Courtney Fong, CompTIA's COO, as he leads a panel of legal experts on some of the most pressing issues facing technology service companies today. The panel will discuss trends in employment and service contracts, the potential of required cybersecurity insurance and the evolving nature of cybersecurity negligence litigation.
5. Talk About the Importance of Mental Health in Our Industry
Metal health in the tech sector needs urgent attention. Join Howard MacKinnon, Canon UK & Ireland, Channel Development L&D, as we take the taboo out of talking about mental health. How can we help ourselves and our teams stay healthy and create spaces at work where they are comfortable? Let's get vulnerable and candid in this important conversation.
6. Unlock the Potential of Your Workforce
Tech knows no limits—and neither should its workforce. Go under the hood of a tech talent development strategy whilst learning about the skills companies are fast-tracking to transform and future-proof their businesses. In this session you'll learn how you can help unlock a broader pool of tech talent and drive significant growth.
7. Prepare for and Navigate Economic Uncertainty
The nature of global economics may be out of your control. But learning what to do (and what not to do) during an economic crisis is something you can control. Join us as we discuss how preparation and planning can help you navigate through times of economic crises and what you can do once a recession hits to minimise its impact on your business.
8. Hear Football Great Kevin Keegan's Story
Liverpool legend and former European Footballer of the Year Kevin Keegan is one of the UK's most loved players and managers. He took charge as manager of the national team in 1999. Pulling from his experiences, Kevin shares his perspectives on leadership - everything from motivating a team to inspiring extraordinary endeavours.
9. Level Up with a Genius Café Appointment
CompTIA solution provider members are invited to book 25-minute appointments to get advice on a range of different topics and challenges including cybersecurity, sales, marketing, leadership, CompTIA training pathways, objectives and key results. And don't miss a 30-minute presentation from world-class presenter Nancy Rademaker on boosting your presentation skills.
10. Check Out the Latest Tech Products, Services and Solutions
The CompTIA EMEA Member and Partner Conference will host more than 50 vendors demonstrating their latest technology products and services. Benefit from breakfast, lunch and networking in the exhibit hall where you can visit each stand and engage with vendor representatives to learn not only what's new, but how it can help you grow your business.