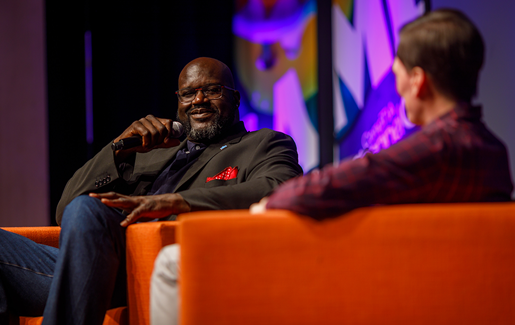 The final day of ChannelCon featured plenty of educational sessions, vendor awards, tours, networking opportunities and a general session that left a BIG impression on attendees. Read on for more about how we closed out another epic year at ChannelCon 2019.
Wednesday's General Session was Kind of a BIG Deal
How many tech conferences does Shaq go to? "All of them," said tech investor, entrepreneur and basketball star Shaquille O'Neal. "I'm a geek, I'm proud to say it."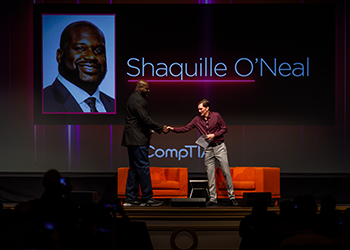 In an hour-long conversation with CompTIA president and CEO Todd Thibodeaux, O'Neal shared his personal tech story, which NBA coaches helped hone his management style and why he only invests in products he already uses. "I'm old-school," he said. "If I'm not a supporter of your company from a true business sense, I can't take your money."
Read more about the conversation.
Attendees Get a Peek Cutting-Edge Data Center Switch
Switch, the largest data center in the U.S., is a technology infrastructure ecosystem corporation whose core business is the design, construction and operation of advanced data centers and powerful technology ecosystems. The Las Vegas Core Campus has a capacity of up to 3.5 million square feet of data center space. It houses the data of some of the world's largest companies, including Disney/Pixar and eBay and is powered by 100% renewable energy. A select group of attendees was treated to a tour of the impressive facility and its cutting-edge systems.
The Channel Continues to Change
Transformations are happening across the IT industry. From software to SaaS applications to partner programs and incentives, there are few channel activities and roles immune from change. What does that mean for all the stakeholders?

"Partners are in the power position today and should be regularly evaluating if their vendors can still best serve their customers and strengthening or terminating relationships with those that aren't delivering," said Thom DeVos, vice president of business evolution and development for the JS Group in the session Channel Mashup: What is Really Happening in the Channel.
Session Highlights How to Diversify Your Workforce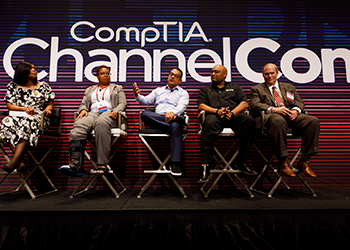 Companies can charge small businesses a lot of money to get certified as a minority, veteran or woman-owned business, but Corey Kirkendoll, president of 5K Technical Services, recommended putting in the hours yourself during the Diversifying the Workforce and Beyond panel, presented by CompTIA's Advancing Diversity in Technology, Advancing Women in Technology and Future Leaders communities.
"It'll let you know if you understand your business. They're going to ask about your financials. 'Are you holding meetings?' 'Are you doing the things that make you a viable business?' They're making sure, 'If I give you a $14 million contract, can you do it?'" said Kirkendoll. The good news is you only have to gather all that data once. "If you set yourself up with one, you set yourself up with them all."
MSPs Need to Combine Culture with Strategy for Big Results
Companies aligned on both strategy and culture can move significantly faster, said author and business coach Manuel Palachuk, as he sat down with CompTIA's Managed Services Community to talk about the symbiotic nature of strategy and company culture. "Not everybody ties them together the way they really should," he said.
His process turns the traditional SWOT tool on its head and integrates financial perspectives, internal process, and company vision and values. Palachuk said he used to identify with Peter Drucker's famous idea that culture eats strategy for breakfast—until he started thinking bigger. "What if you could have both?" he said. "Then you get what we call a significant competitive advantage."
IT Pros Discuss the State of Cybersecurity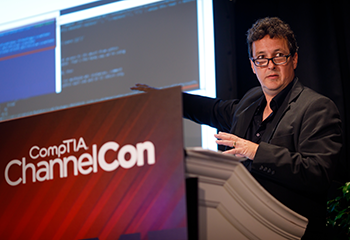 Day two of the IT Pro Track focused on cybersecurity. In the morning, a panel discussed the state of cybersecurity, including how AI and machine learning can be used to not replace IT professionals but enhance their cybersecurity skills. Two educational sessions highlighted tools and tactics of threat analysts and penetration testers, diving into the dark web and learning how hackers use tools that are already on our systems to infiltrate under the radar. To wrap up the day, CompTIA Chief Technology Evangelist James Stanger described how because Linux is everywhere, the attack surface is much larger.
"The expansion of the digital layer pertains specifically to cybersecurity," said Josue Vargas, director of security operations, High Wire Networks. "The more connected devices, the more connected industries, that would provide a lot of different use cases for attacks… Cybersecurity should not be isolated into a specific sector—it should be brought to the mainstream at an early age because everyone is connected."
Profits and Sustainability Go Hand-in-Hand with IoT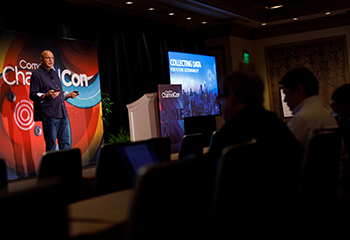 How do you make money in IoT? According to Steve Roos, vice president of engineering, TBI, Inc., and Ted Cole, vice president of channel and strategic partners, GPS Insight, you need to solve a problem, create efficiencies or save your customers money.
"The money in IoT for MSPs is providing a solution and building relationships," said Roos.
Roos and Cole also presented use cases that showed that IoT can both make a company money and provide sustainable solutions for its customers. For example, GPS Insight provides IoT for fleet management. Customers are able to improve fuel efficiency, examine resource allocation in order to put fewer vehicles on the road, and increase route optimization.
Read about the entire Future Trends Track at ChannelCon.
Best of ChannelCon Vendors Recognized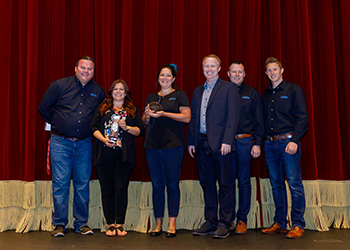 Five companies stood out from among exhibitors and were selected as Best of Show winners at CompTIA ChannelCon 2019. Winners were determined by the votes of technology solution provider attendees. Congrats to the following companies:
Best Industry Innovator: IoTSSA, Inc.
Best Start-Up: CloudOak
Best Emerging Tech Solution: Barracuda MSP
Best Exhibit Space: Datto
Best of Show: IoTSSA, Inc.
Recruitment Challenge Winner: Datto
ChannelCon is Headed to Miami!
See you next year! Mark your calendar for ChannelCon 2020, August 3-5 at the JW Marriott Turnberry in Miami, Florida.