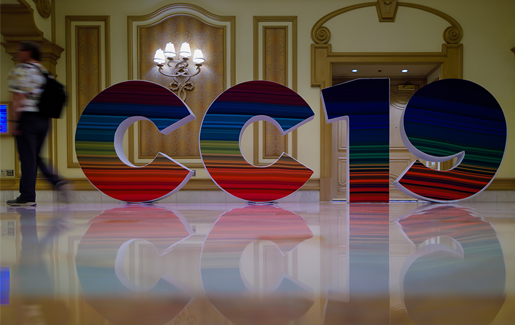 Day one of ChannelCon struck a celebratory note with multiple award winners being honored, including the AWIT Spotlight Awards, the Future Leaders ChannelChanger Awards and the 2019 CompTIA Member of the Year. CompTIA Communities and Councils also got down to the business of technology with meetings and workshops designed to tackle the industry's biggest opportunities and challenges. Read on for highlights.
Workforce Communities Join Forces to Talk 2026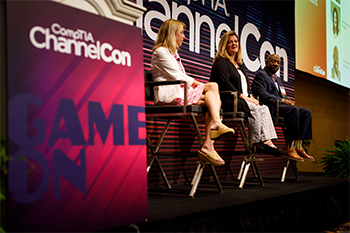 The phase-out of the four-year degree, the rise of the gig economy and a boom in cybersecurity are three trends driving the conversation around workforce growth and diversity, according to the panelists in ChannelCon's Combined Workforce Communities Meeting.
"The idea that a four-year college degree is not necessary to have a lucrative, worthwhile career has been a big pivot that opens the door for so many people to enter the tech industry," said Carolyn April, senior director of industry analysis at CompTIA.
She was joined on the panel by Sue Krautbauer, senior vice president of sales and marketing at Techadox, and Aaron Woods, principal consultant at CEX Services LLC, and focused on ways to get diverse thinkers into technology, followed by group working sessions to identify way parents, educators and businesses can bring more diversity into the tech workforce.
Read more about the takeaways from the meeting
.
A Spotlight on Women Who are Advancing the Industry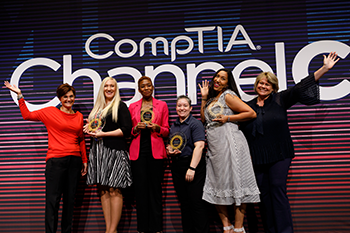 ChannelCon rolled out the red carpet for the AWIT Spotlight awards, developed to address the confidence gap for younger women and to boost women who are advanced in their careers and starting to feel the fatigue of workplace bias.

"First, we need to address the confidence gap with the next generation," said Nancy Hammervik, executive vice president of industry relations at CompTIA. "A lot of the reasons girls don't see themselves in technology is because they don't have role models. There are not enough folks they can aspire to be like. We want to recognize the women in our industry, and with CompTIA's power we can socialize it and share it with the next gen."

Congratulations to the winners:
Industry Leadership: Sarah (Mic) Merritt, Director, Cyber Training School, USAF and Cybersecurity Strategist, Merritt Based LLC
Technical Pacesetter: Rokeya Jones, Principal (Sr. Director), 5G Engineering -Network Connectivity, Microsoft
Mentorship Guide: Sarah Massengill, Client Services Technician, USAF
CompTIA ChannelPro Cecilia Galvin Scholarship: Destiny Adams, North Springs High School
Changing the Channel with Future Leaders
During the Future Leaders Community meeting, three women were honored as ChannelChangers, young professionals who are making their mark within a CompTIA member company, have shown success or originality as an entrepreneur, or have made an industry impact in some other way. Congratulations to this year's honorees:
Lauren Beliveu, Senior Content Marketing Specialist, Barracuda MSP
Tori Mannix, Sr. Field Marketing Specialist, Connectwise
Miranda Ruane, Account Executive, VCOM Solutions
Honoring the Member of the Year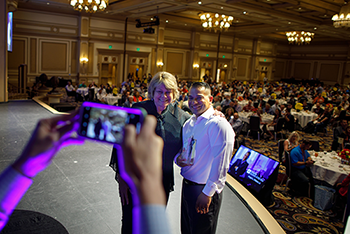 Nancy Hammervik, executive vice president of industry relations at CompTIA, provided a heartfelt congratulations to Angel Piñeiro, this year's CompTIA Member of the Year, when she presented him with his award at the Member of the Year Lunch.

"When I called Angel to let him know that our panel of judges had selected him to be this year's Member of the Year, he was speechless and humbled. He doesn't do any of this for recognition. He's appreciative, but his hope is that it serves to inspire you to get more involved," said Hammervik.
Read more about Angel's many accomplishments and the impact he is making on the tech industry in the latest issue of CompTIAWorld magazine
.
Smart Cities Advisory Council Changes Name for Broader Focus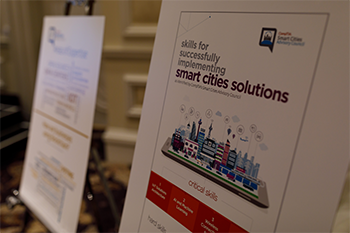 At today's CompTIA Council's meeting, which was open to all ChannelCon attendees for the first time, Benson Chan, Strategy of Things; Mike Grigsby, Cisco; and Robert Senatore, Data2Go Wireless, presented on the Smart Cities Advisory Council's work over the past year, concluding their session with a refocused purpose of the council complete with a name change to IoT Advisory Council.
"IoT is broader approach that will resonate with the community and provide more options to get involved," said Senatore.
The priorities for the IoT Advisory Council include defining IoT, educating the IT community on IoT, offering insights on barriers and challenges, and providing best practices for IoT project success.
Learn more about CompTIA Councils.
The Tech Behind the Bellagio Fountains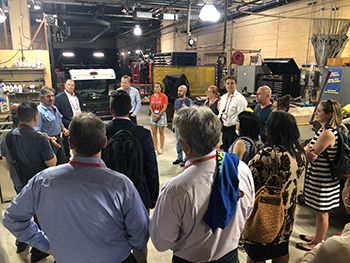 A group of ChannelCon attendees got a behind the scenes look at what it takes to create and maintain a top Vegas attraction—the fountain at the Bellagio. The 20-year-old fountains feature almost all original technology, which is used to create new shows on a regular basis. The fountains include 208 pumps, with water shooting 77 feet or more into the air, and the 22 million gallons of water can also be used by the fire department if needed.
Emerging Technology Community Highlights the Need for More Use Cases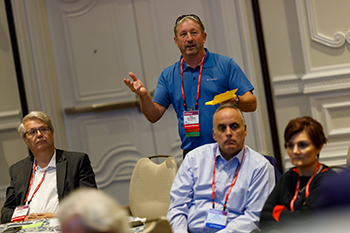 The Emerging Technology Community's working session featured lively discussion about the opportunities and challenges when it comes to implementing and monetizing emerging tech.
When determining whether an emerging technology is right for your business, use cases are often the first place to look for inspiration. That's why the community has prioritized including use cases in its forthcoming series of three white paper on business opportunities in IoT, AI and 5G.
"These use cases are fodder for thought. I encourage you to think about your core business and what your customers value from you and how you can take the next step. Then, document and make it repeatable and create your own use cases," said Mike Haines, director of worldwide partner incentive strategy, Microsoft, and chair of the Emerging Technology Community.
There's More Ahead...
Stay tuned for highlights from day two of ChannelCon 2019. You can also still register for ChannelCon Online and get free access to live-streamed sessions and keynote presentations. Learn more about ChannelCon Online.

Want more ChannelCon 2019? Check out our coverage of daily highlights, educational tracks and general sessions.