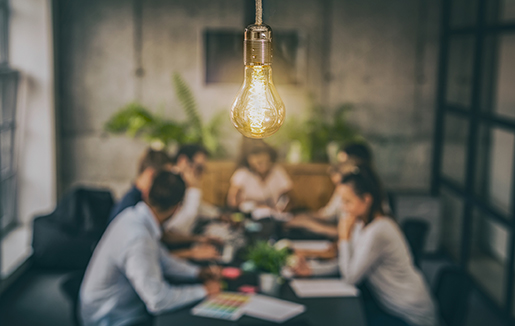 Thanks to the rise in hybrid workplaces, managed service providers have become a familiar and even essential part of most business operations—nearly half of small- and medium-size businesses (SMBs) currently use a managed IT services provider (MSP) and another 35% are considering it, according to CompTIA's 2021 SMB Tracker. And it's easy to see why. It's estimated that leveraging managed services can help reduce IT costs by up to 45% and increase operational efficiency by up to 65%.
But as end-user demand for managed services increase, the service provider space has crowded and competition is stiff. MSPs looking to differentiate themselves are focused on starting or optimizing marketing programs that can help them generate and convert leads. Here are some easy tips for creating or optimizing your MSP marketing program to drive leads and land larger accounts.
1. It Starts with Digital Marketing
Your digital presence encompasses a wide variety of things, from your website to social to search results. Because most buyers spend a lot of time online, you want to meet them where they are with a strong digital presence that makes it easy for them to learn about your company and services.
Contact Us: The first thing you should to do is make sure your company contact information is online. Even if you don't currently have a website (more on that below), you need to provide a way for people to find you online and reach you. For example, you can go on Google or Bing and claim your business profile page that includes your contact details, services, and other information about your company.
Paid Search: If you have the budget, you can increase your digital presence with paid ads that will put your business at the top of specific search results. These things don't take a lot of time or effort, but they can have a big impact. Best of all, there are many things MSPs can do for free—websites, social profiles, etc.—that don't take a ton of marketing know-how.
2. Websites and Landing Pages Are Essential
About 90% of B2B buyers research up to seven sites before making a purchase decision, so the content of your website is critical to catching and keeping attention. Your website is basically your online storefront, and it's important you have a presence there to showcase not only your company, but what you offer for solutions.
Landing Pages: In addition to your main website, landing pages—single-purpose pages used mainly to collect leads—are an important component of your web presence. Landing pages are a great way to deliver value and targeted content to your prospects in order to get their contact information
For instance, if you write an article about cybersecurity in hybrid workplaces, you can create a landing page that requires the user to enter their contact information to view the article. These pages turn your website into a lead generation machine and allow you to track prospects and learn their pain points so you can tailor your sales pitch to suit their needs.
3. Email Isn't Dead
Email is still one of the cheapest and most effective ways to communicate with your prospective buyers and current customers. In fact, leads that go through a nurtured email program are 20% more likely to lead to a purchase.
Add a CTA: Make your emails more effective by including a call to action (CTA). These give your readers something to do, like download a piece of content or request a call, and they allow you to get more engagement (like clicks and replies) than a typical static email. They should be short, no more than a few words and they should be hyperlinked. CTAs should tell the reader exactly what to expect when they click the link. Something like 'read more' or 'schedule a call' or similar message to get them to engage with your content and keep learning about your services.
4. Increase Visibility on Social Media
Social media is important because it helps reach your target audience in your area, and it helps potential customers understand and connect with your brand. When it comes to being seen, pictures and videos will always perform better than a plain text post.
Video Content: 93% of brands got a new customer because of a social media video in 2020. So, if you can add a video to a blog post, it's going to perform better than just a regular post and increase the chance for conversion.
Hashtags: Look at trending content and build your content around relevant hashtags like #cybersecurity. Including hashtags in posts will also increase your visibility and reach to help grow your audience which, in turn, will elevate your social profile in search results and newsfeeds.
5. Network at Industry Events
Industry events are a great way to grow your professional network with your peers and meet prospective buyers. But what's the best way to follow up on new contacts after a successful event?
Call Them: A phone call and email are the bare minimum. Remind them about your conversation and use it as an opener to speak to their pain points and your service capabilities.
Networking Services: In addition to email and phone calls, there are services that allow businesses to send text messages to prospects, which is a more unique and personal way to reach out.
Social Media Connections: Also, remember to reach out and connect on social media. Find their LinkedIn profile and send a quick message with your connection request, or search Slack for relevant industry channels and join conversations where your prospects are active.
6. Create Engaging Content
When it comes to converting leads, content is king. You should create content that speaks to your prospects at each stage of the buyer journey that targets your audience with the right message to grab attention and convert customers.
Awareness: Buyers at the Awareness stage are searching for answers—they have a problem to solve and will give priority to sources that help frame their issue, contextualize it in terms of their job function, and provide possible solutions. Impactful content for this stage includes your website, blogs, social channels, and videos.
Evaluation: At this point, buyers have identified their finalists and will conduct more in-depth reviews of your service offerings. Case studies and other customer testimonials or reviews can give you an edge and push them along to the next stage.
Decision: When it comes to the decision-making process, peer reviews, testimonials and consultations will help sway your prospects, as they are looking for validation of their choice.
7. Tracking Results Is Crucial
Analytics are key when trying to understand how your audience is responding to your marketing messaging. The right applications can tell you what emails convert the most leads, which content is driving phone calls, and which webpages get the most traffic. Once you've gathered all of your numbers, it's time to analyze and revise your marketing approach based on results.
For instance, if you notice that web traffic on your security services page has steadily risen over time that could indicate an increase in security concerns from potential customers. You can then create ads, email copy, social posts, a blog, video or more to speak specifically to your MSP's security capabilities for your target audience. Your marketing strategy and plan should be a living document that is constantly being revisited, revised, and optimized based on data and customer behavior and feedback.
8. Need Help? Outsource!
Setting up a marketing program at your MSP can seem overwhelming, especially for teams that already have their plates full managing current customers. If you don't have time or resources to create a marketing plan of your own, outsourcing it to a third-party marketing agency may be your best bet. Many agencies specialize in MSP models and IT services and can help strategize and implement a marketing program with you. Agencies can tailor their services to your budget and goals, track results and help you optimize your program for better results.
Mark Sokol is vice president of marketing at Liongard and a member of CompTIA's Managed Services Community's executive council.