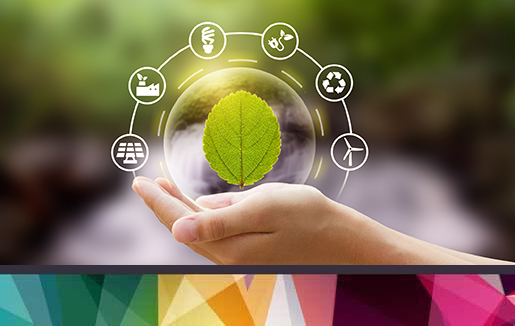 Carbon emissions are causing the earth to change in ways expected to have long-term and debilitating effects including rising temperatures, extreme weather events, and impacts to habitats and wildlife. Scientists caution it will only get worse if carbon emissions aren't reduced.
As a result, national governments have started to state a goal of becoming net zero by 2050. In adherence to these common goals, many businesses also are undertaking net zero initiatives to drive their role in sustainability. "As governments move, companies move," says Jonathan Holyoak, policy and Net Zero programme director at Atkins, a global engineering consultancy, during a session at CompTIA's EMEA Member and Partner Conference in London
What Exactly Does Net Zero Mean for IT?
Net zero, or carbon neutrality, is a designation achieved by removing as much carbon emissions from the atmosphere equal to the amount that you put in it, thereby neutralizing the environmental effects of the CO2 released into the atmosphere. The concept may seem pretty straightforward, but the issue becomes far more complex from an IT lifecycle perspective.
For many, there is a perception that more technology equates to less environmental impact. After all, aren't we using less paper and creating less waste with our digital tools? While we are reducing our paper consumption, we are also producing more plastic waste with our digital devices than ever before. Our global energy consumption has also increased from years past and we have challenges with data usage as well. The road to net zero certainly won't be an easy one for businesses and their clients.



Challenges for Net Zero IT
Net zero experts are continually working to identify ways to overcome challenges and work towards carbon neutrality. It's a journey that has many companies inspecting their practices from user consumption to responsible supply chain management, and even vendor selection based on sustainability.
Here are the three primary challenges IT needs to overcome if they hope to achieve net zero.
Hardware Waste
It is often cheaper to buy new than to upgrade or reuse our hardware equipment, so users and businesses often find themselves tossing devices into landfills and attaining new ones. The price is right, and it keeps companies on the cutting edge—but the cost to the environment is high. In 2019 alone, we created 53.6 million metric tonnes of electronic waste. Only 17% of this waste was reused or recycled, leaving more than 46 million tons ending up in landfills or oceans.
And while the pandemic did reduce travel-related emissions, there was an increase in hardware consumption as remote workers added redundant devices for work and home.
Data Hoarding and Energy Consumption
Digitization of media and files is leading to huge amounts of data consumption. Massive data loads of selfies, numerous iterations of files, and historical archiving is causing us to require large amounts of data storage. Most users assume this isn't problematic as there is no physical waste, but large data centers are required to store all of this information. "Data doesn't feel like consumption because it's digital, but data centers are needed to store all of that," said Jacqui Lees, a director at Atkins focused on net zero and social value. "The average-sized data center uses as much as three hospitals in a year."
There is also a significant amount of everyday consumption needed to power and charge all of our devices which contributes to carbon emissions. Data networks consumed 270TWh in 2021, which was 1% of global electricity use. Mining cryptocurrency also uses 121.36 TWh per year, which is more than all of Argentina.
Technology Component Usage
Many of the components used to create our technology devices involve finite resources. Much of the global economy is currently experiencing a chip shortage for technology products. These chips also use gold, a finite resource. Precious resources should be reused or recycled to ensure a consistent cycle of materials for components for technology and other products.
Overcoming Net Zero Obstacles
How can we move towards net zero given the above challenges? Although technology contributes to the problem, it can also be part of the solution.
Reduce hardware waste with reuse and recycling programs. Find solutions that allow you to reclaim hardware components where possible. You can also work with suppliers to ensure they are also working toward net zero in their production lines and supply pipeline.
Clean up your data. Perform regular data cleaning to reduce redundancies in file storage and limit what you save for the long term. This should be performed on an individual and company-wide level. Develop policies to limit over usage. It is also wise to consolidate and eliminate your usage of data center locations and look into capacity management solutions.
Use data twins to reduce travel and impact on real-life resources. Data twins offer us the unique opportunity to anticipate solutions without actually impacting our physical world, helping us to understand how our choices affect the real world.
Machine learning and AI can help create more efficient processes which can be part of the solution in the fight against carbon emissions.
Organizations are all undergoing these journeys together. No one has all the answers to the overarching problem yet, but our continued diligence and commitment to finding solutions will set us on the path for success.
Check out more sessions from CompTIA's EMEA Member and Partner Conference.
Watch the YouTube playlist now!