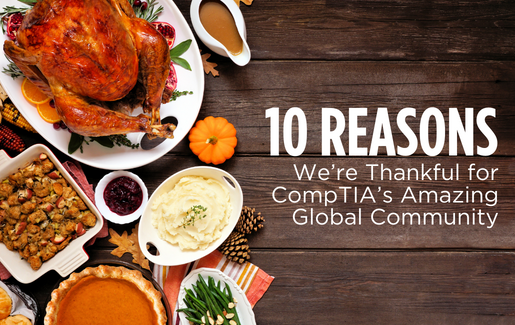 It's hard to believe that it's Thanksgiving week here in the United States already. It seems like it was just yesterday that I took on the role of chief community officer to lead CompTIA's community team at the beginning of the year. So much has happened this year and we're not done yet. As the old cliché goes: "Time flies when you're having fun." I might add to that and say: "Time flies when you're having fun—and working for something bigger than you or your organization." That's how I feel about what we do at CompTIA and what I'm personally most thankful for.
I often ask our members to remember the impact they have—on our teams, our organizations, our customers, our customers' customers, the global economy and free societies around the world. When I first got into the tech industry, I never imagined that I would have the opportunity to make a positive impact on that scale, and yet this is exactly what we all do, each and every day. We make a difference for others, and we work to leave things better than we found them.
As we look forward to the promise of a new year, we take a moment to appreciate all that we have to be thankful for in the current year that will soon come to a close. 2022 was a year of many accomplishments for CompTIA, so let me share the ones that stand out for me:
CompTIA Events. 2022 saw the return of the CompTIA Communities & Councils Forum (CCF) and ChannelCon to in-person live events. Our attendance numbers exceeded pre-pandemic attendance levels and most importantly, the buzz at these events was absolutely electric. Despite the concerns of the ongoing pandemic, our members wanted to come back together to network, meet, learn, share and enjoy with one another. Our satisfaction ratings for these events were our highest ever, speaking to the strong desire to return to what we all missed so much over the preceding two years, human connection. Thank you to everyone who came and made these events the great success that they were.
The CompTIA Community. At CCF, we announced our intention to realign under the umbrella of CompTIA Community to a regional structure with thriving communities in North America, the UK & Ireland, Benelux and ANZ. Within these regional communities, we established tech-focused committees in areas such as managed services, cybersecurity, emerging technology and diversity. As the industry changes, this new structure enables us to stand up new committees or sunset any that are no longer needed. It allows for a more agile and sustainable format to ensure we are meeting the needs of our members. We also introduced a new global task force to ensure that knowledge and best practices from one region are quickly and accurately shared with other regions so that every member can benefit from the successes of our global membership. I am thankful to our members for how quickly they rallied around this new structure and stepped up to make sure this realignment delivers the benefits we know it will.
New Tech Job Initiative. At this year's ChannelCon, CompTIA CEO Todd Thibodeaux introduced a new initiative to attract new tech workers. CompTIA intends to be the most respected marketplace in the world for all things related to technology careers and businesses. Simply stated, we need to fight for more tech workers. Tech ranks poorly among careers that people consider whether they are new to the job market or looking to change careers. We believe we can change that, and CompTIA is undertaking a bold set of initiatives to do so. We want to make it easier for our members to find the skilled resources they need, and we can only do that if we get more people interested in tech careers. I am so thankful to be part of an organization that thinks outside the box and is willing to do what is needed to make this industry the best it can be.
Improving Our Collective Cybersecurity Resilience. Building on the success of the CompTIA ISAO, we have invested in a dedicated cybersecurity programs team to focus on helping our members improve their cybersecurity resilience as well as that of their customers. We have introduced several new integrations to the CompTIA ISAO and made it a free benefit for all our MSP members. There's no reason not to be engaged in the CompTIA ISAO. This team also released several new whitepapers to help MSPs implement the right cybersecurity best practices in their businesses. There will be more announcements from this team before the end of the year, so stay tuned for more benefits to help. My thanks go out to all the members who have actively engaged in the CompTIA ISAO this year. Make it your New Years' resolution to get engaged if you haven't yet.
Global Expansion. CompTIA is on the move and expanding globally. I am thrilled to share with you that we are in the process of forming the inaugural executive council for a new DACH (Germany, Austria and Switzerland) regional community. The CompTIA board of directors has tasked us with launching two new communities by the middle of 2023. DACH will be followed by a new community in the ASEAN (Association of South East Asian Nations) region, which will be based out of Singapore. I am thankful to the new volunteer leaders who have stepped up in the DACH region and those who have expressed early interest for ASEAN.
Punch your Ticket to Tech. My thanks go out to our workforce solutions team and vendor member ConnectWise for the innovative new apprenticeship program called Ticket to Tech. Through this unique program, ConnectWise will be training the next generation of tech professionals for their partners to be able to hire. The program will create a perpetual, self-funded apprenticeship program that will assure ConnectWise partners have access to a pool of expertly trained candidates who will be ready to hit the ground on Day 1. I hope that other vendors will build on this partnership to create apprenticeship programs for their respective partner bases to help solve the hiring problems this industry faces.
Philanthropy. In partnership with our charitable foundation, CompTIA Spark, our communities and councils donated $240,000 to technology-focused charities in 2022. These donations were made to organizations around the world, in each of our member community regions. The charities were selected by a vote of our members. Sixteen organizations in Australia, New Zealand, Canada, the United Kingdom, Belgium and the United States will benefit. I'm thankful to CompTIA Spark and our members for the funding and awards for these organizations.
Industry Advisory Councils. Our invitation-only councils are an important part of what CompTIA does as an industry trade association. We are obligated to educate our members on where the industry is headed and how emerging technologies will impact our industry and the customers we all serve. Our councils continue to develop content that represents the best thought leadership this industry has to offer. They continue to evolve as the emerging technology landscape matures. I'm thankful to the executives who give their time and expertise to this important initiative, ensuring that CompTIA is keeping our members informed of the trends and technologies that will shape the future.
Our Members. To say I am thankful for every one of our members would be a massive understatement. You motivate me to do what I do every day and you motivate every one of us at CompTIA. You are why we do what we do. Thank you for your engagement, your leadership, your ideas, your passion and yes, your critiques. We rely on you to be sure we are doing what we should be doing and having a positive impact on you, your business and the industry. My door is always open to you. I hope to interact with more of you in the coming year.
Our Team. Finally, but by no means last, I am thankful to every person on staff at CompTIA. I have known many of you as a member and now a colleague and I can honestly say you are among the best people I have had the pleasure of knowing and working with. Your commitment to our mission is unwavering and inspiring. You do amazing work and your efforts make an impact in more ways than you may realize.
All in all, 2022 has been amazing, and I know 2023 will be as well. While Thanksgiving Day may be a uniquely American holiday, the theme is universal. I hope you share my thanks for all of the above and so much more. If you are celebrating this week, I wish you a Happy Thanksgiving. To everyone, you have my thanks for all that you do for this industry, your customers, and CompTIA. Please don't hesitate to reach out to me whenever I can be of assistance. Wishing you all good health and good fortune, always.


MJ Shoer is the chief community officer at CompTIA.
Looking to engage more in 2023?
Join the CompTIA communities that fit your business.