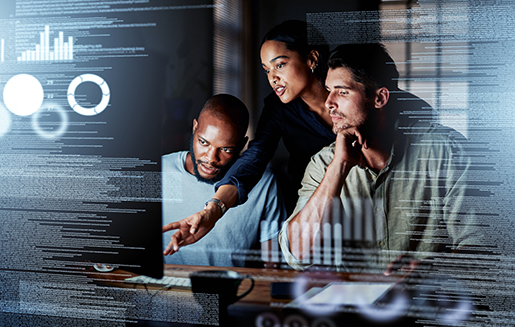 Welcome to the cusp of 2023. With any luck, this will be the first full year in recent memory when the pandemic is not front and center as a concern, the economy stabilizes, and the general business climate points toward optimism and investment.

Happy New Year! We're all pulling for it.
It remains a paradoxical time, however, one in which companies are at once ready to forge ahead with new investments and innovations while remaining mindful to proceed with some caution. CompTIA's IT Industry Outlook research bears this out. Data shows that companies in the business of technology (aka the channel) are starting to think bigger again, rekindling some of the strategic initiatives and aspirations that may have been put on the back burner during the extended pandemic. They are ready to unlock potential that's been largely on hold. And yet trepidation simmers, with many business owners in the tech world understandably worried about continued inflation, supply chain issues and the threat of economic recession.
One area that shows no sign of slowing down as we head into 2023 is the attention channel firms are paying to their business model of choice. Product reseller, MSP, consultant, cloud services maven, a combination of all. The list goes on and on.
And like many other facets of the channel's existence, business model commitments are in flux. For years, we have been hearing about and witnessing a slow march from traditional reseller of hardware to full-portfolio solution provider to managed services provider that many have undertaken. That is very much still happening as a natural evolution. But the drumbeat for even more business model change seems louder today, largely driven by a digital-everything economy, cloud computing, hardware commoditization and margin erosion, and direct procurement competition from online marketplaces and vendors.
Mixing things up can mean many different things to many different channel firms. A small tweak such as adding a vertical specialty, for example, counts a business model change. As does a major transition from a product reseller to a company that does pure IT consulting. Whatever it happens to be, most channel firms today report some degree of business model change or active consideration of starting one.
Some brass tacks: 20% of IT Industry Outlook 2023 respondents said they have already undergone a change to their business model in the last few years; 35% are in the middle of one; and 32% are currently exploring one but have not yet started. Just 11% said that business model talks are not on the table at this time. Larger firms are ahead of their smaller brethren in terms of completed business model shifts, not surprising given their access to greater financial resources and the ability to pilot project new initiatives while keeping their original business going. Small firms typically just can't do that. That said, a net 68% of micro- and small-sized channel respondents said they were currently undergoing a business model transition.
The main reasons that channel firms say they are diving into new models are varied, but in many ways obvious. Better revenue opportunities top the list, while the desire to remain competitive and relevant comes in a close second. Customers today are more tech-savvy than ever, sporting a variety of preferences for how they work with third party providers, if at all. The more your business model maps to those customer preferences, the more attractive your company is vis-à-vis your neighbor's. An undisputable reality today is that more customers are buying directly from online marketplaces and vendors, forcing channel firms to find their value add some place other than the initial transaction. This can take the form of pre- and post-sales services, including work around integration, cybersecurity, compliance, and ongoing management of the customer environment. Some of these new roles necessitate a shift in business model.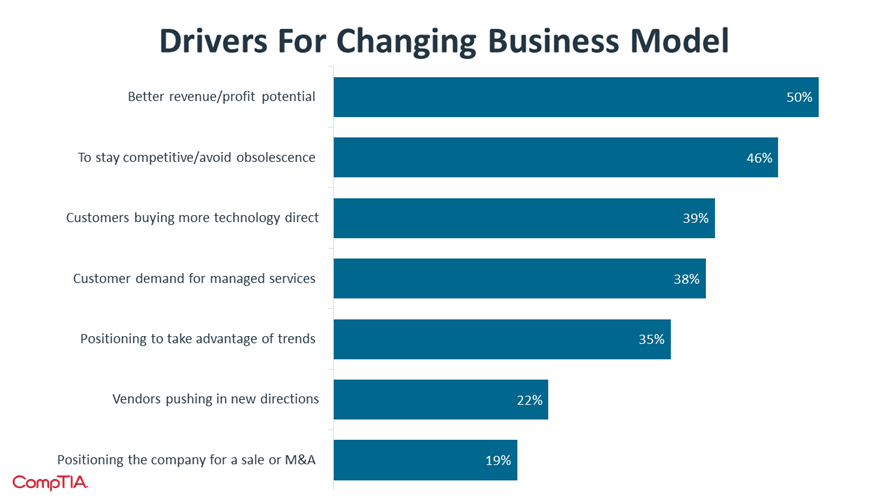 From a financial standpoint, recurring revenue and project-oriented/consulting services generally are lucrative, certainly more profitable than hardware sales today. These offerings and the business models that fuel them also bond channel firms to their customers, whether through ongoing project work or monthly subscription-based services and renewable contracts. This customer stickiness and familiarity has been one of the channel's greatest assets over the years. It's also one that holds up during the ebbs and flows of an uncertain economy.
These kinds of company reinventions, be they partial or full, are not without their challenges, however. Not surprisingly, the main challenges involve resources, both financial and human. Nearly 4 in 10 respondents cite the difficulty finding employees with the right skills sets to fit a new business model as the No. 1 hurdle they face. These skills range from technical (i.e., hiring staff with skills in a new emtech area you are exploring) to business (i.e., hiring sales reps that are adept at selling services contracts vs. one-time product sales). The other human resource challenge is retraining existing staff to meet the demands of the new business model, which 34% of respondents cited. Second on the challenge list (36%) is the overall cost of a business model transition in general.
Total cost of change cannot be trivialized. It's a very real factor for SMB-sized channel firms that will have to continue making payroll and meeting rent payments via traditional means while they try to ramp up a new model such as managed services. For this reason, most channel firms embark slowly with a business model change and often remain in a hybrid mode in perpetuity.
Whether it's slowly, quickly, or somewhere in between, the fact remains that most channel firms are on pace for some type of business model journey as we enter 2023. That willingness to change and improve are sure indicators of a return to action mode after several years on the defensive. That's a good thing. And hopefully a sign of a happy new year for all.