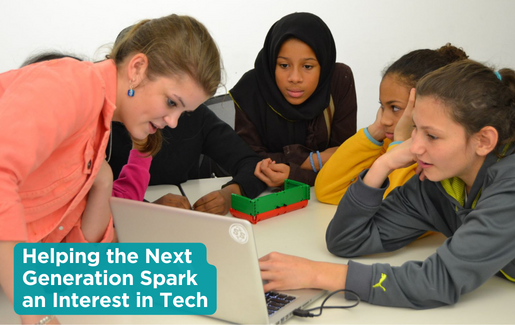 The next generation of the tech workforce aren't just graduating from college or earning a certification—they're still in middle school too.
While young students are already thinking about careers, many falsely believe that a career in tech will be too difficult or too expensive to pursue. The risk of girls losing interest in tech increases by the time they reach high school.
For those already in the tech workforce, from business owners to IT pros, it's incumbent upon all of us to support the endeavors and programs that help kids stay active, engaged and interested in tech. After all, they may be working for you some day.
MSP leaders such as Hollie Whittles, information security and HR director at Purple Frog Systems, and an executive council member of CompTIA's UK Business Technology Community, have prioritized getting in front of students at an early age.
"We try to tell students about what a vibrant career you can have. Kids will say, 'oh, it's boring, it's IT.' But when you talk about machine learning and data analytics and all these amazing things we've done, they come out like, 'oh, ok, I thought IT was fixing a server.' No, it's so much more than that," Whittles said.
To further enable those and other efforts CompTIA's relaunched social innovation arm, CompTIA Spark, is focused on expanding its middle school program. Youth have their sights set on big and varied dreams, whether it's directing movies, becoming a veterinarian or solving a social issue they care about. What's clear is that whatever path or passion youth choose, technology education will play a part in unlocking their future potential—and a reinvented brand and new programming are ready to help make that happen.
Young people already thinking about the future may not realize the benefits of technology education, especially if they're not interested in science or math, or don't have access to the latest tech resources.
But technology education is for everyone. As students of all kinds are unraveling the secrets of publishing content, coding or making music, they're also developing the confidence, creativity and capability needed not just for a career, but for any successful future in today's tech-driven world.
Helping more young students unlock their potential through technology is the goal of the reinvented nonprofit CompTIA Spark, formerly known as Creating IT Futures, and its expanded middle school program. The program delivers high-quality tech education and resources through an innovative learning platform to make technology engaging, accessible and inclusive for students 11 to 14 years old who are at a critical age to explore their interests.
"We have an exciting opportunity to introduce more young people to the power and possibility of tech on their journey toward a successful future," said Charles Eaton, CompTIA's chief of staff and CEO of CompTIA Spark. "We know from our connections with CompTIA that the range of rewarding, well-paid careers in tech continues to expand as the industry evolves, and that some form of tech knowledge is required in most professional roles today. The expanded middle school program is not about helping young people from all backgrounds to be career-ready, but about helping them to be life-ready."
While an independent nonprofit, CompTIA Spark operates as the social innovation arm of CompTIA, which founded the organization. Today, funding from CompTIA and other companies and foundations continues to advance the innovative initiatives of CompTIA Spark.
Growing the Pipeline of Future Talent
The CompTIA Roadmap to Success highlights how the CompTIA Spark expanded middle school programming efforts will provide tech-specific learning to engage more young people in the industry, as well as spark the skills for lifelong learning in all students.
"There are so many great opportunities in tech out there and not enough skilled people. Thousands of rewarding, well-paying jobs will go unfilled unless an expanded pipeline of new, diverse talent is created," said Eaton. "CompTIA Spark's middle school programming will have a big impact on thousands of young people's lives regardless of whether they ultimately choose a career in the industry, but it is also an important step in adding to the pipeline and showing students that tech is for everyone—and about so much more than just coding."
Meeting Students Where They Are
The CompTIA Spark online learning platform is designed as a one-stop shop for young people to access a range of fun, inspiring tech-related courses and resources.
The platform includes content across a range of channels and methods for every learner. From virtual to peer learning and self-guided to instructor-led classes, programs serve a diverse range of learning preferences and interests.
One unique feature is that content is mapped to help students build on their existing interests and curated across different "careers clusters"—from finance to manufacturing and marketing to the arts. Students can discover career paths and future learning opportunities that align to their passions, strengths and growing capabilities.
"If you connect with the interests of students and then show them how technology impacts their interests, it opens up their eyes—it opens up their world—to what the technology possibilities are," said Amy Cliett, senior director of internal communications at CompTIA.
Cliett noted that one of her own daughters is a bookworm who only got turned on to technology after taking part in a podcasting workshop. "The light went on, the bells went off, and she said, 'you mean I could do this for a living?' She loved creating the story, which motivated her to embrace the technology behind it."
In addition to self-guided courses for students, the platform helps schools, educators, parents and tech professionals connect young people in their lives to tech resources. Content has been designed to be taught by any adult who wants to bring high-quality tech education to their students or community, whether they have tech experience or not.
Enhanced Impact with CompTIA
While other nonprofit organizations do exist to foster young people's skills in and connections to tech, many have a narrow focus. In contrast, the CompTIA Spark expanded middle school programming is built to provide a range of opportunities across all aspects of technology—from renewable energy to big data.
The unique connection to CompTIA means CompTIA Spark is plugged in to real developments in the industry, keeping pace with its constant evolution, and its curriculum has ties to real certifications, helping to provide clear future pathways for students who want to take their interest to the next level.
With critical support from CompTIA and its membership, CompTIA Spark programming has already impacted more than 33,000 young people, with their future sights set high.
How You Can Get Involved
Share the spark of technology with young people in your life by introducing engaging, tech-related resources to your children or other youth you know. You can also support CompTIA Spark's efforts to reach middle school students across the country who may not otherwise have access to high-quality tech education.
If you would be interested in offering your expertise to help develop course content with CompTIA Spark's curriculum experts, or your company would like to support this life changing programming, please reach out to [email protected] or learn more at CompTIASpark.org.
A version of this article ran in the Fall 2022 edition of CompTIA World magazine.