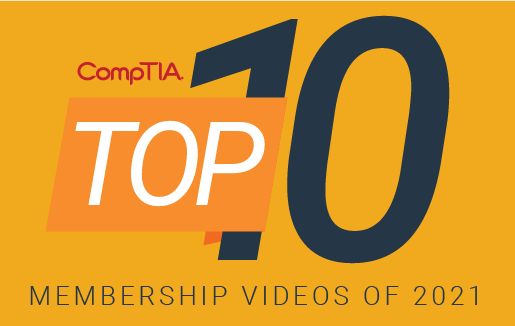 From live (and then archived) business-building sessions at our biggest events to weekly series that covered the tech industry's biggest trends to special episodes that helped showcase vendor, distributor, and solution provider power, the CompTIA Connect YouTube channel had something for everyone in 2021—and then some.
All told, CompTIA produced more than 100 videos for the channel this year focused on emerging technologies, cybersecurity, solutions selling, and the teck workforce. Here's a look at 10 of our favorites, and look for plenty more in 2022.
ChannelCon is always a highlight for CompTIA members—and for our staff. While we were still in virtual mode this year, there was plenty of great content, including this video that captured all of Day 1's afternoon sessions. Highlights included Evaluate Your Cloud Readiness, CompTIA Tech Career Academy overview, How CX and PX are Keys to Future Success, Only 39% of Your Employees (Fully) Engage at Work—How Do You Get to 100%?, and What's Your Cyber IQ? What Every MSP Must Know When Selling Security Solutions. Plus, don't forget to check out ChannelCon sessions too!
CompTIA research this year revealed that 46% of businesses use both internal and outsourced resources for help desk functions, leading MSPs to evolve their models to stay ahead of IT help desk trends. In this video from our Trend Watch series, Seth Robinson, senior director of technology analysis at CompTIA, shares 2021 data that help desk is becoming more strategic to businesses. Learn how customer experience is shaping help desk satisfaction, how the shift from remote to hybrid environments is shifting help desk processes, and what new skills IT pros should have to perform higher-level help desk duties. Plus, don't forget to check out the complete 2021 Help Desk Trends research.
'Worst Feeling You'll Ever Have'
A special episode of our cybersecurity-focused Shoering Up Security series featuring MJ Shoer, this episode includes an emotional conversation with Jay Tipton, CEO of Technology Specialists, about what it's like to bear the brunt of a cyberattack on your MSP business. From the realization that it's happening to communicating the news to clients, to updating your own business processes, Jay talks about his own harrowing experience of surviving an attack. Overcoming the technical challenges is just the beginning and having the right plan—and the right help—is critical to recovery for managed service providers.
Emerging technologies including blockchain, drones, internet of things, and artificial intelligence are capable of solving almost any real-world business problem. As an example, several of CompTIA's Industry Advisory Councils, collaborated to crate this video showcasing how their respective technologies play a role in keeping our food supply chain safer—from drones watching crops from above to IoT sensors tracking temperatures during transportation, to AI analyzing raw data to produce alerts, and blockchain keeping a true record of everything along the way.
Cybersecurity was a popular subject among all our YouTube videos in 2021, as well as pretty much every other category of content we published too. And for good reason. Threats continue to evolve and pose risks for all businesses, and it's increasingly incumbent upon MSPs to incorporate cybersecurity services into their growth strategy. In this episode of Pound for Pound, a series hosted by Tracy Pound, chairwoman of CompTIA's board of directors and managing director of Maximity, welcomes Hannah Lloyd, vice president of channel sales at inSOC and CompTIA's 2021 Member of the Year, to discuss how to add higher-level cybersecurity services to your offerings.
Carolyn April, senior director of industry analysis at CompTIA and the other co-host of our Trend Watch series, shared data from the 2021 Trends in Managed Services survey in this episode, which detailed how—and why—MSPs need to up their cybersecurity prowess in order to stay competitive and make sure their customers stay protected. Three key points: why MSPs need to add security offerings to their portfolio; why MSPs are under attack by cyber criminals and how to effectively address their internal cybersecurity posture to mitigate cyber security threats; the business opportunity associated with becoming a managed security service provider (MSSP).
To complement CompTIA's Legal Resources for Tech SMBs, a members-only toolkit to help technology businesses better understand how to find and hire legal counsel, CompTIA's chief legal officer and chief privacy officer Cournty Fong hosted the Legally Tech series on YouTube. In this first episode, Fong and Jean Liu, an attorney at Kaufman Dolowich Voluck, discuss what tech business owners or managers need to know about privacy, including what to do following a data breach.
Bob Stegner, chief marketing officer at SYNNEX, kicked off a second round of his Universal Truths from the Son of an SMB series with an episode featuring guests Ryan Morris, principal consultant at Morris Management Partners, and Hannah O'Donnell, director of sales at Collabrance, discuss tips to ensure your SMB customers are happy—and loyal. Other new episodes in 2021 tackled how vendor relationships have changed in the cloud/multi-vendor world, how to find and work with vendors, how to prepare your business for a sale, and how to buy another company.
In our first series focused on the public sector, The Business of GovTech, host Roger Hughlett interviews tech leaders, government officials and journalists covering the intersection of technologies and public agencies at the local, state and federal level. In this episode, Hughlett and Jamie Brown, senior director of global government affairs at Tenable, talk about public-private partnerships, which bring tech companies and government agencies together to collaborate and solve critical issues facing the public and private sector. These important partnerships can range from protecting the nation's electric grid to keeping emails safe from hackers.
A big challenge for MSPs is finding the time and resources to maximize the use of their RMM and PSA tools. Often too busy running the business and supporting—and recruiting—customers, getting more functionality from tools is a lower priority. To help, Ryan Goodman, president of ConnectBooster, and Eric Anthony, director of channel community at Egnyte, both members of CompTIA's Managed Services Communitycreated the Uncommon Uses for Common MSP Tools series to help MSPs get more bang for their bucks. In this episode, learn how to up your automation game with more client self-service, better help desk ticketing workflows, and seamless service-level agreements.