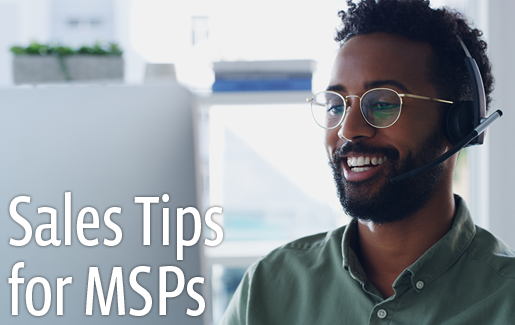 In an increasingly competitive market, managed service providers (MSPs) need to find new ways to meet to the changing needs of customers. At a recent UK Business Technology Community Meeting, Fiona Challis, founder of Next-Gen Sales Training Ltd., led a session that looked at what MSPs are doing to be at the top of their sales game even as customer budgets are tighter. Here are five tips MSPs can use to engage decision makers regardless of the economic climate.

Move conversations from selling technology to solving business challenges.
Successful MSPs are able to win new business by moving their conversations with customers away from the technology they're selling and toward the business challenges they are solving. In today's climate, customers do not have time for a sales pitch—they are looking for trusted business partners who can show them exactly how technology will help their business, right now. Lead with business insights and sell business outcomes. It's no longer about the technology or hardware you're selling, it's about the change the technology will enable.
Understand how the buyer's journey has evolved.
In the past, the buyer's journey was a simple, linear three-step process culminating in the purchase being made. Today, however, Fiona described the journey looking "more like the London Tube map, with multiple winding routes preceding a decision being made."
To begin with, MSPs must appreciate the impression they make on customers before they even engage with them. With 57% of the purchase decision taking place before a customer even calls a supplier, MSPs must recognize that the sales process starts before even speaking to a potential customer. Furthermore, 67% of the buyer's journey is now carried out digitally, so successful MSPs are connecting with customers through online demos and videos. MSPs must engage with potential buyers before actually speaking to them.

Learn more about the technology buyer's journey with CompTIA's interactive tool.
Be the go-to expert.
Being the expert on the product you're selling is vital for selling what your customers are actually buying. They're not just buying a piece of tech; they're buying an emotional connection they have to the need to have the product. Take cybersecurity software. Customers aren't just buying a piece of software; they're buying protection from a cyber incident that could potentially cripple a business. Businesses will increase their client win rate when they start selling what their customers actually want by using stories and speaking the language of a customer.
Overcome price resistance.
As an MSP, it's always going to be challenging to explain to a customer why you have to charge what you do. But successful MSPs aren't just explaining this, they are demonstrating it. Think about whether your prices are based on a cost-plus model or value delivered. Particularly during economic downturns, it can seem like offering the lowest price is the only way to win a customer, but it can be difficult to raise prices when things turn around, so be careful.
Instead, dictate prices based on the business outcomes you are helping customers realize. That way price becomes less relevant to the buying decision-making process. In addition, successful MSPs can charge higher prices if they have a niche. By focusing on value and customer experience, MSPs no longer have to compete with each other to offer the lowest price, and can instead be more selective about the customers they go for.
Pick a niche.
As an MSP, you will struggle to have the same level of business conversation with every vertical in every industry you sell to. As a result, MSPs are increasing their results by picking a niche that is already profitable and nailing the sales and marketing in that vertical before moving onto a second. This means being more specific than aiming at small and medium businesses in general. Look at the industries you sell to, such as manufacturing, legal, or oil and gas. The more you focus on a specific vertical, the higher the level of business conversation you can have, making sales more successful.
Fundamentally, there is not a business problem today that cannot be solved with technology and managed services, but we're not just selling tech: successful MSPs are selling change by creating an emotional connection with their customers, leading to more profitable sales.