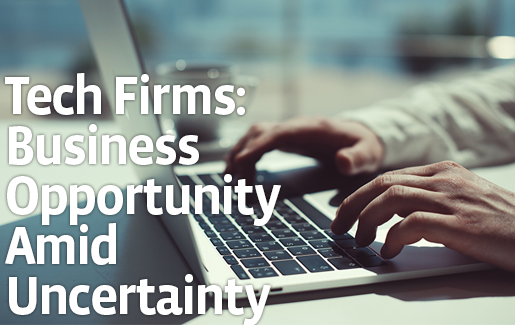 The COVID-19 pandemic and resulting economic downturn have created a business climate no one anticipated and few were prepared to weather. But the tech industry, while not immune to mounting financial pressures, has shown resiliency in the early stages of this evolving situation.

CompTIA has been tracking its member tech firms since late March in a series of surveys designed to assess the impact of COVID-19 on business operations. Here, we highlight key takeaways from the second survey to members, completed May 1, which illustrate how tech firms have continued to see increases in both business opportunities and disruption since the first survey was conducted.

Tech Business Opportunities Increase, Albeit Modestly
According to CompTIA's first survey, three-quarters of member tech firms, including solution providers, vendors, distributors and other technology firms, reported an increase in business amid COVID-19, with the most popular new inquiries coming from shifting operations from on-premise infrastructure or applications to the cloud—38% of all respondents. This reflected the urgent need to build and secure remote work capabilities when many regions were implementing stay-at-home orders in March.

Surveyed a month later, with stay-at-home (or safer-at-home) orders still in effect in many areas, tech firms continued to see business opportunity—in fact, there was an increase, albeit a modest one. When asked in late April, 83% of responding tech firms reported new business opportunities since COVID-19 began. What does that mean for the industry? Despite disruption, technology is needed now more than ever to support companies that are finding new ways to do business virtually.
It's no surprise that the mix of opportunities changed between the surveys, as companies have settled into remote work. In the second survey, inquiries shifted away from moving operations to the cloud to inquiries related to communications, collaboration or A/V technologies, which accounted for 40% of all inquiries.

Download the infographic.
Cybersecurity Business Increases for MSPs
Inquiries related to communications, collaboration and AV technologies aren't the only opportunities tech firms are seeing. The shift to remote work also exposed businesses to new security threats. A month later, this problem persists—and MSPs are seeing an uptick in cybersecurity business because of it. According to respondents in March, cybersecurity activity accounted for 39% of the new opportunities for MSPs. By late April, cybersecurity accounted for 44%—the largest increase of business opportunities across all categories for MSPs.
When it came to the type of cybersecurity business inquiries, tech firms reported that they were related to video conferencing (41%); business continuity/disaster recovery (41%); remote monitoring and management of security systems/protocols (35%); cloud systems security (33%); and phishing (30%).
More Tech Firms Experience Business Disruption

But despite continued opportunities, COVID-19 and the economic downturn have created uncertainty for businesses, and while the tech industry underpins much of how work gets done today, tech firms are experiencing disruption. Notably, the portion of tech firms that said business operations were not being negatively impacted by COVID-19 decreased significantly from 25% in March to 16% in April.
The ways in which operations are being impacted is varied, but most significantly, between late March and late April, there was an increase in customers canceling or postponing spending, from 43% to 58% of tech firms reporting, as well as an increase in customers requesting a restructuring of contracts or payment terms, up from 26% to 41% reporting this. Tech firms are overwhelmingly responding to these customer challenges—90% said they are providing flexible options, working with other firms to find solutions, helping with financing and donating their time, or responding other ways.
Unfortunately, tech firms have also had to take staffing actions in efforts to keep companies afloat, with 17% laying off full or part-time staff; 18% laying off contractors; 21% cutting back on staff hours; and 32% postponing hiring. (Another positive takeaway—13% have hired more staff.)
Tech Firms See Upskilling Opportunity
As tech firms anticipate a potential slowdown in operations prior to recovery, about 70% of respondents report their firm is training at least some employees during this time or planning to increase training efforts.
Most firms, 57%, plan to focus on technical training areas. Thirty-four percent are interested in professional or "soft" skills training, such as communications skills or problem solving, and 33% are interested in business skills training, such as sales or management skills.
For technical training, most respondents plan to focus on cybersecurity (64%)—MSPs in particular are interested in upskilling staff in this area with 69% saying cybersecurity would be a focus. Other technical areas of interest for all respondents include cloud infrastructure/applications (53%); IT support (53%); and network/systems administration (45%).
Returning to "Business as Usual"
The tech industry has shown signs of resiliency amid COVID-19 and the economic downturn—at least in these early months. For example, in CompTIA's Monthly IT Employment Tracker, tech job losses represented a very low portion of the total job losses while the number of job postings nationwide for core IT professionals totaled just over 270,000 in April. In addition, according to the IDC, which recently updated its annual forecasts, IT spending could decline by 5.1% due to COVID-19, but IT infrastructure spending is still projected to grow by nearly 4% in 2020.
Tech firms that responded to CompTIA's survey have mixed feelings about the road ahead, but many feel cautiously optimistic and are eager to get back to "business as usual." While it's impossible to predict recovery, close to half of respondents are feeling generally optimistic about their situation, while the same portion are "hanging in there." Many are expecting business to return to some level of normalcy by July or August (41%) with about one-third saying September or later. Businesses are rightly approaching the next months with caution, and disruption is likely to continue, but to make through, tech firms can seek out opportunity where possible, find creative ways to support customers and utilize downtime to prepare for what's next.