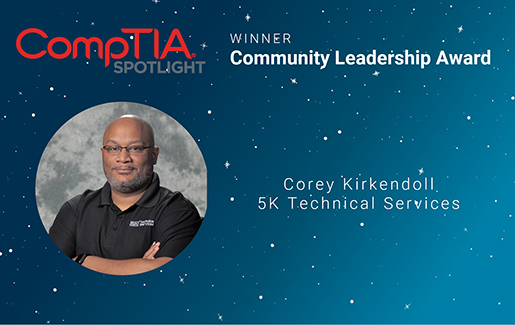 Corey Kirkendoll isn't one to sit on the bench, he'd rather be in the game. The CEO of 5K Technical Services, a Plano, Texas-based MSP, is always willing to pitch in, and that drive is only one of the factors that led to his selection to serve as the chair of the Managed Services Committee. Kirkendoll is a passionate and committed leader who has helped support initiatives of many CompTIA communities including the Managed Services Community, Cybersecurity Community, the Advancing Tech Talent and Diversity Community and the CompTIA ISAO.

For all that, Kirkendoll has received CompTIA's 2022 Community Leadership Spotlight award for demonstrating outstanding commitment, leadership, passion, and professionalism in support of the objectives and initiatives of CompTIA communities.
Kirkendoll recently spoke with CompTIA to tell his story, including what's important to him and the role diversity can play in helping to advance your business. Here's a look at what he had to say:
Why is Advancing Diversity in Technology important to you?
"I think that a lot of companies, because of the lack of diversity, are missing out on some great opportunities. Whether that's market opportunities or just finding great employees, I believe that there's some untapped talent in places that you normally don't go search for. I think it's critical for us to go and seek out that talent in those places. Whether that's HBCUs, whether that's other professional organizations, making it a priority to hire and be more diverse in technology is important. A lot of minorities and others don't believe that technology is a place for them. Either because they don't see people like them, or they don't feel welcomed into it. I think it's a good opportunity for us to show them that there is a place for them in IT or technology, period."
What challenges/trends around Advancing Diversity in Technology do you want to bring more attention/awareness to?
"I think showing that there are opportunities available. I think that sometimes technology, even though it's widely talked about, it's almost hidden in plain sight. Most people don't know how to get it. They know they want to be there, but they just don't know how to get it. So, I think one of the first challenges is to show that there are opportunities and make it easily available so they have access to it and can go through that process. That's the biggest challenge."
How are you working with CompTIA to help address those issues and promote that awareness?
"I'm not one of those guys who sit on the bench. I like to get in the game. And a lot of it is just really coming down to education. What I'm really trying to help promote is that if you're trying to be that diverse organization and to bring [diversity] in and look like it's inclusion, I think you have to stand in the mirror and take a look at your organization. Does it reflect what you're trying to build? And if doesn't, then that would be the first place I'd go start.
"Working with CompTIA, one of the things we're doing is [creating] tools and resources of how to learn how to truly be diverse. And what does that really mean? Make sure that you're putting in the right practice and the KPIs to be able to achieve that, because people will respect what you inspect, and if you're not inspecting and saying, 'We're going to hold higher and do things,' it will never happen."
What are you most proud of in your career and what's helped you get to where you are now?
"I grew up in Oklahoma, very rural town. I never thought I'd be doing the things I do, especially being a CEO running an IT company. Probably the biggest thing I'm proud of is what I've been able to achieve and reach the goals that I set forth to do, but also being able to give back and allow others to see that it is possible—and that's what's big. The worst thing you can tell Corey is 'No, you can't.' That's what drives me to say I'm going to show you and prove you wrong."
"The other thing that's been great is just the community. Just being able to learn and lean on others that have mentored me or provided advice throughout. Sometimes you can get into a situation where it's lonely at the top or you feel like you're by yourself. One thing I love about the technology community, especially when it comes to CompTIA, is the openness and the willingness to share. What you'll find out is that someone is either just coming out of where you're headed, into where you're headed, or about to go into where you're headed. So, there's always someone to lend an ear or a hand. You just have to ask."
What advice do you have for MSPs and other tech businesses around increasing diversity in technology?
"It has been proven that the more diverse workforce that you have, the better you perform on the bottom line. So, it not only benefits you culturally, but it benefits your bottom line as well. Because it brings things to the table that you just didn't think about, and a market that you haven't thought about going into, and having the ability to address those things has been great. But it also challenges your way of thinking to make sure that the culture's open and it just makes a better workplace when you have not everybody who looks and sounds like you. Become more enriched with what's truly out there and what's going on. Have that open mind. Be able to have some hard conversations and have some interesting conversations because what you'll find out is that we're more alike than we are different."