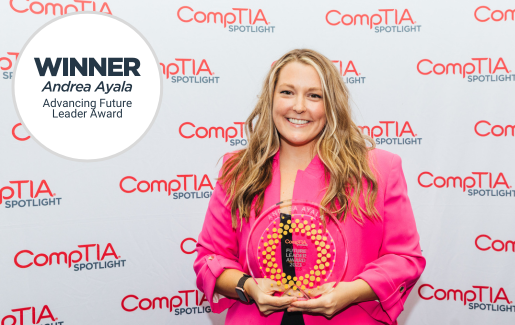 Andrea Ayala didn't start out looking to become a future leader in the IT industry. The original plan was to leverage a social work degree in the field to help people build the relationships and skills they need to be successful. But that all changed in 2015 when a friend joined a tech company and encouraged her to apply for a customer service position. She got the job and almost immediately knew she had found her calling, building authentic relationships and partnerships between tech vendors and MSPs that help both improve their businesses.
Last year, she was instrumental in helping Gradient MSP launch its Synthesize Integration program, building a pipeline that now includes more than 150 vendors and 800 partners using Gradient. Her success has helped earn her the CompTIA 2023 Future Leader Spotlight award for her initiative and innovation to advance the technology industry.
Ayala recently spoke with CompTIA to share her story, her inspiration and what it takes to develop into a strong leader. Here's what she had to say.
Why is being a future leader important to you?
Being named a "future leader" is incredibly important to me, as it acknowledges all my hard work to become a better version of myself. In the beginning of my career in technology, I never anticipated that I would be where I am today. Through lots of learning, guidance and mentorship I've gained the confidence to know I'm on the right path to success. Winning the Spotlight award is an incredible honor that I don't take lightly. A future leader to me is someone who is going to leave things better than how they found them. I'm hoping to pave the way to lead our next generation with empathy, welcoming more individuals into the tech space. This recognition proves that I'm on the right track to do so.
What current challenges in the IT industry do you think warrant more attention?
With most of the IT workforce shifting to remote work within the last few years, the flexibility of working from home has brought on its own set of challenges. As a new mom, I'm so thankful that I get to work from home and be with my daughter more. However, the convenience of having my office in my house means that I'm also pulled into always being online. It's difficult to leave your work in the office when your office is in your home and unfortunately, burnout is inevitable. To combat the burnout that many remote workers are facing, I believe it's important for channel companies to start addressing it head on. By providing resources to help their employees and promoting a healthy work-life balance, IT companies can keep their employees happy, engaged and more productive.
How are you working with CompTIA to help address those issues?
CompTIA provides so many resources for channel employees to expand their knowledge, engage with the community and stay up to date on channel trends. I plan to continue attending CompTIA's member meetups to network with new and existing channel teams to hear how they're balancing the shift to remote work. It's so important to speak up when you're struggling, and the CompTIA community is the perfect place to bounce ideas off industry leaders.
Who has helped you get to where you are now?
Winning CompTIA's Future Leader award has been the highlight of my career thus far. When I started my first job in the channel, I had always looked up to the individuals getting recognized by CompTIA. I have had so many mentors along my journey and individuals who have inspired me to keep reaching for the stars. From my time at Datto, Rob Rae and Christine Gassman really introduced me to the channel and introduced me to so many channel leaders. I'm thankful to both of them for kickstarting my career in this industry and taking a chance on me so long ago. My current mentor and CEO of Gradient MSP, Colin Knox, is showing me what it means to have empathy as a leader and helping me grow my confidence in what I bring to the table.
What advice do you have around being a better leader?
An effective leader to me is one who adds an element of empathy to their interactions internally and externally. Each one of your employees has a unique motivator (what drives them to wake up in the morning and give their all). One of your employees may be motivated by the prospect of more money while another is motivated by recognition amongst their peers. Listening to each employee and building genuine connections will help figure out what motivates them and be an effective leader.
Join CompTIA's Spotlight Award winners and other tech leaders in Las Vegas!