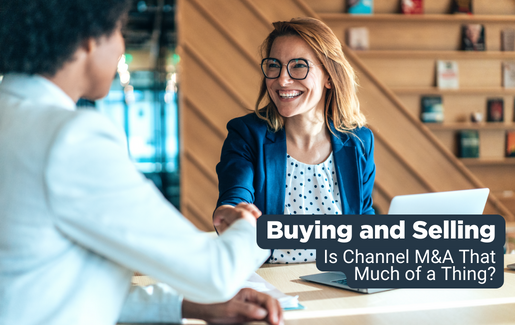 Mergers and acquisitions (M&A) among channel companies — solution providers, resellers, IT consultants, telecom agents and more — are continuing at a brisk pace this year after a significant level of deal making in 2022. But is channel consolidation really a thing?
How M&A Activity Affects the Channel
To give you the short, ambiguous answer, yes and no. While M&A activity has been high in recent years – to the tune of more than 1,000 deals in 2022 alone, according to ChannelE2E's tracking – the reality is that much of the bustle has taken place among the industry's largest channel firms, major channel-oriented vendors and a handful of distributors focused on SaaS-based resellers and companies in the telecom space. That leaves most of the channel ecosystem – sized at roughly 10 or fewer employees and $1 million or less in annual revenue – as deal-making spectators.
But that doesn't mean they aren't affected. We all know that many small channel firm owners today are reaching retirement age and looking to sell. So, there's that piece of the equation. On the other end of the spectrum, younger channel upstarts have growth in mind and see acquisition of a peer company as one way to scale and shore up holes in their portfolio.
Even more frequently, small channel players find themselves impacted by the deals that happen independent of them – especially mergers that happen among their vendor partners. Consider Kaseya's blockbuster $6.2 billion purchase of Datto, which had MSP message boards and social media peer groups buzzing for weeks about how the potential changes in culture, terms and conditions, programs, etc. might upend their businesses downstream.
Look to CompTIA Data
Looking to better gauge attitudes about M&As in the channel, CompTIA's recent State of the Channel 2023 research study asked respondents to assess the activity of the last few years. Their answers are a good reflection of reality. Just over a quarter described M&A activity as creating "major upheaval" across the channel and vendor landscape. The majority (57%) said M&As have proven important to a segment of the larger-sized channel universe but not beyond that to any significant degree. And finally, 12% flat-out said the M&A discussion is "overhyped" altogether. In other words, nothing to see here for that group.
In terms of direct impact on their own businesses, two thirds (67%) of respondents said M&A activity has been positive; a quarter (26%) reported no impact; and just 7% said consolidation has affected their firm negatively. Of those in the negative camp, the chief complaint was the loss of a customer or customers to a competitor newly formed by a merger.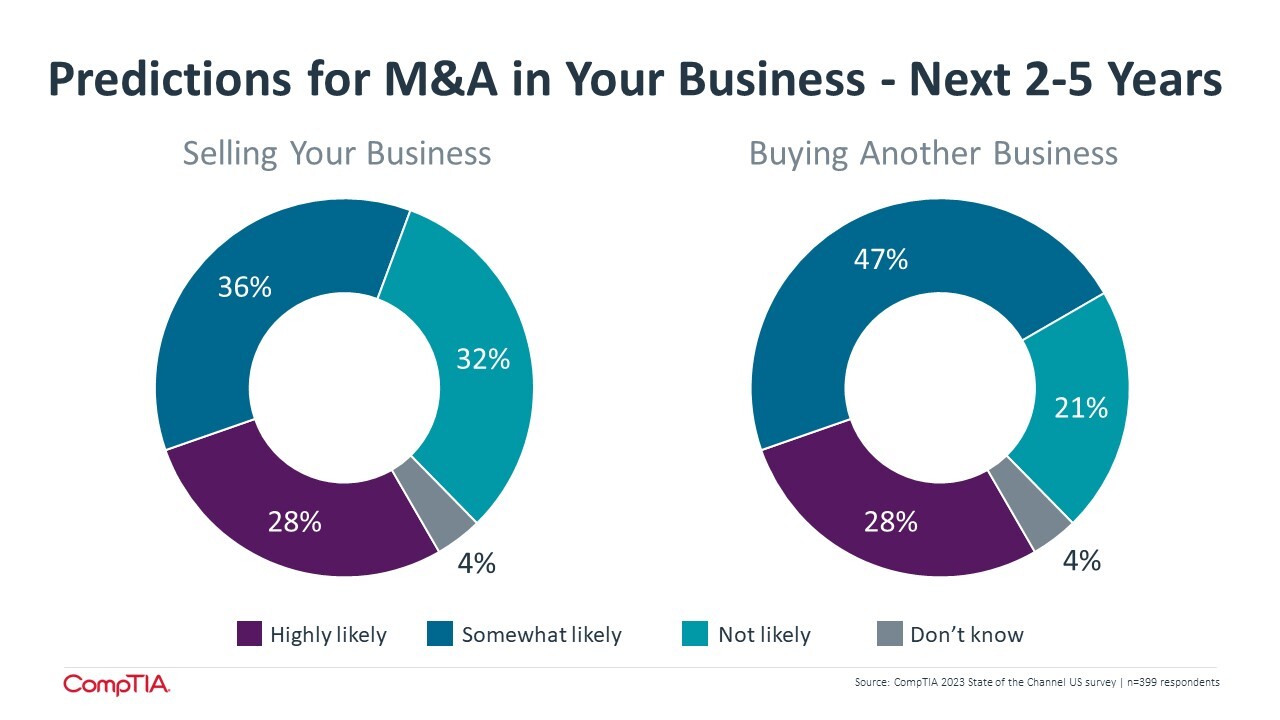 Finally, consult the chart above for further evidence that even channel firms that aren't in the M&A mix today have buying and selling on their mind. It's important to note that respondents answering these questions are often employees, not owners, and therefore the prognosticating about their firm's future is just that – prognostication. And yet, educated guessing or not, M&A activity is a topic that most channel players, large and small, are touched by today and will continue to be in the future.
For further details in this year's report, including data on channel mergers and acquisitions, participation in peer groups and specific trends in managed services, take a look at the CompTIA State of the Channel 2023.
Carolyn April is senior director of industry analysis at CompTIA.