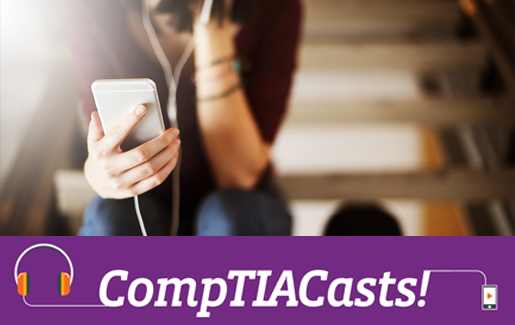 This month, CompTIA podcasts covered a range of topics with member-experts and CompTIA staff providing insight into today's most talked about tech topics—from robotics to women in SaaS, creating company culture to channel readiness, and more. Take a look at what we overheard on CompTIACasts in July then check out all of our podcasts, subscribe and start listening today.
Collaborative Robotics
Jim Hamilton, vice president of CompTIA's member communities, talks robotics in manufacturing, the concept of collaborative robotics and making robots safe for human environments with Scott Denenberg, co-founder and chief architect, Veo Robotics, Inc., on EmTechCast.
"We allow a manufacturing engineer and a systems integrator to take the best of both worlds and design a process step that really leverages the strength, the speed, and the repeatability of a robot and the dexterity and the judgement and the flexibility of a human."
- Scott Denenberg, Co-Founder and Chief Architect, Veo Robotics, Inc.
Creating Intentional Company Culture
Jason Brunt of e3 Technologies, Steve Alexander of MSP-Ignite and Miles Jobgen of CompTIA talk about creating an intentional culture and how Brunt's experience with ADD and dyslexia helped shape the way he looks for talent on Breaking Barriers with CompTIA's Managed Services Community.
"There are a lot of unique ways to find staff and to find people, and there are a lot of good people out there who don't fit the normal or typical or expected criteria. If you know what to look for in a personality—and as long as they have that minimum level of aptitude—you can take their personality to fit with your clients."
- Jason Brunt, Founder and CEO, e3 Technologies
CompTIA World Magazine
On Volley, Carolyn April and Seth Robinson welcome Nancy Hammervik, executive vice president, industry relations at CompTIA, to discuss the upcoming issue of CompTIA World Magazine, available August 5.
"We've been hearing that tech's been getting a little bit of a bad rap the past few years, when we're looking at issues like data breeches, but also the fear of losing jobs and privacy concerns and big brother. The more that we advance into the future world of tech, the more that the general public seems to fear the unknown that tech might bring in changing our world. We really wanted focus as a theme on 'Tech for Good,' and highlight all of the things that technology is doing to improve lives and literally change the world."
- Nancy Hammervik, Executive Vice President, Industry Relations, CompTIA
Channel Readiness
On Coffee Break with CompTIA Councils, Chris Phillips, director of CompTIA's Industry Advisory Councils, and Ryan Walsh, chief channel officer at Pax8 and co-chair of the CompTIA Channel Advisory Board, run down a top 10 list of things to avoid when creating a channel plan.
"In today's environment, in particular if you're dealing with small and medium-sized businesses that don't have in-house IT—how to set it up, how to configure it, what policy to put in place, that would keep someone from going to an online marketplace. So, lesson learned, if you're going into the channel assuming that customers buy direct that is a falsehood that we experienced."
- Ryan Walsh, Chief Channel Officer, Pax8 and Co-chair, CompTIA Channel Advisory Board
Success in SaaS: Two Women Pioneers Share Their Secrets
On Women TechCast, hosts Cristina Greysman, partner strategist for Amazon, and Janet Schijns, CEO of the JS Group, have a candid conversation with Dina Moskowitz, CEO of SaaSMAX, and Kathryn Rose, CEO of wiseHer, about their experiences running SaaS businesses.
"You think that when you've found the right development team, that you've found them, but often times you make mistakes in the first go round. You don't ask the right questions; you don't always get the right agreements in place. You think that what you're sharing with them in terms of your business direction or the user experience is one thing, but just like when you're designing collateral or working with marketing teams, you really have to make sure you're on the same page."
- Dina Moskowitz, Founder and CEO, SaaSMAX