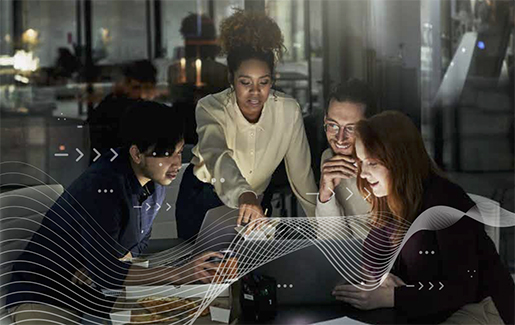 Cloud computing is very much entwined with all aspects of technology—a trend that accelerated during the pandemic after companies transitioned to SaaS-based business applications for their newly distributed, remote workforces. That's opened doors for new partnerships between SaaS vendors and solution providers, many of whom are crossing paths for the first time. And, like any new relationship, there's been a lot of figuring things out on the fly.
For many SaaS vendors, 2020 and 2021 marked the first time they pursued indirect relationships and many solution providers and MSPs had to quickly pivot transform their own businesses to meet the increased demand for cloud. A CompTIA survey reveals that only 16% of IT solution providers receive more than half of their revenue from cloud applications. But almost half of IT solution providers (49%) planned to launch a new cloud application with clients last year.
To help SaaS vendors and solution providers connect successfully, CompTIA's Business Applications Advisory Council has created a Cloud Applications Playbook, a resource targeted to help both sides be more successful in the cloud—and with each other.
"The mission of the Business Applications Advisory Council is to unite the world of SaaS vendors and the IT channel. I've worked for number of B2B SaaS vendors and it wasn't until my last company that I really got an understanding of MSPs and what they can do," said Angus Robertson, CMO at Chief Outsiders and co-chair of the CompTIA council. "I think a lot of SaaS vendors only understand bits and pieces, certain aspects, of the channel. Without a holistic view and a real understanding of that business model, it can be hard. And I think it's important for SaaS vendors to know the channel—how it can help your company grow, reduce customer acquisition costs and more."
While researching the playbook, the council identified 11 distinct channel models, each of which has its own unique needs, specializations, strengths, and weaknesses. SaaS vendors need to identify which model can most help their business and target those partners, Robertson said.
"That's not a discussion that happens at a lot of SaaS vendors. They generally don't think about that. That's why this playbook is a great asset to help them think about the problem intelligently and make the best decision," he said.
Get Valuable Insights into the World of SaaS Applications
The Cloud Application Playbook has separate content for both SaaS vendors and solution providers, tips, research, and tools that each can use to improve their respective businesses. The guide is targeted toward senior executives, C-level leaders and heads of product or sales within an organization, but anyone facing partners or customers can benefit from its content, according to Jacqui Murphy, CMO at Auvik Networks and member of the Business Applications Advisory Council.
"We've included information for both groups to highlight the mutually beneficial opportunity and address some of the gaps that still exist in bringing SaaS applications to market via the IT channel," said Murphy. "With tens of thousands of SaaS applications on the market, and line-of-business managers making many of the SaaS application purchase decisions, some IT solution providers are struggling to figure out how to incorporate this potentially lucrative revenue stream into their businesses. We've attempted to highlight the opportunity and provide some guidance to IT solution providers who are considering adding one or a number of SaaS applications to their suite of services."
For SaaS vendors, the playbook provides a "lay of the land" or things to consider when thinking about leveraging the IT channel, said Robertson. For example, cloud vendors should study research data in order to gain valuable insights and perspectives on adoption by vertical market and route to market.
"We've included some best practices from SaaS leaders who dived into the channel before they knew everything—they figured out through trial and error what worked and what didn't. This is an opportunity to avoid mistakes and pitfalls by learning from the expertise of our council," Robertson said.
More Opportunities for Solution Providers
Meanwhile, solution providers should read through the guide to learn more about potential opportunities and to think about how these opportunities align with their business and clients—and where SaaS applications might fit, Murphy said.
"Then they should complete the Cloud Application Readiness Assessment to determine their preparedness to go-to-market with a new offering," she said. "The assessment is not meant to be overwhelming but it highlights a number of things IT solution providers should consider before bringing a SaaS application to market."
For example, solution providers should think about why they should sell a SaaS application. How does it fit in with their current suite of services? Does it enhance their story, or distract employees and confuse clients?
"And before signing on to sell another service, do they have the knowledge, resources and support from the vendor to ensure a quality offering? There are many questions to consider, and we've highlighted a number of these in the Cloud Application Readiness Assessment," she said.
As far as advice for SaaS vendors and channel partners for improving their cloud business, both Robertson and Murphy offer pointed advice.
"First, think about your pricing and how you go to market. Is it a referral model or a margin model, how does it work for you? Make sure you don't have channel conflict and if you do, manage it efficiently," Robertson said. "Also, remember that your value proposition to customers and to the channel are different. Understand your value proposition. What's in it for your vendor or your solution provider?"
Added Murphy, "the Cloud Applications Playbook and its associated assessments are just the starting point. As SaaS vendors become more knowledgeable about working with the IT channel, and IT solution providers figure out how best to bring these offerings to their clients, the Business Applications Advisory Council will continue engaging with both communities to conduct industry research, develop tools and templates, and help refine go-to-market best practices. We'd love to hear from both SaaS vendors and IT solution providers—where can we provide value?"