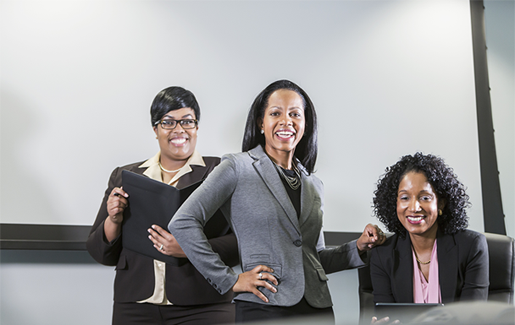 Business of technology providers can do all the right marketing, ensure security best practices and do thousands of sales calls but sometimes business comes because you're being your authentic self. During the combined Workforce Community meeting at ChannelCon 2019, Angel Piñeiro Jr., CompTIA's Member of the Year, said that throughout his career, his identity as a Puerto Rican from New York City's Bronx neighborhood connected him to new clients and new work.
Even recently, a CIO friend needed someone fluent in Spanish with a Puerto Rican background to help migrate data to the cloud. "I am Puerto Rican, I lived in the Bronx," Piñeiro said. "It so happens that he lives less than a quarter mile from where I spent many years."
Leaning into what makes you unique as a managed services provider (MSP) can give minority-owned businesses an edge, especially if it's backed up with certification, said Marquiesha Gillispie from the U.S. Small Business Administration during the same session at ChannelCon. Certifying as a minority-owned business gives MSPs a competitive opportunity on state and federal contracts and gets them access to the billions of dollars set aside for small business contracts.
"The government and its contracting partners have to set aside a certain dollar amount to hire small businesses," she said. Double down on your unique perspective as an MSP to get funding, make connections to new business and win bigger contracts by certifying as a minority-owned business.
$500 Billion at Stake
MSPs that want to work as prime and subcontractors can bid on big projects after certifying as minority-owned businesses, and get special guaranteed loans, according to Gillispie, who spoke during the Diversifying the Workforce and Beyond panel at ChannelCon, presented by CompTIA's Workforce communities.
"Part of what my team does is make sure small business have a competitive opportunity to get a big piece of that $500 billion-dollar pie," Gillispie said. Minority certifications are available for women, veterans, people from nonwhite backgrounds and people with disabilities. "You can show people, 'We have the capacity, we have the know-how, and we exist.'"
Benefits include partnering with bigger companies as prime or subcontractors and getting special loans with certain guarantees to help boost business. And companies have dollars set aside for small business contracts dedicated to diversity. "Some of the major companies have people hired to engage with diversity vendors," said Corey Kirkendoll, president of 5K Technical Services.
Why You Should Certify Yourself
Getting access to that world can level up an MSP company, but it requires some hard work up front. It's possible to hire a company to certify your small businesses as a minority-, veteran- or woman-owned business said Kirkendoll, but doing it yourself can give you insight into your MSP business.
"It'll let you know if you understand your business," he said. The process digs into the historical, banking and legal aspects of the MSP. "They're going to ask about your financials. 'Are you holding meetings?' 'Are you doing the things that make you a viable business?' They're making sure, 'If I give you a $14 million contract, can you do it?'"
It's worth it to put in the hours yourself, he said. There are more than $500 billion federal contracting dollars available and an opportunity for every small business to get a piece of the pie.
How to Get Started
Certifying as a minority-owned business is a multistep process, from getting the right documents to telling your story to a panel who will decide the outcome. First, take a look at the certification criteria to make sure you're a match, then use these steps to get started.
Get the paperwork together. It starts with gathering the right documents to prove that the business is owned by women, people with a minority background, veterans or people with disabilities. Every certification agency is different, but these documents usually include proof of incorporation, minutes of board of directors and shareholders meetings, ownership and partnership agreements, business cards and proof of identity for the principal players, plus insurance and bank records.
The good news is you only have to gather all that data once. "If you set yourself up with one, you set yourself up with them all," Kirkendoll said.
Spend time on the application. Applications can be done on paper or online, and usually involve a fee that can be paid by check or online. Most certifying sites have online portals where you'll upload digital copies of the required documents. Take good, clear scans or photos of your documents and upload them here.
Share your story. Certifications sometimes involve site visits and interviews, with the final approval coming months later, 90 days usually. Practice telling your story to friends and put together a presentation that will make your company shine.
The process can be challenging, but certifying as a minority owned small business comes with many benefits. "It is arduous but it does help you," said Kirkendoll. "They're going to make sure you have everything crossed and done and it does line up with everything else."