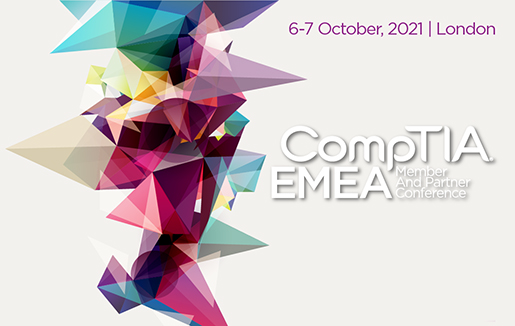 If it seems like forever since your last live business conference, well, you're not alone. We're all looking forward to seeing peers and colleagues in person to discuss the latest industry topics and trends. The wait is almost over.
For the first time in more than 18 months, CompTIA plans to host a live event for members—the EMEA Member and Partner Conference, 6-7 October in London.
"It's going to be the event of the year for me! It's been way too long since I've seen all my wonderful colleagues in the UK Business Technology Community," said Tracy Pound, founder and managing director of Maximity Ltd. and chair of CompTIA's board of directors. "I'm excited to see and speak to people in person, catch up, learn, be inspired and have fun."
CompTIA has built in plenty of time for networking and peer-to-peer conversations, but there's also an agenda full of meaningful content and sessions too—all geared toward growing your business and opening new doors.
"This conference has always been one of the top events on my calendar, however being able to see peers and the community after 18 months will make it all the more exciting and special," said Hannah Lloyd, vice president of channel sales at inSOC and CompTIA's 2021 Member of the Year. "I cannot wait to catch up, congratulate people on their successes through such a hard period, and also learn and grow as a result of the event as a whole."
Several sessions will be recorded and available on demand after the event for those that can't make it. For those that have registered to attend—or plan to—here's a look at what to expect:
State of the Industry Keynote with Anne-Marie Imafidon
CompTIA is happy to have Dr. Anne-Marie Imafidon, noted speaker, presenter and co-founder of the award-winning social enterprise Stemettes, discuss the latest business and technology trends and what they mean for your organisation. Imafidon was selected as the most influential woman in technology in the UK of 2020 by Computer Weekly and featured among the top 10 minority leaders in tech by the Financial Times and Inclusive Boards. She founded Stemettes in 2013 to encourage young women to pursue careers in science, technology, engineering, and mathematics.
Examining the Channel's Role and Responsibility in Cybersecurity
As fast as cyber threats develop and evolve, we need to be faster. So much has changed—even in the last few months—that it's incumbent upon everyone in the tech industry to make sure they can respond efficiently and appropriately. Holly Grace Williams of Akimbo Core will lead a panel featuring Chris Spinks of Yorkshire and Humber's Regional Cyber Crime Unit and MJ Shoer, senior vice president and executive director of the CompTIA ISAO.
"It's on us to develop the best practices and strategies to protect our customers today—and tomorrow," said Shoer.
MSP Business Transformation Success Stories
Transforming your business is no easy task. Do you start a new one? Buy or sell? Diversify? The key to any decision is to keep moving forward, according to Amanda Stewart, managing director of Illuminate Technology. In a panel session, Stewart and Adam Morris, managing director of Avagio IT Services, will discuss lessons learned while enhancing their own organisations.
"For example, creating a 'happy workforce,'" said Stewart. "The value of attracting young people with energy and passion for your business is important. We'll talk about how to find them, how to keep them and help them flourish—you can't try to push a round peg into a square hole."
How to Leverage Threat Intelligence to Improve Your Cybersecurity Services
Cyber threats are getting more common and more complex. One of the best proven strategies for defending against ransomware and other cyber risks is sharing information on the latest threats, according to MJ Shoer, senior vice president and executive director of the CompTIA ISAO, who will lead a session on how to leverage threat intelligence to improve your overall security posture—including members' experiences from the recent Kaseya attack and new initiatives designed to thwart future attacks.
"The more we help each other, the better protected we all are against bad actors," Shoer said. "The CompTIA ISAO has grown into a powerful network of security experts willing to communicate their experiences, best practices, and analyses. We're very excited to expand into EMEA and start to create a truly global force to improve our collective cyber resilience."
Implement Strategic Marketing into Your Managed Services Business
Marketing is a critical but often overlooked component of an MSP's strategy. Leveraging the right tools and resources can make a dramatic difference in your success, according to Lloyd and Pound. They will lead a session to discuss highlights from CompTIA's recently refreshed Marketing Toolkit for MSPs, a comprehensive member-exclusive guide on creating a marketing plan and leveraging strategies to help strengthen your brand.
"We want people to walk away with a practical marketing plan they can immediately start to use to help grow their MSP practice," said Pound. "We'll be giving away some great tips on tools to assess your website's performance plus some easily actionable steps to building a solid pipeline of new business."
"We also want our attendees to have the opportunity to discuss their current marketing and goals with their peers and have collaborative insights and takeaways," said Lloyd. "The session has been carefully designed to allow members to get a great first-hand look at the toolkit, how to use it to bring instant value and how new marketing goals can be designed and achieved to create new leads and ROI in the business."
Spotlight Awards Shine on UK's Top Tech Companies
Celebrate the achievements and accomplishments of your peers when CompTIA announces the winners of the UK Spotlight Awards on 5 October. This year, honourees will be chosen in categories including Solution Provider Spotlight, Innovative Distributor, Innovative Vendor, Community Leadership, Future Leader, Advancing and Women in Technology Leadership.
"I'm so happy that we'll be able to pay tribute to some of our members in person. The Spotlight Awards Dinner is such a great occasion to recognise our members who give so much to advance the IT industry and its workforce, but it's also a fantastic opportunity to build and strengthen relationships that make our communities so great," said Estelle Johannes, director of CompTIA's Benelux and UK Business Technology Communities.
Get Prescriptive Business Advice in the Genius Café

Always a popular—and usually sold-out—element of CompTIA events are the Genius Café appointments available with industry leaders. These exclusive one-on-one sessions provide CompTIA members the opportunity to get answers to their most pressing questions. For the EMEA Member & Partner Conference, geniuses are confirmed to answer questions around sales, marketing, cybersecurity, leadership, and operations/profitability.
"These appointments fill up very quickly, so if you're interested in free expert advice in any of these areas, make sure you're registered and request an appointment as soon as possible," said Leanne Johnson, senior manager of vendor relations at CompTIA. "Our roster of geniuses are all recognized leaders in their respective areas, and all are committed to help CompTIA members be more successful."
Today's Tech Top Ten: A Hit Parade of Essential Transformative Skills
What technology skills have the highest demand and highest opportunities today? CompTIA's Chief Technology Evangelist Dr. James Stanger presents a unique, music-inspired presentation that highlights what organisations are looking for beyond foundational knowledge. In addition, learn about CompTIA's latest learning and developing programs to support tomorrow's tech needs.
"With a little help from my friends, I've been able to string together a narrative about transformational skills that organisations need right now. As you upskill workers, it's vital that you hit the right notes as you discuss the unique needs that IT leaders have right now," Stanger said. "Join me as I riff on essential skills needed in the industry, including the cloud, networking, and what 'IT security' really means today."
Future Proofing: Employer Strategies for Talent Management and Predictable Pipelines
An age-old question: do you build it or buy it when it comes to developing talent? Or both? CompTIA's Graham Hunter, vice president of skills certification for EMEA, Asia Pacific and Canada, will tackle that topic during a session on transforming tech talent.
"Investment in technology solutions during the pandemic has only increased the pressure on organisations to secure, retain and nurture a pipeline of talent. In this session we'll show that deep pockets can only get you so far, whilst a true diverse mix of routes into tech roles is key to sustainable talent development for businesses small and large," Hunter said.
Check Out the Latest Tech Products, Services and Solutions
One of the most-missed aspects of technology conference life is walking the show floor to learn about the latest innovations. The CompTIA Member and Partner Conference will host more than 50 vendors demonstrating their latest technology products and services. Visit each stand and engage with vendor representatives to learn not only what's new, but how it can help you grow your business.
"The exhibition floor is one of the highlights of the event, outside of the content, as it gives CompTIA's vendor and distributor corporate members the opportunity to showcase their latest technology, products and services to help solution provider businesses succeed," said Kris Nagamootoo, director of vendor relations at CompTIA. "It's a great way to forge new business relationships!"
Join us 6-7 October for the CompTIA EMEA Member and Partner Conference.
Register now.