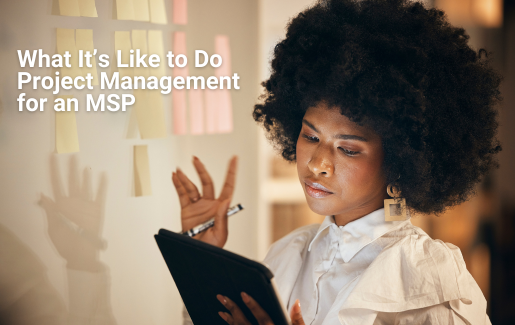 Wondering if you've got what it takes to be a project manager for a managed service provider (MSP)? The answer depends on how much you like pets. Or at least one particular activity involving one particular pet, because you'll be doing a lot of it.
"Herding cats," joked Kristy Biermann, director of professional services at Greystone Technology, a Denver-based MSP.
That's a tougher role than it may sound, observes Biermann's boss Peter Melby – and more important too.
"What we've learned is that project management is truly a skill and an art, and the ability to bring those things together can be game-changing, says Melby, Greystone's CEO.
Most successful MSPs supplement network management services with IT project work, like building websites and implementing accounting systems. Relying on engineers and salespeople to complete complex undertakings on time and within budget, Melby discovered after a decade in business, rarely works out well.
"One of the most impactful things we've done is hire a highly qualified project manager," he said.
Greystone now has several of them, all of whom play a pivotal role in keeping revenue flowing, overhead low and customers happy. "They are the voice of the client to the team and the voice of the team to the client," Melby said.
That process begins at the very beginning of a project, he adds, when the project manager helps the customer articulate their goals, translates those objectives into terms technical people can understand and then translates what the technical people say about milestones and deadlines into terms the customer can understand.
Once work is underway, the project manager bears primary responsibility for tracking progress, comparing actual costs to estimates and breaking down bottlenecks as they arise. "It's up to you to be able to define the outcome and figure out the path to get there," Biermann says.
Project managers are key players more broadly in capacity planning and revenue forecasting for the entire company too, Melby adds. "Do we have enough work? Are we too busy? Are we not busy enough?" Answering such questions is impossible without the front-line perspective that project managers possess.
Related article: What It's Like to Do Tech Support for a MSP
Courage and Flexibility
Not surprisingly in light of all the time they devote to managing schedules and tracking metrics, effective project managers must be detail-oriented and comfortable with numbers. Given how much time they spend relaying information among people with different interests and priorities, rock-solid communication skills are a must as well.
"You're there to work with all of the different stakeholders and ensure everyone's on the same page, expectations are aligned and there is an agreed upon definition of what a successful outcome will be," Biermann says.
Doing that, and then keeping everything moving ahead on schedule, requires a gift for diplomacy too. "The project manager should be a capable enforcer on the team, but not a punitive overlord," Melby adds. Courage is a useful quality to have as well, says Biermann.
"Being able to have hard conversations is a big part of a project manager's job," she says.
So too are overcoming delays and solving problems, both of which require a flexible mindset. "Things don't always go as planned," Biermann says. "People who are too rigid, I think, will struggle a little bit."
Patience helps as well. Project managers spend their days overseeing matters—and people—they can't always control. "You're a conduit," Melby says. "You're forcing accountability to a framework, but you're not doing the work."
Leadership Potential
One quality you don't need to be a great project manager is technical expertise, notes Biermann, who knew very little about IT when she first joined Greystone.
"Having a good understanding generally of how things work is important, but really being able to take that technical information and translate it in a way that makes sense to the client is more important," she says.
As a result, project management can be a great step into the IT industry for people with limited interest in bits and bytes. It can also set you up well for promotion into even more challenging jobs. An effective project manager's ability to shepherd programmers, technicians, salespeople and customers through complicated endeavors rarely goes unnoticed.
"If you know our business and you can move the needle for our team and our clients, you'll always have a good reputation," Melby says.
Biermann knows it too, because she started out in an entry-level position before rising to her current place on Melby's leadership team. That's not why she loves project management so much though.
"It's checking things off the list. It's moving things forward. It's the successful execution of tasks," she says. "When we've defined what success looks like and then we all get there together regardless of how many roadblocks we've run into, that's the most rewarding thing."
Ensure Your Project Success
CompTIA Project+ certification can help your team earn the entry-level skills they need to successfully manage projects. Learn more!!