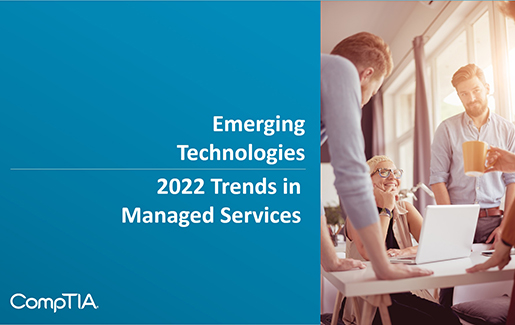 Whether it's blockchain, artificial intelligence, drones, or beyond, emerging technologies pique imaginations and jumpstart business owners' thoughts about innovation and money-making potential. Count MSPs among the inspired. And yet, turning inspiration to profit is a journey for most. And while MSPs are top of their game when it comes to managing traditional infrastructure hardware and software, most are not cryptocurrency or virtual reality experts. In this case, embracing emerging technology will require adjustments, investments, and new thinking.
What does this journey look like and how successful can it be?
To start to answer these questions, it's important to note where emerging tech sits on today's MSP radar screen. CompTIA's Trends in Managed Services 2022 research finds MSP enthusiasm high for a wide range of technologies to serve as a path for growth and profitability. Half of respondents say emerging technologies—those sold to customers and/or used internally to run their own business operations—will play a major role in the evolution of the managed services market in the next two years. Another 43% believe emtech will have at least a moderate role. And only a small fraction (7%) remains mostly blasé about emtech's potential impact on their business.

Related Content: Emerging Technology: The Three Stages of Adoption | Trend Watch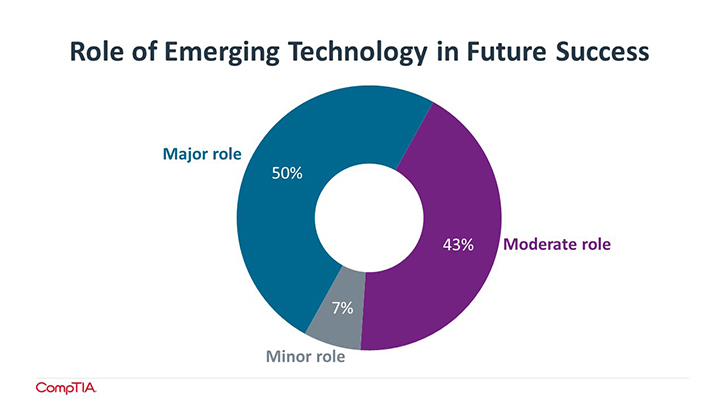 Belief that future growth and success will hinge at least in part on successful adoption and integration of emerging technologies is shared by MSPs of all sizes, from those with fewer than 10 employees on up to enterprise-level practitioners. How to achieve that success, like with many business decisions, depends heavily on the groundwork laid in advance. For MSPs embarking on an emtech journey, more than a few questions should come to mind. Consider:
Which emerging technologies work best for my business goals? For my customers?
What's the cost associated with adoption? How do we finance it?
What are our ROI targets?
Do we have the necessary technical skills? If not, how do we attain them?
How much emphasis should be placed on new technologies vs. our current mainstays?
Are sales, marketing, and demand-gen messages aligned with newer offerings?
Which vendors do we work with?
Many of the answers to these questions are subjective based on the type of MSP company in question. But as in the case when entering any new market or discipline, working through this list in advance will help prevent missteps that can occur from diving in without due diligence.
What's on Your Emerging Tech Menu?
What technologies to offer is a critical question, and not always an easy one to discern. The sheer number of technologies that fall under the emtech umbrella is dizzying. So long and varied is the list of wares that it's almost inaccurate to group them together as one. But until one or more break out and define a new category, "newest" is their primary shared status for now.
Given this volume of choices, one would assume the average MSP is unlikely—or unable—to offer the gamut. That's mainly true, though a sizeable portion do report business activity in several emtech areas at once, often checking the box for three or four solutions they are selling or experimenting with today. On the other end of the spectrum is the MSP that is placing all its bets on a single focus area such as drones or robotics.
MSPs are typically selling emtech tools as standalone solutions or integrated as enabling features in other services (think artificial intelligence baked into cloud-based CRM software, for example). Others have not yet monetized their offerings but are in an experimental phase with various pilot projects. Then there is the internal use of emtech-related tools, including automation software that can provide efficiencies to the operational side of the business. This is clearly a period of experimentation and specialization.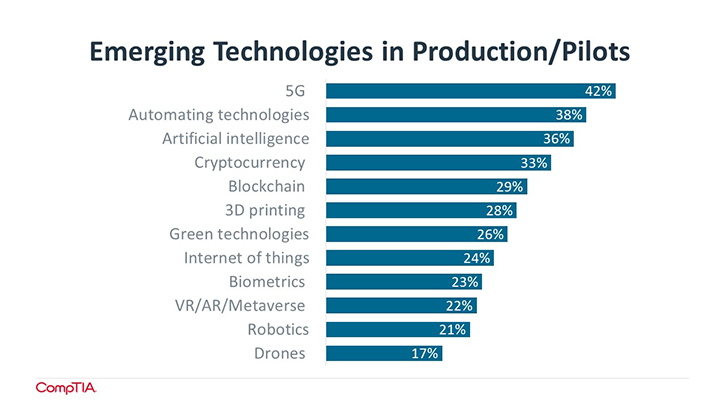 Of the long list of specific emerging technologies in production (for sale) or pilot mode by MSPs today, 5G sits at the top, followed closely by automation technologies and artificial intelligence. It should be noted that the gap in incidence rate between the top three technologies and the bottom three is not wide, however. There is no clear "winner" among the emerging tech options. In fact, MSPs may be, for now, trying out more tools than they will eventually settle on as part of their portfolio.
Let's review just a couple of the main emerging technologies MSPs report activity around today. At first glance, 5G might not seem a logical MSP fit, seen mostly as the domain of giant telecom providers overhauling vast infrastructure to boost network speed and bandwidth. All true. But savvy MSPs are finding ways to exploit 5G's arrival to sell services closer to their own wheelhouse.
How? For one, 5G provides a foundation on which other technologies can shine. MSPs that work with various software, data analytics, internet of things, and AI-based tools, and/or video are enticing customers with the advantages that 5G's new network speed brings to these solutions. On a more nuts and bolts level, the rollout of 5G is prodding legions of SMB clients to modernize existing networking setups (updating current Wi-Fi and/or moving from MLPS to SD-WAN, for example), and that is a natural fit for MSPs. Finally, as with any new type of deployment, MSPs can weave cybersecurity considerations into the 5G conversation.
AI is another emerging technology high on the MSP adoption list. In and of itself, AI isn't technically a standalone product or services; it's more of an enabling feature residing in host of other solutions that MSPs sell and manage. But AI capabilities can advance several priority areas for MSPs in the years ahead. One is the MSP mission to improve customer experience—both for their own customers, and importantly, for their customer's customers. The work involved in web site redesign, data personalization, interactive tech support, video chatbots and other navigation/communications features that enhance customer experience can be greatly enhanced by the inclusion of AI features, for example.
CX is an obvious customer use case for MSPs looking for a reason to weave AI into their lineup. Similarly, they are finding other practical use cases—internal and external—as reason to incorporate newer wares, including automation and internet of things.

Overcoming Cost of Entry, Other Challenges to Adoption
With any new venture comes challenges; emerging tech is no different. Resource constraints top the list of hurdles for MSPs, not surprisingly. The initial cost of entry can be prohibitive or at least daunting for many MSPs, the majority of whom are small companies already operating lean. This is when sound financial planning pays off. Ongoing access to credit and willingness to borrow when needed are critical to entering any new market or discipline. Yet during the pandemic, many smaller firms have been making ends meet at best, so a major new investment might seem out of reach to them. But for those firms that have built capital resources into their long-term growth planning, it is doable.

Among specific challenges, the need for technical skills training and/or hiring poses a steep hill to climb for many MSPs exploring emerging tech options for their portfolios. Not all emerging techs are equal, however. Some categories have fewer technical barriers to entry than others. Take internet of things deployments, for example. They can initially involve the selling and management of hardware sensors and other devices on the network, something highly familiar for MSPs already steeped in infrastructure services. It is the next level of IoT services, data collection and analysis, that involve skills that the typical MSP does not have in-house, hence the need for retraining staff or recruiting external candidates. The tight labor market, especially for high-end software and data skills, is complicating the current hiring landscape for many smaller firms.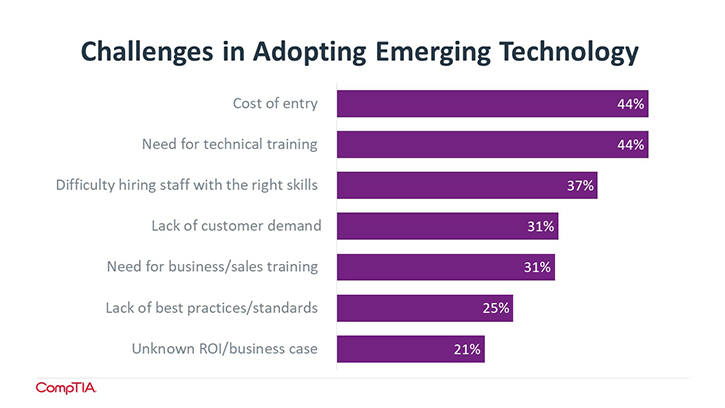 Lower on the list of challenges are two items that are within the control of MSPs to address. One, customer demand, cited by 31% of respondents. It's imperative that MSPs not just wait for customers to ask about emerging technologies to deem them "in demand." Instead, they should be educating customers to the benefits of these innovations and their ability to help meet business goals. Promoting awareness proactively vs. waiting for the ask is the best way to apply new sales and marketing techniques.
Lastly, 21% of MSPs cite unknown ROI as a barrier to emerging tech entry. Fair enough, but as with the drivers behind customer demand, more of the onus for determining whether an emerging tech play is the right fit sits in the hands of the MSP. Evaluate the type of customers you have, the industries you serve, and general tech buying patterns. Couple the demand side of the equation with the capacity to deliver and most MSPs should be able to determine if the effort and investment in emerging tech is worth it.
Carolyn April is senior director of industry analysis at CompTIA.