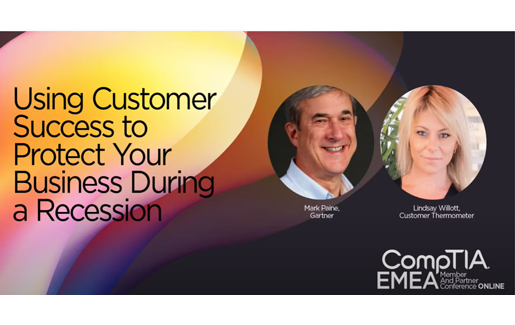 As channel organizations budget for the year ahead, how will the economic recession influence customer investments in IT services, solutions and products? How can managed service/solution providers and vendors maintain and grow their customer base?
Strong customer experience (CX) holds the key, according to speakers in a "Customer Success" session from CompTIA's 2020 EMEA Member and Partner Conference. Lindsay Willott, founder and chairman at Customer Thermometer, talked with Mark Paine, senior director, analyst, at Gartner, about customer technology spending forecasts and strategies for strengthening your CX across the technology buyer lifecycle.
Watch the Session
Customer IT Spending Will Decrease Slightly in 2021

While the COVID-19 pandemic drove customer need for hardware, edge devices and security solutions in 2020, the economic recession that followed the pandemic will soften customer demand for IT solutions and products in 2021.
Mark Paine, senior director, analyst, at Gartner, explained that across all industry sectors, IT investments in business process, outsourcing and consulting will decline 8.5% globally over the next 12 to 18 months.
"Of course, it's not the same across the globe. APAC, for instance, will see an 8.8% decline in IT spend. Those who are most affected are North America and Europe, and they're at 10.5%," noted Paine.
For managed service providers (MSPs), Gartner forecasts a 5% decline for IT services in 2021.
Customers' Scrutiny of IT Provider Value and CX
Due to anticipated IT budget cuts, enterprise and small-to-medium business (SMB) customers will scrutinize each technology provider more thoroughly based on the value and CX they receive.
Think of CX as how your customer experiences your business from all the interactions you provide throughout the customer lifecycle—from recruitment, purchase, and onboarding to implementation, support, and renewal.
CX is the glue of customer loyalty and relationship management. If your CX reflects superior product or service quality, continuous engagement, and responsive and reliable support, your customers are more likely to keep you, especially in difficult financial times.
Strategies to Strengthen CX

Since CX is a standard by which providers and vendors will be judged, how do they go about ensuring that their CX is superior to the competition? Willott and Paine zeroed in on these strategies.
1. Create a customer journey map.

Visualize how customers interact with your business through the lifecycle by creating a customer journey map. The
Technology Buyer's Journey
, created by CompTIA's industry councils, is an example.
Login
or become a registered user (it's free!) to download the Technology Buyers Journey.

A map identifies all the ways customers interact with you, whether it's reading customer reviews online, meeting virtually with sales team members to review contract terms, interacting with technicians during on-site visits, or calling to get billing questions answered.

"Journey mapping ensures that the right engagement is delivered at significant milestones within the buying journey, which ensures the right information is delivered at the right time for customers to see the value of their purchase," Paine said.
2. Increase customer engagement.

In a competitive tech ecosystem, channel organizations should increase how they engage customers. Lockdown restrictions may have curtailed many in-person meetings or physical touchpoints, but personalized digital touchpoints can help set your business apart.
Willott shared, "We used to send a book on customer experience and a box of chocolates to our customers when they signed up. And we had to stop doing that during COVID because it's not ok to send to their home addresses and it's not safe. [But] then we realized that we were missing out on that part of our brand. So we created a PDF with an Amazon voucher that links to ideas on books and chocolates they might like."
Paine pointed out that customer engagement is most important in the ownership cycle—when customers are using your products and services. Rather than react to customer requests, MSPs and vendors should be proactive in making sure the product or service is performing as it should.
Before customers start budgeting IT expenses for the next year, providers and vendors should share how their solutions have improved customers' business outcomes.
3. Over deliver on service.

To protect and grow your customer base in an economic recession, be fanatical about service. As Paine put it, "Deliver the service your customers expect. And then do more."
Willott agreed, "It's about making sure the [service] basics are brilliant." Willott also encouraged looking at support tickets and inbound enquiries as signposts of services that customers need and that providers and vendors can deliver.
Read more about the 2020 EMEA Online Conference
and
watch all of the sessions on the YouTube
.