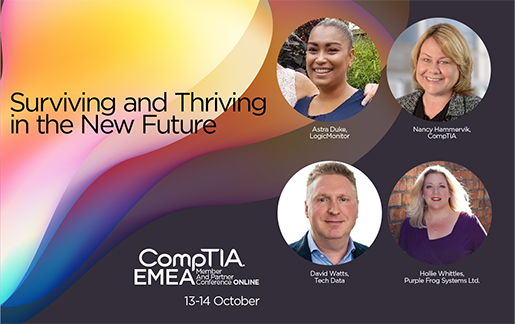 While the COVID-19 global pandemic accelerated demand for specific IT solutions and services, it also prompted IT companies to rethink more broadly how they approach customer acquisition, engagement and support, according to IT leaders representing the managed service provider (MSP), vendor and distributor communities in a "Surviving and Thriving" panel at CompTIA's 2020 EMEA Member and Partner Conference hosted by Nancy Hammervik, CompTIA's executive vice president of industry relations.
Deep Understanding of Customer Needs Is Key
What separated IT companies that survived from those that survived and thrived during the pandemic?
Initially, MSPs and solution providers hat reacted fastest in March and April survived. "That was really around mobility solutions, classic hardware, people running off desktops, people running on notebooks," said David Watts, managing director at Tech Data UK.
But those MSPs that anticipated and responded to customers' quickly changing IT requirements are those that truly shine, according to Watts. "Those who understood their customers' needs the most—beyond the basics of the hardware and the software that they had installed—they're the ones that are working. They're the ones that have thrived," he said.
Evolving Demands for Products and Solutions
For enterprise and small to medium business (SMB) customers, regaining and maintaining business continuity in lockdown accelerated the deployment of edge devices and cloud solutions.
Customers invested in hardware and collaboration, communications, and security solutions to support core business functions for remote workers.
Astra Duke, customer experience director, EMEA, at Logic Monitor, shared, "We've seen a lot of our partners, based on customer requests, adopting new technologies that wouldn't normally be in their stack. A large one was around support for video conferencing where it was never really at the forefront for some of our MSPs to deliver as a service."
Customers also looked to MSPs/solution providers to apply emerging tech in order to solve complex and pressing business problems.
Hollie Whittles, director, Purple Frog Systems Ltd., explained, "We provide data analytics and reporting solutions, working across many different verticals… We've been able to use things like advanced analytics solutions and tools like machine learning to help our clients plan, model and predict customer behavior."
Adapting Communications Approaches
In a time of intense business disruption where social distancing prevented meeting with partners face to face, vendors and distributors modified their communications strategies to reflect new paradigms.
"Customers need to know what to expect from us. Basic clarity became the forefront of our comms," Watts said.
Taking the time to personally update partners on service levels—whether by phone or one-on-one virtual conference meetings—was a top priority for many distributors.
According to Watts, "We gave interactive PDFs so that our team could talk with our customers about all of our service levels—exactly where we were—to give them the reassurance they needed. That personal touch came back in."
How Giving Back Attracted New Business
Managed service/solution providers that built reputations for thought leadership and giving back to their communities were rewarded with new business in lockdown.
Whittles noted, "We help deliver free training conferences to the tech community, facilitate talks at global events, write technical blogs, do podcasts, videos and sponsorships, and obviously utilize things like social media… Our customers find us through [these efforts]."
Flexible Support Options
To help those facing financial challenges as the result of a pandemic, vendors made changes to invoicing models.
"We've worked on a tiered billing structure. So, looking at lower pricing for devices that require low-level monitoring, which allows for MSPs to propose for a more robust solution that is more affordable and attractive to their customers. Even a bit more pay-as-you-use approach," Duke stated.
MSPs developed solutions to help keep customer operations running in the wake of layoffs.
As Whittles put it, "A lot of clients had a really hard time in lockdown, particularly retail and hospitality sectors. They've had to do things like downsizing staff and head office counts. And in many places they have looked to us to provide them with solutions to absorb some of that work."
Planning for 2021 and Thriving
For vendors and distributors, planning for 2021—and thriving—means anticipating partners' questions and finding solutions.
Watts said, "[Partners are] going to come to us and say, "What do we need to do next as a business? Do we need to do something different than we did before? How do we shore up our business so that we don't find ourselves in this situation again?"
For many MSPs, lockdown has provided them the opportunity to gather critical customer business intelligence and plan for the year ahead.
"We've been working on a number of cloud migrations so we're using this time as an opportunity to improve that overall infrastructure, plan for the future, improve scalability and robustness and apply emerging technologies where we can," Whittles shared.

Hammervik closed by mentioning one of her favorite quotes: "Going through things you never thought you'd go through will take you places you never thought you'd get to," adding that there are positives to take from our current environment, and that things will get better.

"I say all the time, the comeback is better than the setback," she said. "We've had to accelerate business models, the adoption of technology, the digitalization of all industries," There are good things coming, a lot of silver linings."

Don't miss any sessions from EMEA Online. Catch all the sessions or watch the replays.