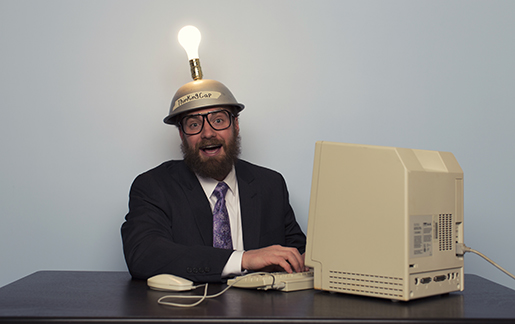 Innovative technologies such as blockchain, drones, and internet of things might seem a bit futuristic and out of the purview of many managed services providers. But these technologies have practical applications but a limited talent pipeline that can execute those functions—a combination that presents a perfect opportunity for enterprising MSPs looking to get involved, according to panelists in a "Tech in 2022 and Beyond" session during an Emerging Technology Community meeting at CompTIA's Communities & Councils Forum.

Related Content: Emerging Technology: The Three Stages of Adoption | Trend Watch
Decentralizing Data with Blockchain
When many people hear the term blockchain, their minds frequently jump to cryptocurrency. While Bitcoin and other cryptocurrencies do utilize blockchain technology, the applications for blockchain greatly exceed that of decentralized finance. As a distributed ledger system that allows people to create transactions between multiple parties in a shared space, this emerging technology is vital for decentralizing data. In other words, blockchain and applications for it can be used to meet many business needs today, according to Adam Lesh, CTO of The Maker Foundry and co-chair of CompTIA's Blockchain Advisory Council.
Data has become increasingly valuable as businesses seek ways to better understand their customers and companies gather information. The web has evolved significantly and continues to become more dynamic and personalized. But that wasn't always the case. The industry commonly refers to these stages as Web 1.0, 2.0 and 3.0.
Web 1.0: Static pages that were primarily used for informational purposes.
Web 2.0: Dynamic pages that involve commerce transactions but are centralized and controlled by enterprise companies.
Web 3.0: Decentralization of data to help individuals own and control their own data.
Currently, we are in Web 2.0, but the outlook is that blockchain technology is ideal for moving us forward into Web 3.0.
Blockchain Opportunities for MSPs
Blockchain technology allows for a transparent ledger system where knowledge is visible to all while remaining immutable. For MSPs, blockchain helps companies have greater insight into tracking of products and transactions. "Right now, probably the biggest area for blockchain is defi—decentralized finance," said Lesh. "That's probably the biggest growing field. Also, the supply chain is a really huge way of leveraging blockchain technology, using smart contracts to manage and track movement through the supply chain." Lesh hopes that blockchain is the technology to put the control of data back into individuals' hands, rather than large companies.
Using Drones for Data Collection
Drones have evolved from toys and military tools to become a valuable tool for business. The drone industry is projected to be a $43 billion industry by 2024 with applications in most industries. Most drones are being used to capture data from above through aerial photography and videography, while helping to reduce the danger to workers.
Ted Parisot, co-founder of Helios Visions and vice chair of CompTIA's Drone Advisory Council, has seen a real lack of practical drone operation skills in the workforce and recommends MSPs prepare themselves for basic drone flight or software support. "You can begin with drones by taking aerial photos and videos for marketing and other purposes or by supporting drone service companies with cloud services or other IT services," says Parisot.
Parisot sees great potential for drones in the infrastructure sector, helping to keep buildings and roadways in good condition. "What we're seeing, especially with the infrastructure bill is that a lot of roads and bridges need repair," he notes. "Drones are a great tool for that process. Agriculture definitely has lots of acres to cover. We're also seeing a lot of drone delivery." Parisot recommends that MSPs start with basic operations. From there, it's just a matter of identifying a specific use case.
Connecting Technology with IoT
Businesses are using internet of things (IoT) for multiple purposes to help increase efficiencies and accelerate operations. This popularity is giving MSPs numerous opportunities to take advantage of IoT in the business sector, according to Jill Klein, senior leader of IoT for Sirius and co-chair of CompTIA's IoT Advisory Council, who highlighted several statistics capturing the opportunity.
69% of enterprises have more IoT devices on their network than computers.
84% of security professionals believe IoT devices are more vulnerable than computers.
Only 16% of enterprise security managers say they have adequate visibility into the IoT devices in their environment.
These statistics illustrate that securing IoT technology is a critical need that offers many opportunities for MSPs. "It's time to mind the gap between OT and IT," Klein said. "There are all kinds of security plays out there, whether it's a security assessment or a security solution. It's kind of a black hole right now. I think it's a very important thing for people to look at and it's ripe right now."
IoT offers many opportunities for any MSP looking to make a profit from connecting technologies. From building management to consumer electronics and fleet management, IoT can be applied in nearly any industry and providers will be needed to support those use cases. "There are a million solutions, with a million use cases that continue to grow every day," said Klein.