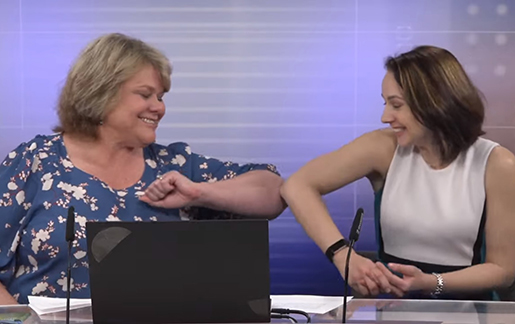 Someday, we'll all look back at March 2020 as the time when COVID-19 spread so quickly, we moved from rumors and question marks in the U.S. to a full-scale global pandemic in seemingly no time. It also shook our businesses and our lives to the core. We may even demarcate our own lives in two periods: pre-coronavirus and post-coronavirus.
What may not be ingrained so acutely is the fleeting period at the beginning of March, when everything changed, by the day—by the hour even. For CompTIA, that time coincided with the final planning of our annual Communities & Councils Forum (CCF), which was scheduled for March 16-18 in Chicago. For CompTIA, this is an important, annual gathering of our most engaged members. We'd spent months preparing for it; we had a full agenda of working group meetings, speakers, sessions and networking time—even planned for attendees to enjoy St. Patrick's Day along the dyed-green Chicago River. Of course, all that changed--quickly.
In the days leading up to CCF, companies started canceling employee travel and further restrictions were starting to take hold as positive coronavirus results started to increase everywhere. Faced with escalating health concerns for both our employees and our members, CompTIA had a difficult decision to make. At the time, that decision was not as simple as it appears now in hindsight. Do we continue with the meeting, scale it down, make it virtual, hybrid, postpone it, or cancel altogether? We didn't have a lot of time and our choice would have ramifications no matter which way we decided.
Ultimately, 10 days before the live CCF in Chicago, we chose to pivot to a virtual event, and we're glad we did. Our virtual CCF ultimately attracted five times more people than were slated to join us in Chicago and many more have watched the archived event. The industry response was overwhelmingly positive. While folks shared that they would miss the opportunity to network face-to-face, they appreciated CompTIA's concern for health and safety first.
Many people have since asked, "How did you do it?" Here's how:
1. Start the Conversation
About two weeks prior to CCF, Nancy Hammervik, CompTIA's executive vice president of industry relations, called a meeting with a small group of stakeholders in the event. At that point, there were only about 100 confirmed cases of coronavirus in the U.S. But Europe's figures were escalating quickly, and most predictions called for a similar path in the U.S.
"There were no orders to not get together in large groups. We didn't have a lot of international travelers, and we thought we could at least do a scaled-down version of our face-to-face event," Hammervik said. "Within a day or two, there was a lot of new information coming out, but there still weren't any stay-at-home mandates or anything like that. But it became pretty obvious that gathering in large groups and flying through international airports was not keeping our members' best interests at heart."
The team knew the live meeting shouldn't happen. But what could, if anything? The CompTIA group, which also included leads from marketing, events, communities and councils, held a call to review the overall goals for the event, which included face-to-face networking, collaboration in working meetings, content sharing and education, and engagement between members of CompTIA's many communities and advisory councils.
"How could we possibly replicate that? Things like face-to-face networking can't happen, but we knew that we didn't want to lose the engagement with our members, or the educational opportunity to share our prepared content, and we started talking about what we could do," Hammervik said. "The team was willing to do what it took, and we knew we had an opportunity to show we, as the global tech trade association, could lead by positive example. "
2. Have a Backup for Your Backup
After making the decision to not go forward with the scheduled Chicago meeting, the group had to weigh the options for what they would—and could—do.
"We knew this was technology's time to shine. As the global tech trade association, we wanted to show our members, and everybody frankly, that it's not necessary to postpone—that you can leverage technology and a talented team to deliver highly-engaging content and keep people connected," said Andrea Cutter, vice president of marketing. "Members had already committed to being in Chicago with us for two days. We didn't want to lose that by postponing. At first, we thought it could be a hybrid event. We could stream from the live event, people could fly in and be there in person, but we'd give them the option to call in if they didn't feel comfortable still making the trip."
But within a couple of days, it became evident that hosting anything at a downtown Chicago hotel wasn't going to work. Fortunately, CompTIA's events team had negotiated a clause in the original hotel agreement that if an event outside of our control caused a certain percentage of expected attendees to not register or registered attendees to cancel, we could terminate the agreement without liability. The hotel understood the situation and discussed rescheduling the member meeting for 2021 and applying any collected funds to that future event.
"Going forward, event planners will need to be sure to incorporate clauses like this into all event contracts to avoid penalties and fees when an unexpected crisis arises," Cutter said. It's also important to build good, working relationships with vendors and venue management to help with negotiations if needed.
3. Start Preparing—Again
On March 6, CompTIA's events team notified existing registrants that the live meeting was pivoting to a virtual event, giving them plenty of time to cancel their hotels, airfare and other travel reservations before penalties kicked in. All registered attendees were automatically registered for the virtual event.
"We needed to notify attendees that the event was changing, even if we didn't exactly know what that change was going to be yet," said Lien-Anh Van Wagener, senior director of events and education.
One option was to broadcast CCF sessions from a new studio at CompTIA's Downers Grove, Ill., headquarters. However, the studio was so new that not much more than a few tests had been conducted to date. If that wouldn't be ready, the team discussed renting an outside studio or using an onsite conference room.
"We also needed to figure out how much programming we would do. We had two full days scheduled in Chicago. Did that make sense in a virtual format? This was the time where you need to prioritize options and figure out what you can do—and can't do—based on who and what are available to you," Van Wagener said. "Obviously, things could change, and they did, but having a clear path that everyone understands is critical."
Another point of discussion during this time: do you broadcast live or pre-record sessions, or both, and why?
"I don't recommend doing the whole thing live because it's a lot of moving parts, especially for many hours of programming," Van Wagener said. While CompTIA has previously broadcast from its larger ChannelCon conference, last year in Las Vegas, the primary audience was onsite, making it more of a hybrid event.
Pre-recording also allows you to edit around challenges such as Internet or audio problems from remote speakers, said Mike Sutton, manager of audio/visual technology and production.
"You have a lot more flexibility and you can have a nice clean recording if you do it beforehand," Sutton said.
4. Set a New Agenda
Next, CompTIA had to decide what content sessions would hold up in the new format, and which ones would not. Face-to-face networking, working meetings and meals don't lend themselves to an online setting, but keynotes, panels and Q&As can often be replicated virtually.
The organizing team brought in the community managers that had helped develop the content for the agenda and discussed the viability of each session going remote.
"We asked things like was there going to be back and forth discussion with the audience? Was it a closed session only open to a small group? We talked about the length of the sessions. Now that we were trying to condense into a virtual event, do we do a half day, or a full day?" said Van Wagener.
It fell on several content organizers to tell some speakers that their sessions were being cut from the virtual event for time and other reasons.
"This was the first time I've ever seen my phone blow up like that on a Sunday night," said Miles Jobgen, director of member communities and organizer of several CCF sessions.
But Jobgen and the other content organizers adapted on the fly too. Sessions that were cut from the virtual event are being planned for future podcasts, webinars and other formats.
"I think 100% of the speakers cut understood the situation," Jobgen said. "We told them we're still going to find a way to get their content produced, we just need to think outside the box. People were very amenable to that, which made it a lot easier."
For example, CompTIA had planned to use CCF to launch its new Advancing Tech Talent and Diversity community, a merger of several former communities, with great fanfare. The community still launched, but the working sessions scheduled for Chicago couldn't happen. Yvette Steele, manager of the community, started planning workarounds including a podcast series, LinkedIn Live events, and other virtual meetings to keep the community members engaged.
"We had to look for innovative ways to develop content and get the content out to larger audiences," Steele said. "We're changing the logistics, but we weren't going to change the quality of what we are looking to do."
Meanwhile, CompTIA's Industry Advisory Councils, which had two days of working meetings scheduled for Chicago, regrouped to hold their respective councils meet via Zoom on March 18, the day after the virtual CCF. That allowed council members to attend the panels and other content the day before.
"We ended up with more council members attending the virtual meetings than were scheduled to come to Chicago. The Zoom rooms worked great, everyone got a chance to talk and they all got a lot accomplished," said Chris Philips, senior director of Industry Advisory Councils.
5. Pick the Right Platform
CompTIA saved a lot of time and potential aggravation by filling a new agenda first— before picking a platform, or platforms, to deliver the event. It's more important to deliver the best content, not the best platform, according to Van Wagener.
"If you pick the platform first, we knew it would lock us into what we could or could not offer with the content, and we didn't want less flexibility with the programming," she said. "We knew one platform might not do everything we want, but the content was the most important thing and we'd try to meet as many of our requirements with the platform as possible."
With the agenda set, the CCF team turned to the platform, considering YouTube Live, Facebook, WebEx, Zoom, and LinkedIn as possible broadcast streams. Facebook was ruled out because it required users to have a Facebook account and had limitations to leveraging pre-recorded content. In the weeks leading up to CCF, CompTIA had run a few LinkedIn Live sessions, but the feature was still fairly new and untested, and there wasn't a fully integrated way for users to chat during the presentations.
YouTube Live offered chat capabilities, split screens, and the ability to integrate both pre-recorded and live videos (with the help of already-purchased production software). One limitation with YouTube was that it's an open platform and anyone with the link could view the content, reducing CompTIA's ability to capture info on everybody watching. That was a worthy tradeoff to avoid potential technical challenges, said Kelly Stone, senior director of global social media.
"We wanted to make this public facing. We knew we weren't going to capture a lot for lead generation, but social media by default has an engagement purpose so we were balancing those needs. YouTube was the easiest pivot for us for this particular event, but that's not to say it would be for something else," Stone said.

6. Marketing Begins—Again
With a new agenda, speakers set and a platform ready to go—the next step was to let people know about the new virtual CCF. That meant new web pages, blog posts, social media, press announcements, emails, and other communications.
"We had to alter almost every aspect of our event marketing plan," said Cutter. "We had reviewed and reestablished our goals for the new virtual event format, so that meant being very clear with all the revised internal and external marketing and putting together speaking points and an updated value proposition for the event."
In many respects, this wasn't just CCF going virtual—it was an entirely new event. That meant messaging needed to convey not only that the event was different, but why it changed, and here's how attendees can find value, all while striving to find a balance that incorporated appropriate sensitivity to world events.
"We knew that pivoting to virtual would change the essence of the meeting and what could be accomplished," Cutter said. "While CCF has always been a fantastic meeting of our most highly engaged association members, we embraced that change and opened up the virtual broadcast on YouTube to everyone globally, at no cost. We felt that organizations in the business of technology and IT pros alike could benefit from the sessions focused on emerging technologies like AI, blockchain, drones, and IoT, workforce trends, channel dynamics and security."
Meanwhile, the marketing team had already purchased several items intended to be given away to the original live attendees, including special St. Patrick's Day CompTIA socks, hand sanitizer and more. Now, those were shipped to registrants in a care package. Several recipients took to social media to thank CompTIA, posting photos of the swag including some wearing the socks.
"We put out a new hashtag (#CompTIACCFvirtual) and launched a fun social media contest to get people to join in and engage with us during the broadcast, rewarding them for asking questions and evangelizing on their own social accounts," Cutter said. "We armed our core member leaders with an updated social toolkit to help them help us get the word out to a broader audience."
7. Practice Makes Perfect
As late as Sunday, March 15, two days before the virtual broadcast, local presenters and staff were planning to come into the studio. For one, CompTIA planned on a formal "ribbon cutting" ceremony for the new Advancing Tech Talent and Diversity community. That night however, as Chicago non-essential businesses started shutting down amid escalating cases and concerns, and with the safety of staff and presenters in mind, the team decided to forgo all in-studio appearances except for the two hosts and a skeleton crew of five behind the scenes. That meant pre-recording the final sessions, the last of which happened Tuesday at 7 a.m. CT, just a few hours before the start of the event.
"Literally, up to the last minute we were editing. I wouldn't recommend that, but I do think you need to have some flexibility," said Van Wagener. "Everyone knew this was unusual circumstances and thankfully all our speakers were very accommodating. We kept in communication with everyone all weekend and Monday and Tuesday so that there were no surprises when we went live."
CompTIA utilized two cameras set up for HDMI output, which could also be used outside the studio to run Zoom, WebEx or social media platforms. USB cameras mounted to smaller tripods can also be used for better camera control, angles and lower cost.
"The problem with USB cameras is that they might not pick up speakers' voices from a distance or an good image from a distance," said Sutton, adding that it's always best to hard-wire the cameras to the system, but you should also connect to wi-fi in a new setting as a redundancy backup.
Other equipment necessary for a virtual broadcast are a cam link (an HDMI adapter for cameras), tripods, and switchers if you plan to use multiple cameras.
"There are mini switchers available that can be used, but you need to check those for compatibility with existing systems," Sutton said. "We had to come up with systems to integrate multiple ways to present the content, such as pre-recorded sessions followed by a live Q&A. You have to be ready to split the audio out to accomplish that."
The team did two dry runs the day before the event to make sure not only the equipment was working, but that their process was down pat. "We needed to test the integrity of the Internet to make sure we had a good signal, but also to time transitions, create some additional graphics and titles," Sutton said. "It's critical to build that time in. For example, we found that one of our pre-recorded graphics would create a 'hum' after a certain amount of time, but if we rebooted the software, the hum would go away. Discovering those things in rehearsal is much better than during the live event."
8. Count on Your Team—Everyone—to Chip In
While there were only a handful of staff in the studio for the live event, scores of others contributed behind the scenes—everybody working hard to ensure the pivot was successful.
"It takes months of planning for an event like CCF in person. We had not much more than a week to do it again," Hammervik said. "We didn't have to start from scratch, but we absolutely could not have done it without everyone chipping in in a million different ways."
To successfully transform a large event intended to draw hundreds of people to a physical location to one capable of attracting thousands online, it's critical to have buy-in from the entire company, from senior leadership on down. Sales, marketing, member services, events—everyone had a role and it was regularly communicated what had to happen and how to get it done.
"We didn't even have time to set internal goals," said Lisa McKellar, vice president of events and education. "We thought, 'Let's just pull it off.' We wanted to keep the momentum going, the people going, the content going forward."
CompTIA's staff worked hard to plan a great CCF event for members. Once the decision was made to go virtual, all efforts went toward providing a similarly successful experience. Knowing that members, and the larger IT industry as well, might use CompTIA's experience to evaluate their own future event planning, made it even more important to have total commitment to the plan.
"Having the team go above and beyond—that's how it got done. Everybody was pulling the same rope together, everybody was on the same page, and everybody made it happen together," Hammervik said.
9. Ready to Go, It's Showtime
Diligent preparations and teamwork helped CCF be successful, added Sutton.
"We had to pivot a couple of times on the fly, but in situations like that you talk through the contingencies and you have a backup, and a backup to your backup. Really, you'd do the same thing for an in-person event, if a speaker can't make it or there are audio problems, so you build that in for a virtual event too."
All the effort paid off. The virtual CCF event attracted more than 1,500 viewers, exponentially higher than the number registered for Chicago, and thousands more have tuned in to watch the recorded event.
With COVID-19 still a challenge, CompTIA is looking to transform future events to a virtual format too.
"People really took to the format and were very engaged," Stone said. "The good news is a job well done means more jobs for sure. I think we'll see events look different going forward."
10. Lessons Learned for Next Time
If the process taught CompTIA's staff anything, it's to be prepared for anything, Sutton said.
"It should always be a best practice to prepare and test anything that could go wrong. Make sure your tech lead is skilled at troubleshooting and don't panic. A panicked troubleshoot only leads to more problems," Sutton said.
Pre-recorded sessions gave the studio staff a chance to catch their breath and double-check what's next. Still, one of the live studio segments was a bit short, but the team cut to a camera focused on a sign that noted "CCF will be right back."
"Having a printed, detailed run-of-show copy would have helped for that. We'll do that next time, but overall, from a production standpoint, I wouldn't change anything," Van Wagener said. "We did what we needed to do, and it all worked in the end."
But perhaps the biggest lesson learned was that just when you think you've prepared for every contingency, you probably haven't. During the final planning for CCF, the world went from "this is annoying" to "holy cow, this is real" in the matter of a few days.
"It really does take a massive team and teamwork to do it right. We were well organized. You can't skip steps, or you will get burned," McKellar said. "Map everything out, assign tasks, and you'll learn that people can do amazing things you didn't know they were capable of doing."
CompTIA sent a post-event survey asking for feedback of the virtual broadcast, the results of which will be leveraged to improve possible future virtual events.
"It was no small feat to pivot our live program to a virtual one in really a matter of days, but it was incredible to see us all come together and go above and beyond to make it happen—from staff to members," Hammervik said. "Together, we successfully condensed two days of face-to-face collaboration into four hours of online content, coordinated top level industry thought-leaders from companies like Google, Facebook, IBM, Oracle and more to pre-record sessions, successfully remarketed the entire event, rebooted the recruitment effort, and sent CCF care packages to every live event registrant. We are very proud of what we accomplished."

Download our infographic: How to Create a Successful Virtual Event in 10 Steps.