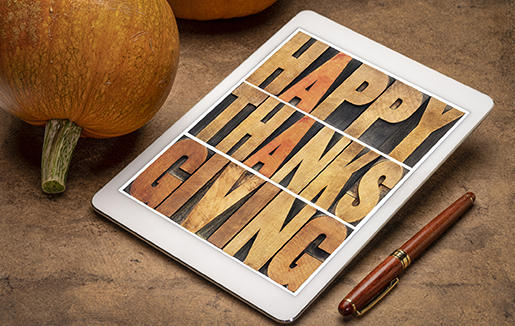 Hard to believe we are starting the holiday season and closing out two years of working and living in a pandemic world. While we have been meeting and resolving many business challenges, these unprecedented times have also challenged us personally - how we think, our perspectives and our priorities. Sometimes it feels like time is standing still, other times just flying past us. But I think we can all agree that we've had more time to reflect on what is truly important and we find ourselves more grateful for the good things in our lives and world.

Despite the many personal and business challenges our members faced, our volunteer leaders and staff came on strong, rallying around opportunities and initiatives that would drive the industry forward and make it a better place for all of us. I am so grateful for the initiative, the motivation and the commitment to community and industry. As we celebrate Thanksgiving Day, I'd like to share my thanks here and acknowledge a small sampling of what we've accomplished this year, along with the hope that we will do even more in 2022.
Returning to Live Events. It was such a thrill to be able to host our EMEA Member and Partner Conference live, in London, our first big in-person event in nearly two years. Our UK Community and team, not to mention all the wonderful speakers, corporate members, and support staff pulled it off without a hitch, keeping everyone safe, engaged and entertained. Our membership team has been attending a number of other industry events too, including IT Nation, Channel Pro regional events and Commercial UAV Expo. I'm so thankful that we can start to schedule and attend more live events for 2022 and get back together, face to face!
Growing the Tech Workforce Pipeline. CompTIA is building programs and initiatives to help develop tomorrow's tech workforce—and making IT careers accessible to all. I'm proud of what we've accomplished so far in the CompTIA Tech Career Academy and of the 100+ employer partners supporting the effort by hiring the graduates. Meanwhile, our partners in our CompTIA Apprenticeships program have committed to recruiting more than 600 individuals. So far, 44% of our enrollments are women, 30% are Hispanic, 22% are Black or African American, and 9% are military veterans. Thank you to everyone who has helped give these opportunities to help lessen the tech skills gap and improve lives!
Driving More Understanding About Tech. When we started our Technology Interest Groups, the goal was to keep the general public , those not highly engaged with CompTIA, up to date on all the latest tech news and trends from a wide range of topics including Advancing Women in Technology, AI, Blockchain, Drones, IoT, and, with our latest launch, Local Government. Now that we have attracted thousands of users to the forums, we're turning our attention toward creating more collaboration between the users. Thanks to everyone who has contributed to date, and I highly encourage you to take advantage of these great resources.
Delivering Member-Created Content. Our Industry Advisory Councils and member communities have long been great contributors to CompTIA, providing us with much-needed resources and tools for the IT industry. This year, they went above and beyond. From much-needed marketing collateral to help CEOs ask the right cybersecurity questions within their own organization to a diversity and inclusion plan for tech SMBs, to our perennially popular Top 10 list of emerging technologies, to great videos demonstrating how emerging technologies work together to solve a real-life problem, there's plenty of content to help your business. Thank you all.
Securing the IT Industry. The CompTIA Information Sharing and Analysis Organization (ISAO) recently published its 1,000th threat report—in less than a year. With more than 1,200 member companies now on board, the CompTIA ISAO is doing a tremendous service to help protect all tech companies and their customers. Most recently, we launched the Cyber Risk Rating powered by SecurityScorecard, which gives members a detailed analysis of their own security posture and proactive guidance on how they can improve. I'm so thankful that we are doing so much to help protect the industry—and getting more and more help to do so every day.
Leading the Way in Cybersecurity. We take cybersecurity very seriously at CompTIA (witness the CompTIA ISAO success mentioned above). Internally, we picked up the mantle of "securing the tech industry" this year and invested a lot of resources into developing content for Cybersecurity Awareness Month in October. The results were overwhelming: we launched a new season of our Shoering Up Security YouTube series, a cybersecurity-focused podcast, published eight security-related blogs (including several from our members), saw a 59% lift in clicks to cybersecurity-related web pages—and so much more. Of course, we can't let our guard down now. If we learned anything from the Kaseya attack earlier this year, it's that bad actors aren't afraid to strike anywhere, at any time. Look for more cyber-related content from CompTIA into 2022 and beyond. Thanks to everyone helping safeguard the tech industry and businesses everywhere.
Exploring Space—from Six Continents. CompTIA's Space Enterprise Council (SEC) now has partnerships with industry groups and governments on six of the earth's seven continents. CompTIA's latest agreements with Space in Africa, an industry group in Nigeria that works with companies and government agencies working in the space and satellite markets, and Norway put us on every continent but Antarctica (now wouldn't that be something!). We also have signed partnerships in Argentina, Australia, Brazil, Chile, Nigeria, and Vietnam and the council has grown to represent all sectors of the industry including commercial, civil, and national security. Just this week, the SEC received an invitation from the White House to brief the National Space Council (NSC), which resides within the office of the Vice President, comprised of several Cabinet Secretaries, including Defense, Commerce, Homeland Security and Transportation on our 2021 accomplishments and goals for 2022 around national security, international cooperation, and technology education. Thanks to everyone pushing the envelope in this growing industry.
Training Local Government Tech Leaders. Throughout 2021, our Public Technology Institute provided plenty of professional development opportunities through exclusive certification programs designed for today's technology leaders in local government. Our Certified Government CIO Program and Certified Government Digital Service Professional Program combined to graduate almost 100 students this year, with dozens more enrolled in sessions to finish next May. Thanks to all involved—it's so important that we continue to push for innovative tech solutions in government.
Pushing Emerging Tech Forward. One of my favorite videos this year was created by several of our Industry Advisory Councils to demonstrate how several emerging technologies, including AI, blockchain, drones and IoT, all contribute to solve a real-life business problem, namely keeping our food supply chain safe. It's been one of the most popular videos on our CompTIA Connect YouTube channel, but more than that I love how it demonstrates how these technologies drive real results – and how collaboration between market spaces can be so powerful. We're working hard on another Tech Together video now, as well a series in which our members discuss their success stories selling AI and IoT in the market. Look for that in the coming weeks and thanks to everyone who is leveraging these great technologies to help customers transform, modernize, and innovate.
Looking forward to 2022! Most of all, I'm grateful that we've made it through a very chaotic, challenging year—again – and somehow have come out stronger, and more appreciative, for it. We thought 2020 was crazy but, I'm not sure 2021 was any less so. Thankfully, we are blessed to have such a great team, volunteer member leaders and board of directors at CompTIA to help drive the industry forward, not to mention the thousands of dedicated members who commit so much time to our organization. I can't wait to see what 2022 brings and I look forward to seeing many you in person. I hope everyone enjoys a happy and healthy Thanksgiving and has time to reflect on what you are most thankful for as well.
Nancy Hammervik is the executive vice president, industry relations, at CompTIA, and CEO of CompTIA Tech Career Academy.