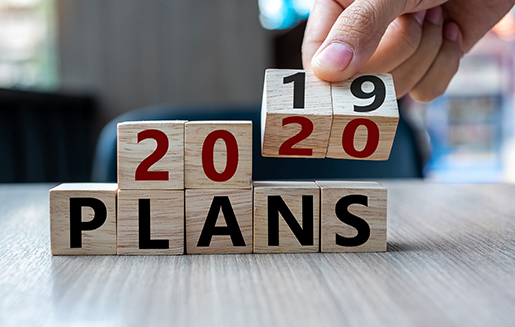 CompTIA wrapped up another great year in 2019, much of which is highlighted in this recap of our Top 20 blogs of 2019. But there's a lot to be excited about for 2020 as well—so much momentum and content on the way as we continue efforts to accelerate the adoption of emerging technologies and reinforce the value created by everyone involved in the business of technology. As we continue to develop the content and programs to make that happen, here's a look at 10 things we're excited about in 2020.
1. AI Advisory Council
CompTIA officially launched our Artificial Intelligence Advisory Council on Jan. 1, but several of the founding members got a head start last November, meeting for the first time at CompTIA's Year-End Planning Meeting to discuss and prioritize goals and initiatives. Admittedly, much of the tech talk was complex, but when the members discussed some innovative practical applications for AI and blockchain, and how AI can integrate into the other emerging technologies, it was hard not to get excited about the future. Speaking of which…
2. The Certification of Data
One of the initiatives AI Council members want CompTIA to explore is the possibility of certifying data created through AI and other processes. CompTIA of course has a tremendous reputation and market share in the certification space (second globally to Microsoft), but that's mainly people skills. Certifying data is a whole different beast. The problem, AI Council members said, is that most existing data certifiers can't be objective. They feel that wouldn't be the case with CompTIA, a vendor-neutral, non-profit organization. We're not sure if it's feasible/possible, but it's another great example of our members thinking outside the box.
3. Spirit of Collaboration
Toward the end of the YEPM conference, four Advisory Councils (Blockchain, AI, IoT and Drone) packed together in a ballroom to hash out a goal they could work on together: creating a piece of content that showcases all four emerging technologies integrating together in an end-to-end solution. The camaraderie, brainstorming and thought leadership was awesome to see. We're looking forward to seeing how this shapes up over the next several months. When complete, it would be a great marketing tool for anyone selling technology.
4. Blockchain Opportunities Seem Limitless
Do a Google image search for "blockchain" and watch how many photos for Bitcoin and other cryptocurrencies come up. Of course, blockchain is so much more than Bitcoin, an opinion very much shared by members of the Blockchain Advisory Council. Their frustrations with that perception will lead to a slew of initiatives in 2020, including the development of use cases that demonstrate the power of blockchain, a blockchain glossary and training matrix, as well as content designed to dispel the many myths about blockchain in the market. They will complement nicely the recent Blockchain Decision Tree completed by the council.
5. Thought Leaders, Industry Leaders
CompTIA Advisory Councils and Communities are comprised of some of the best and brightest minds in technology—and also its most unselfish. It's inspiring to know that so many members care not just about their own company's success—but about the success of the tech industry. As one member said to me, "Our success is predicated on the success of the overall market in emerging technology. We work with CompTIA to help get that value proposition out, which in turn helps increase interest, accelerate demand—and make us all more successful."
6. Drone Industry Continues to Take Flight
CompTIA's presence was felt at almost every major drone/UAV conference in 2019, and we'll continue to work closely with our Drone Advisory Council to tout the innovations and advantages that drones bring to the business world. Meanwhile, CompTIA is also supporting the Aerospace Industry Association on the development of an industry consensus standard that will focus on cybersecurity of UAS. Chief Technology Evangelist Dr. James Stanger will represent CompTIA on a committee that focuses on data privacy, ownership, distribution and storage of data collected by drones. More to come in 2020 for sure.
7. Business Applications Marketplace
Business applications are vital to the operations of any company, and it's critical that they stay aligned with emerging technologies such as IoT, AI and more to ensure a seamless user experience and integration with other systems. In 2020, the Business Applications Advisory Council wants to create more synergies between these vendors as well as start developing a marketplace with CompTIA that connects technology vendors with partners, and CompTIA-certified experts with potential employers.
8. IoT Comes Front and Center
In 2019, our Smart Cities Advisory Council rebranded itself as the IoT Advisory Council in order to focus on the internet of all things. The council will be developing more content, including infographics, uses cases, white papers and blogs that highlight outcomes and the impact of IoT solutions in business.
9. Global Expansion
After launching a Benelux Business Technology Community in 2019, CompTIA has its sights set on even more international expansion for our communities in 2020. We've seen interest in and had conversations with members and prospects in Asia, DACH and other regions. Our CEO Todd Thibodeaux has said our goal should be to have communities in every continent. Any Antarctica members out there?
10. And That's Only the Beginning
There's so much going on at CompTIA, that we can't possibly fit everything in a list of 10. Among the other things we're pursuing: more Technology Interest Groups to follow our Drone Interest Group. Plus, we've got big plans coming for a new workforce community that brings together the best of our current communities focused on women, diversity and future leaders. We've already got more than a dozen events listed on our Events page, including the upcoming CompTIA Communities & Councils Forum and a save-the-date for ChannelCon 2020 in Miami. There's webinars. Podcasts. There's never been a better time to become a CompTIA member. Check out our benefits and get started today. If you're already a member, thanks for your support and we'll see you throughout the year!