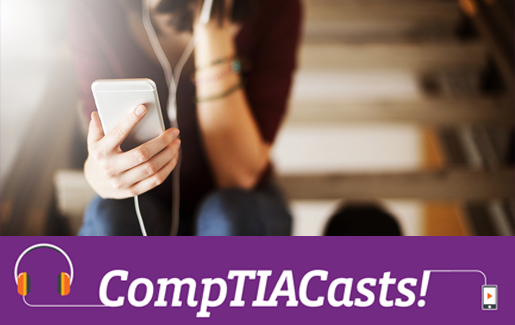 In June 2020, CompTIACasts focused on a range of topics, including Volley celebrating a big milestone episode. In addition, CompTIA's newest podcast, Biz Tech Podcast covered MSP mergers, MSPs focusing on service, inclusive remote work environments and the launch of the 2020 Emerging Technology Top 10 list. Check out what we overheard on CompTIACasts in June then subscribe and start listening today.
Volley Takes a Trip Down Memory Lane
CompTIA research analysts Carolyn April and Seth Robinson took a look back at some of their favorite podcast episodes on Volley's 100th episode. From the first episode about cloud computing to the post-pandemic episode about remote work, Carolyn and Seth walk through the show's history and evolution over the past four years.

"We've tackled a lot of subjects. Not just very techy specific. But some industry, some macro issues of the day and we've had some wonderful guests along the way who add a lot of flavor to the podcast. So it's been a good run."
Carolyn April, Senior Director of Industry Analysis, CompTIA
Earlier in the month, Carolyn and Seth discussed the latest whitepaper from CompTIA, "The Role of Emerging Technology in Digital Transformation." With the basic computing platform well established, the next phase of IT is Artisan IT, where complex solutions are built with emerging components. There is also a major impact on skills, where new skills will be added to many existing roles.

"If you look back at the last 50 or 60 years of IT, a lot of the energy has gone into growing the platform, and we've put relatively simple solutions on top of that platform. Now we have a stable platform and we're building more complex solutions. And that's where emerging technology came in. These things are components of the solutions."

Seth Robinson, Senior Director of Technology Analysis, CompTIA
Emphasizing "Service" and Discussing MSP Mergers
On Biz Tech Podcast, Amy Babinchak of Harbor Computing Services and Eric Anthony of Solar Winds MSP, both members of the CompTIA Managed Services Community's Executive Council, shared how focusing on value-add services that support your clients' needs is the best path for growth, agility and longevity in Putting the "S" Back in MSP.
"I see this in a lot of the MSPs that I talk to: The most successful MSPs have some type of regular, planned training schedule for all their employees. We hit on it with this type of skillset, which is more of a soft skillset, an interpersonal skillset, of being able to relate to customers and dig into root source causes even while they are dealing with simple, everyday, regular help desk tickets."
Eric Anthony, Solar Winds MSP
Later in the month, CompTIA Community Director Miles Jobgen and President of eBridge Marketing Solutions Hartland Ross discussed key components and considerations required to complete a successful MSP purchase that is a win-win for both parties in the episode, MSP Acquisition Roadmap: From Due Diligence to a Successful Close.
Emerging Technology Community Releases New Top 10
Each year, CompTIA's Emerging Technology Community produces the Emerging Technology Top 10—a list of technologies that have near-term business and financial opportunity for the IT channel and those working in the business of technology. Mike Haines, chair of the Emerging Technology Community sat down with Adam Proulx, senior manager of communities at CompTIA to discuss this year's list.
"Think of the Emerging Technologies Top 10 as our Emerging Technology Community's collective view and collective ranking of what we see as the top emerging technologies that offer a measurable, one-to-three year opportunity for both customers who are implementing these technologies as solutions to their challenges or market opportunities and to IT channel companies who are building those solutions to deliver to the companies."
Mike Haines, Director of Partner Incentive Strategy, Microsoft
Thriving in a Remote Work World
Finally on Biz Tech Podcast in June, the Advancing Tech Talent and Diversity Community met with experts Amiel Harper, founder and principal of The Morpheus Consultancy and Delia Gutierrez McLaughlin, president and CEO of AzTech Innovation, to discussed ways that leaders can help remote workers thrive in the second half of this two-part series.
"When you work in a remote environment, things become more structured. It's important. It leads to productivity. But it also changes your culture. Being intentional on how you structure meetings to accommodate all of the people in your team is important… Also, I would literally put space on an agenda for flex. Have space and time for individuals to contribute. It doesn't necessarily mean that everything's going to happen. But it gives people the opportunity to be heard and to share."
Amiel Harper, Founder & Principal, The Morpheus Consultancy
Creating Customer Service and Experience for Citizens
On Sharkbytes, Alan Shark and Rosetta Lue, director, industry principal state and local government, at Pegasystems, discussed the importance of not only citizen customer service, but citizen customer experience and why it's more critical than ever in when government services are online only.
"As you know, data now has surpassed oil as the top currency. What data does is really gives you an idea as to trends that are happening within the city or within the state or local government—like what are the people reporting. It's moved away from, 'This is what I think,' to now you have data that can actually be used as evidence for moving forward."
Rosetta Lue, Director, Industry Principal State and Local Government, Pegasystems