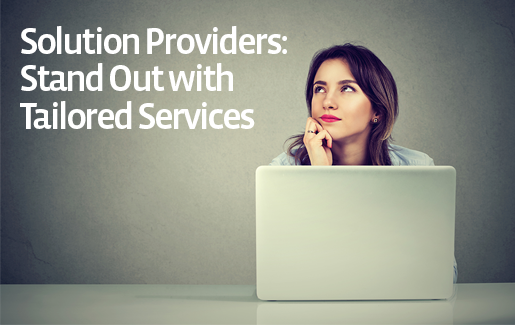 During a recent Benelux Business Technology Community Meeting, Victor Raessen, founder of MSP Navigator, a platform dedicated to helping managed services providers be found by both partners and customers, discussed how MSPs can differentiate themselves in a changing marketplace.

"We all have a common purpose. We all want to make technology accessible to the world to be able to great things with it," said Raessen.
But in order to not only survive, but also thrive in times of uncertainty, MSPs must consider how they market themselves to customers, how they can pivot to providing high-margin services, and how partnerships and alliances with other companies can help them fill in the gaps and achieve these goals.
Stand Out from the Crowd
During the virtual session, Raessen shared data from Forrester showing how large the IT channel is with more than half a million businesses worldwide that sell IT solutions and services to businesses. But the way customers are buying technology solutions has changed.
Learn more about the technology buyer's journey.
According to Raessen, most B2B buyers would rather self-educate than learn from a sales representative today. They want a frictionless experience that is similar to a B2C-buying experience—tailored to their specific needs and offering instant gratification. In addition, Raessen says, MSPs are often not selling what their customers are ultimately wanting to buy.
"If you talk about business outcomes, what customers mean is not, 'I want to have infrastructure.' What they mean are things like, 'I want to be able to delight customers. I want my revenue to increase. I want my risks mitigated. I want my staff educated so they can work more efficiently,'" said Raessen. "There's a big gap between what MSPs are selling and what customers want."
How do solution providers close the gap?
Raessen recommends combining services with vertical expertise—in other words, moving away from generic portfolio services to those that are tailored to meet the needs of customers in specific industries.
"You can keep the current building blocks that make up your tech stack, but the more you are able to add messaging that the customer recognizes, the more you increase your chance of success," Raessen said.
Embrace High-margin Opportunities
In order to maximize business opportunities, it's important for MSPs to go beyond basic services like infrastructure, security, business continuity and the help desk.
"As a service provider, those services are commoditized and have low margins," said Raessen.
High-margin opportunities often revolve around implementing SaaS solutions for customers—from installation to integration with other systems, training staff, managing compliance issues and providing security. As your business begins to offer new, higher-margin services, consider standardizing, automating or outsourcing the more basic services with lower margins.
Raessen also suggests that MSPs take a look at their clients and divide them into categories of industries that are more recession proof and less recession proof. While solution providers don't have to concentrate solely on recession-proof verticals, Raessen advises that companies seek a balance.
"Reflect on what main expertise you have on your team to help facilitate more recession-proof verticals in order to spread the risk," said Raessen.
But building the right high-margin services in the right verticals requires building customer-specific context and knowledge, and reskilling and upskilling staff. Often partnering with other companies and vendors is the most efficient and effective way to provide these services.
Raessen outlines how MSPs can get started with five steps:
Determine what you need to standardize, automate or outsource.
Build partnerships to fill in gaps.
Determine the verticals for the bulk of your customers.
Train and attract staff with business skills and domain expertise.
Add differentiated services with vertical specific messaging.
Watch the Webinar On Demand
Did you miss the virtual Benelux Business Technology Community meeting? The event included a variety of sessions focused on overcoming the immediate challenges facing tech companies during the COVID-19 pandemic as well as how to succeed in a new business environment. The entire meeting is available on demand for free. Access it now.

Join the Benelux Business Technology Community
Find partners and peers in an open, vendor-neutral peer group focused on the needs of technology businesses and professionals in Belgium, the Netherlands and Luxembourg. Learn more and join the community today.