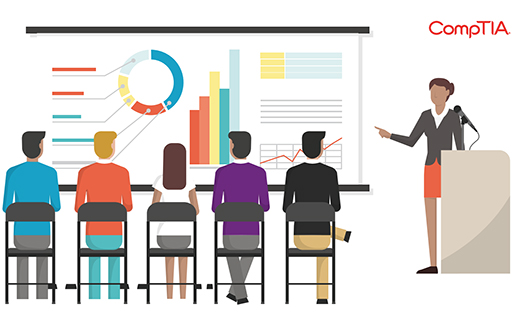 Developing an inclusive culture takes time, resources and input from people from a lot of different backgrounds, and sometimes it can feel so overwhelming it's easier not to start. For those short on time or piecing a plan together, use the power of CompTIA communities and the tools and resources developed by members to bring your technology small business in line with diversity best practices. Whatever culture journey your company is involved in, here are resources for every step of the way.
Take a Look at Yourself
"Authenticity is the most important thing when it comes to building inclusive cultures," said Yvette Steele, CompTIA community manager. "If you personally do not see the value in diversity and inclusion, it will come across in daily interactions and decisions. Inclusive cultures are built when senior leadership models inclusive behaviors, ensures buy-in from middle management which empowers the team for change. In other words, inclusive cultures are built by everyone in the entire organization."
Are your managers accountable for follow-through on diversity initiatives? How many people from minority backgrounds have been up for promotions this year? Learn the importance of inclusive cultures, the state of diversity in tech and how your business can plan for diversity with CompTIA's with the Diversity and Inclusion (D&I) Plan for Technology SMBs.
"Leaders who prioritize more diverse and inclusive workforces elevate the effectiveness of their businesses, the satisfaction of employees and their overall success," reads the report.
For quick reads use this graphic and related article to get a handle on Five Dos and Don'ts that Foster Diversity, Inclusion and Retention and use this graphic to Make a Diverse Workforce Your Competitive Advantage.
CompTIA member Ulysses Smith, Diversity, Inclusion & Belonging Leader for Blend, challenges people working in the business of technology to question it when bias shows itself. "Modeling the behavior you want to see is one way to provoke a culture change," he said in Shifting the Paradigm: Disruptive Dialogue in the Workplace.
Establish a Baseline
When you're ready to move forward, download the Diversity Action Plan Workbook, which includes tips on why you should:
Take the time to complete benchmarking exercises available through various best employer applications.
Look at your hiring data at each stage of the process,
Set goals that make sense for your technology small business.
"We need to stop thinking about it as a numbers game," said Carolyn April, senior director of industry analysis for CompTIA, in a how-to piece on
"We need to stop thinking about it as a numbers game," said Carolyn April, senior director of industry analysis for CompTIA, in a how-to piece on How to Conduct a Diversity and Inclusion Report.
Hiring with Diversity in Mind
There are workarounds to the hiring blind spots that keep technology from advancing.
Creating IT Futures, the nonprofit arm of CompTIA, found in this chart that a simple change like assessing whether jobs require a college degree can help people who traditionally don't have access find a way into the technology industry.
"Hiring needs to be inclusive and blind to preconceived ideas," said Steele. "Some companies are using outdated practices that can be fixed with simple updates and awareness."
Companies ready to bring on new people can use CompTIA's Guide to Hiring Without Unconscious Bias to break out of old HR habits.
Reading and Podcast List
There are lots of ways to promote a healthy company culture, and while you're figuring out the plan that works best for your technology SMB, take a deep dive into these additional think-pieces on diversity.
• ROI of a Diversified Workforce
Check out this illustration for stats on why diversifying your workplace makes financial sense and how populating your workforce with individuals gives you a competitive advantage.
• Foster Diversity in Your Business
Five steps to help you strike the right tone when developing your company culture.
Diversity policies, statements and initiatives can be effective in raising awareness, but real change comes with a deepened understanding, willingness and commitment from tech workers, starting with the C-suite, to take individual and collective action for change.
• What Do Diversity and Inclusiveness Mean to Corporations
CompTIA member Nathan Archer breaks down the terms of diversity and inclusiveness.
• Diversity in the High-Tech Industry Report
Stats and research on diversity issues in the high-tech industry, including wage and talent gaps.
Listen to real IT pros talking about diversity and inclusion initiatives related to women, in CompTIA's Community Podcasts.
For access to all of these resources, download the CompTIA app, available for corporate members on iPhone and Android devices.