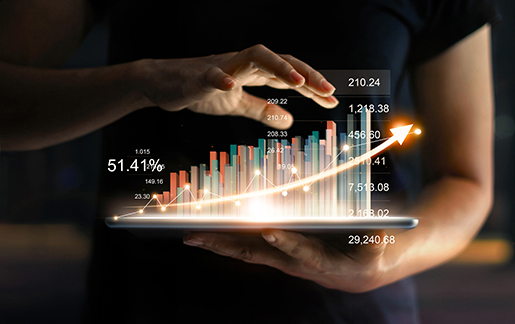 MSP growth is a challenge that requires a multi-faceted approach. To become a valuable and coveted provider, you need to make sure you are focusing on all areas of your business, not just the technology.
As companies shift to heavy remote workforces while managing safety restrictions and large-scale digital engagement, it can be a difficult road for MSPs.
To help, Tracy Pound, founder and managing director of MaximITy Ltd. and chairwoman of CompTIA's board of directors recently recorded a YouTube series, interviewing guests weekly to talk about how to manage growth, meet the demands of today's market, and instill best practices to accelerate success. Here are some highlights from the Pound for Pound series, all available now on YouTube:


Marketing an MSP hasn't always been a necessary element for SMBs. In the past, providers could continue business operations without much support. The pandemic forever changed the way we look at technology and our business models. With so much of the workforce transitioning to WFH, many providers were sought out for services they may not have been fully prepared to deliver. As a result, many businesses looked around for competitive solutions, creating new marketing opportunities for MSPs. But with approximately 75% of the customer journey taking place online, marketing is no longer a business function that can be overlooked for MSPs.
"Salespeople are on the front lines, working with companies directly," says James Steele, managing director of Zen Software, said in one episode. "Sales needs the finesse of marketing, but marketing can't be successful without understanding the challenges of customers. It's important they work together to develop a plan for marketing your MSP."
Ultimately, Steele suggests it's important to provide value without selling too much when it comes to marketing your MSP. Be genuine and provide real content via webinars or a social media channel and you'll get your value across to customers.


Given the prevalence of competition, it can be difficult to know how to sell your MSP's services. Fiona Challis, founder of NextGen Sales Academy cautions that MSPs need to operate as business consultancies, rather than remain laser-focused just on technology. "Put together a framework to have a business conversation rather than a technology conversation," says Challis. Be open and honest with your clients and say we sell business outcomes and that's what we want to help you achieve."
This can be a challenge, especially when it comes to the sales process because MSPs don't always know how to make the transition to the consultancy framework. Challis recommends beginning the process with a conversation where MSPs determine these four items.
What are key business outcomes?
What are the financial outcomes?
What are your KPIs?
What are they capabilities and processes they're trying to improve upon?
Once you've identified these items, put together a 12-month roadmap with phases for each outcome, Challis said.
Regarding upselling, cross-selling and social selling, Challis also offers advice to help MSPs be more successful sellers. To determine sales opportunities with existing clients, she recommends a white space analysis where you list the services of each client and identify the gaps. When it comes to social selling, she suggests MSPs only use social media to educate and leave the selling to your sales team.


The help desk is often the front line of the technology support system. But helps desks are often noted as being problematic and a challenge for many IT providers. As a key element of MSPs, what truly sets apart a good help desk? Martin Bannister, managing director and founder of Kogo Limited, suggests a focus on customer service. "Understand the pain of the customer who is calling," Bannister recommends. "Be patient, empathetic, and understanding of how much disruption that's causing."
Good help desks can become an extension of a business, rather than a separate team. Bannister's team conducts workshops to educate the help desk on how to speak customers' language, rather than using tech-focused vocabulary. MSPs really need to be proactive to ensure they are continually providing value—by finding ways to solve problems before they actually become one, he said.
"The ability to be proactive counts for a lot when it comes to customer service because then your staff becomes an extension of your clients and that's when you get the real good, trusted partnership relationship going," said Pound.
Ultimately, a good help desk becomes almost a part of the customer's team too, rather than a third party.
A key element that impacts an MSP's ability to grow is cybersecurity, but in today's environment we're learning that no one is truly safe. Hannah Lloyd, vice president of channel sales for inSOC, noted that there are only two methods—being proactive and reactive. Given the expanded threat environment, most MSPs are recognizing the need to pivot and also provide security alongside IT services.
Lloyd recommends a three-pronged approach to cybersecurity:
Partner with an expert
Invest in building your skills in-house
Develop a plan to attract more talent to fill gaps
She stresses that skills are essential, but that security and IT are vastly different areas. "It's a different framework, it's a different process, everything is different," she said. In order to show the ROI of security, she suggests an audit that produces a tangible document to work from. But to truly provide value, assess your skills then invest in your teams to develop the expertise you need to grow.
Expanding your MSP with the right people is a critical part of being able to grow your organization. But when it comes to a developing a highly technical workforce in a marketplace undergoing rapid transition, it can be difficult to recruit for the right skills while also ensuring new hires fit with your culture.
Tara Warner, owner of Warner Consultancy Ltd., recommends a robust recruitment process that begins with proper scoping of any role. Also, flexibility and DEI play critical roles in today's workforce. To ensure DEI success, it's essential that leadership be educated on essential practices in the workplace. Ensuring diversity, equity, and inclusion begins with the difficult conversations. Be open and transparent with your policies and intentions.
Beyond these initial steps, MSPs really must work to find people who fit their culture. To ensure you are able to do this, Warner encourages organizations to focus more on behaviors and attitudes rather than skillsets. "The cultural fit is absolutely imperative," Warner cautions.
Successful MSPs use clear and robust business performance metrics and data analytics to support their clients with technology acquisition and adoption, but also to create a clear path for growth. True growth begins with developing predictable recurring revenue, according to Hollie Whittles, human resources director with Purple Frog Systems. "For real successful high-growth MSPs, it's all about that average monthly recurring revenue and it's about making that into a growth mindset, shifting into things like value-based pricing models," she said.
Additionally, you need to have quality data to ensure you are providing positive outcomes and the right support. The information you collect needs to have a purpose, but MSPs also need to implement the right technology to clean and utilize that data. "Make sure you have a reason to collect that data, you have clean data, that you analyze it in a robust way, and then you communicate that it shows people the benefit of gathering it in the first place," Pound said.
Developing your MSPs growth roadmap requires a comprehensive strategy which accounts for marketing and sales, talent acquisition, service delivery, cybersecurity, and business performance metrics.