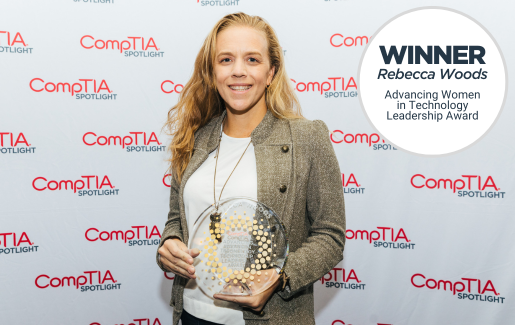 Eight months ago, Rebecca Woods started a non-profit organization with one goal—to build a community for women in healthcare tech and information technology to empower themselves with the resources, support and connections to become leaders in their space.
That organization, Bluebird Leaders, started as an idea has become a phenomenon, helping many women enhance their careers. For her significant contributions as an advocate and role model for women in technology, Woods was chosen to receive the 2023 CompTIA Spotlight award for Advancing Women in Technology Leadership.
Woods recently spoke with CompTIA to share her story, her inspiration and why she wants to help young women pursue tech careers. Here's what she had to say.
What are you most proud of in your career and what's helped get you to where you are now?
I am proudest of my nonprofit Bluebird Leaders; it has been a passion and ambition of mine for years. Ultimately, I wanted to create—and now build—a community specifically for women in information technology and healthcare, and especially the cross sector of both (health IT).
It's a space to bring awareness to the phenomenon that while most healthcare workers are women, they are the minority in both IT and leadership. I want to bring more women—the largest sector of the healthcare workforce not only into health IT, but also to executive leadership teams. All too often, I am the only woman in the room when the C-suite or directors meet.
Many years ago I went to my first CIO conference and when I went down to the first mixer at the bar, a bunch of men turned around with their whiskeys and asked what I did for the conference – this was my fire, my inspiration. I looked around that room and realized I was one of few female CIOs in the room. I knew at that point I would find a way to give back and get more female leaders in healthcare IT and in IT leadership.
As I was coming up the ranks in health IT, I was very fortunate to have had several amazing mentors along the way who inspired me. Now, it's time to give back and set the example so that we can see more young women entering and succeeding in information technology, healthcare and health IT.
What advice do you have for MSPs and other tech businesses to be more successful?
First, start to think virtually. The world of hiding in a server room is over! Embrace and utilize technologies and solutions such as cloud computing, virtualization, remote access and other digital tools. Shift the mindset towards prioritizing agility, flexibility and adaptability in IT solutions and strategies.
Next, bridge the gap. As I offer vCIO services, I've observed a lingering disparity between the IT infrastructure provided by MSPs and the day-to-day operations of organizations. This gap needs to close. Successful MSPs prioritize the functionality of their clients' applications and focus on finding lean processes, identifying areas of improvement and delivering wins to the organization to enhance productivity. By doing so, MSPs can build trust and effectively work as the CIO to create a comprehensive IT plan for the organization.
Third, market yourself! Get out on social, post at least once a day. Like a post, share a post and especially take a few moments to comment on something that really resonates with you. Reach your clients virtually.
Why is volunteering for CompTIA so important to you?
Through dedication, excellent mentorship and fortunate opportunities, I have accumulated several years of experience, knowledge and acumen. I want to give back and uplift the next generation. I want to create opportunities for others, like the opportunities I had.
My favorite things about CompTIA are the connections, the networking events and the willingness everyone has to help each other out. The CompTIA family is a trusted spot for entrepreneurs to learn and thrive.
What issues do you think are important to discuss with other CompTIA members?
The future of MSPs are at a real turning point. There are two things happening:
More and more companies want to be the cloud, need a bring your own device policy and be able to work remotely from anywhere in the world.
We need to truly know how our clients operate and ask "why" when it comes to tech decisions. I see everyone claiming they are a vCIO, but very few are actually helping their clients with the applications they use and coaching them on lean process improvements that have a cost savings ROI attached to it.
I would love to promote the adoption and advancement of emerging technologies, advocating for diversity and inclusion in the industry, and technology education, training and certification.
How are you working with CompTIA to address those issues and promote more awareness?
At the CompTIA Communities & Councils Forum, I participated in a small group that focused on a few specific initiatives to present at ChannelCon. The goal to break down significant transformational projects into smaller, more manageable pieces is essential for using Agile project management methodologies (my favorite!). It's another topic that's very important to me and one that I think will be extremely valuable to MSPs. Can't wait to get started!