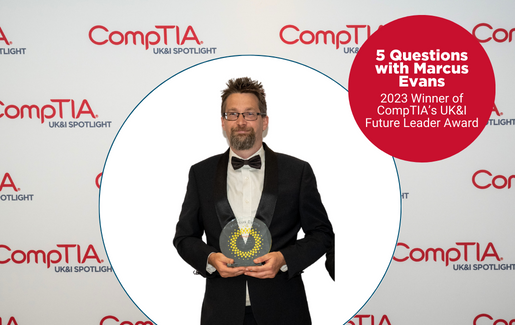 Having already faced one big challenge—cancer—Marcus Evans is now primed to try to take on several difficult issues in the IT industry. The managing director of Nutbourne Ltd. in the UK has set his sights on implementing MSP standards, increasing diversity in the tech workforce and getting businesses to be more responsible about the environment, all while growing his own company too.
For his determination, Evans received CompTIA's UK&I Future Leader Spotlight Award for 2023 for having a demonstrable impact within a CompTIA member organization and showing originality as an entrepreneur.
Evans recently discussed why he wants to tackle all three issues as a member of CompTIA's UK&I Community and why it's important to lead by example. Here's what he had to say.
Why is being a future leader important to you?
I think a future leader is one who continues to look ahead and strives to be better; better for their companies, the people in them and the wider community. It is only if we continue to show leadership, and talk about issues that matter, that things will improve. We should be talking about the environment, how to bring diverse groups into our industry and how we can keep up with the ever-changing technologies, as well as the day-to-day challenges we all face. This is what's important about continuing to be a good leader. We need to lead by these examples and however well we are tackling these issues we can all do more, even if that's just sharing the best practice you have already put in place.
What current challenges in the IT industry do you think warrant more attention?
We have more than a few issues, but lots of those are getting attention already, like AI, general IT security and the human factor. One thing I would like to see is the rollout of a universal standard for MSPs, which has long been talked about. I think this is definitely something that is needed to improve how we treat our clients and how to reduce risk in the broader community. This would take away some of the challenges our clients have about being able to say what is good practice and what isn't.
Another issue we have is the lack of diversity in tech. Only a quarter of people working in tech in the UK are female. That drops to 10% in senior positions. We need, as an industry, to better understand what would enable women to enter and stay in this profession. It would be great to get different attitudes and voices within the IT industry, and this area warrants more attention.
Finally, the environmental impact of ever-changing technology, and built-in obsolescence, is often given too little attention. I think we should be leaders in this field and lead by example. We need to reduce waste. We need to promote sensible use of materials. We need to reduce the harmful side effects that the manufacturing, usage and disposal of tech products generates.
How are you working with CompTIA to help address those issues?
I'm currently focusing on these issues more in our own company, and the wider community around that, to get us into good shape. In terms of both diversity and the environment you should really be in a position of having cleaned your own house before taking the message further. We have come a long way, having become carbon-neutral this year, and I would like to work with CompTIA on both the diversity question and the environment in the future. I would like to do more. I think we all can. I would be more than happy to help CompTIA spearhead this if it can use my voice to do so.
Who has helped you get to where you are now?
To start, I have cancer, and had to take a year out of the business in 2021. It's a long-term condition, but one that needs treatment every 10 or so years (we hope). During my year out, the folks in the NHS were great. Not only them though, but all the people in my company also covered for me and made it possible for me to have a company to return to and continue to lead when I came back. Especially my senior leadership team, who were all rocks and kept trooping on and doing what they did best.
Outside of the annus horribilis so many people have helped me. My business partner Patrick Burgess, who first got me into this sector (thanks Patrick…), and also Paul Grogan, the three of us built Nutbourne from scratch. I also wouldn't have any kind of platform if it wasn't for the wider company of Nutbourne. The people who work with me raise me up to be better than I am by myself. Additionally, I have had support from a variety of mentors over the years. People who I have learned from, not even necessarily in the tech space. Jason Choy, Patrick McRae, Tobias Batkin and David Atkinson are all peers who run businesses and we have all grown by sharing our experiences together. Everyone should have a pool of people they can work with, bounce ideas off of and generally be much richer because of this.
Finally, whilst at these awards and events we talk a lot about work, it's as much, if not more, about your family and friends who help you in the times around it. Ultimately, it's the people around you, both professionally and personally, who shape who you are and what you can do. All of them have helped me get to where I am now.
What advice do you have for others about being a better leader?
Firstly, make others feel valued: Surround yourself with great people and listen to them as much as you can. Get as much information on any issue as is readily available. And then make a decision. It will still be your responsibility, and you wear the good and bad results as a leader, but everyone should feel like they've been heard, even if you don't go with their voice that time.
Secondly, delegate to people who you trust and give them autonomy. Then check in with them regularly and always be available to help. They will thrive if they are able to make their own decisions. You can't grow a company past a certain point if you are the funnel everything goes through. Finally, find out what matters to you and talk and lead with that. People respond to passion and honesty and that's what helps you become better at leading.