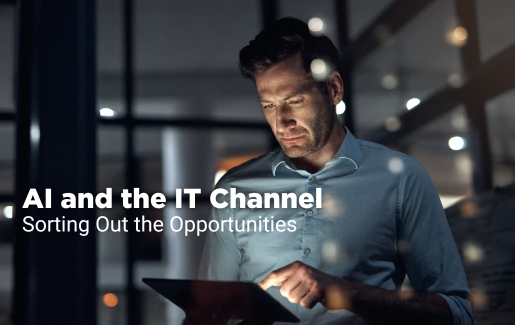 Full disclosure: I was tempted to tap ChatGPT to craft this blog article. I didn't, as it turns out, but I have little doubt the now-ubiquitous tool would have done a fine job building a narrative around the opportunities and challenges that artificial intelligence (AI) holds for today's IT channel. In perfect grammar, no less. Next time, I'll give it a whirl.
My own ChatGPT usage aside, AI is undeniably becoming a force to be reckoned with. I use the word "becoming" somewhat hesitantly, however, after watching astrophysicist Neil DeGrasse Tyson on TV dismissively chuckling at today's onset of AI hype because, as he contends, the government and scientific worlds have been using its capabilities for the most advanced projects and problems imaginable for decades.
But that's an astrophysicist talking. For those of us living in the average day-to-day business world, generative AI and advanced automation is indeed hot news, poised to be an integral piece of the landscape for companies, workers and everyday consumers for years to come.
For the IT channel, AI holds great potential, but it has some downsides that are inevitable to all new technologies. We've been thinking a lot about AI at CompTIA of late, with a particular focus on how the technology will affect our membership communities of technology solution providers, MSPs, resellers and other channel players.
Applying AI's Capabilities to Growing a Business
There's no question that the potential to extract value from AI in terms of efficiencies, productivity and time to market is exciting. As is the ability to apply AI's capabilities to growing a business by melding human worker creativity with generative AI's speed and precision. At the same time, many worry about the effect on jobs, whether that's changing them radically – or eliminating them altogether.
But let's address the good news. Here are just a few of the potential benefits the channel could expect:
Improved customer experience. AI-powered chatbots and virtual assistants can provide instant and personalized customer support, leading to improved customer satisfaction. AI can help partners create more exacting quotes for customers, in less time. CompTIA research of the last four years has consistently shown customer experience (CX) to be at the top of the list of business priorities for channel firms. Anything that improves service delivery and customer personalization moves the needle in the CX department.
Better sales and marketing. AI algorithms can analyze customer data and predict buying patterns, enabling vendors and channel companies to personalize their sales and marketing pitches and campaigns. Another favorite data point from CompTIA's channel research: Marketing, and the need to get better at it.
Streamlined operations. AI can automate repetitive tasks and optimize workflows, freeing up time for employees to focus on more strategic and creative work. During times of economic uncertainty, which we can safely say covers the last three years, many channel firms surveyed by CompTIA have taken a hard look at cost-cutting and operational efficiency to make sure they are as tightly run as possible. For MSPs, this is especially crucial as repeatable process efficiency at scale is the linchpin of the business model.
Improved decision-making. AI-powered analytics and insights can provide valuable business intelligence, helping channel companies make informed decisions. Data abounds, and channel firms increasingly tell CompTIA that they see accurate analysis and execution on these stockpiles of information as a necessary skill to meet strategic goals for customer experience improvement, competitive differentiation, business model changes and transitions, and vendor relationship management.
Elevated business management. Another perennial ask among channel firms is for assistance and training in running their business better at all levels: Financial literacy, business and technical skills, workforce issues, etc. AI can help. Companies can use generative AI tools to get prescriptive guidance on how to grow their businesses, which certifications they should obtain, which training courses they should take and which vendors have the best incentives and programs for them.
Human Resources, an AI Testbed
AI won't be all things to all channel firms in all areas, but it will be applied here and there across different functions. One of those functional areas is human resources (HR). As part of a much-broader research study on MSP workforce issues and trends, CompTIA recently collected a few data points about AI and today's MSPs.
We ask specifically about AI usage today for tasks specific to the HR function and for MSPs' thoughts on the impact the technology's use will generally have on their staffing levels over the next two years.
Here's what they said:
How they describe their application of AI tools to HR tasks in their organization:
Ambitious (27%): Using AI today across multiple HR functions (this would include recruitment/job postings and vetting, employee training/professional development, communications, etc.)
Exploratory (40%): Piloting AI in specific HR functional areas
Cautious (21%): Considering using AI for HR functions sometime in the future
Dubious (7%): Not considering its use at all at this time
When it comes to the impact of AI might have on jobs in the next two years when used in a variety of roles beyond just HR, MSP respondents had the following to say:
19% predict net loss of staffing
35% predict no change, with any losses to AI functionality offset by gains in jobs/roles in other areas
32% predict net gain in staffing
15% are unsure
The takeaway as I see it, based on these MSPs' assessment, leans mostly positive toward the use of AI for HR functions and not dire in terms of expectations about jobs for its human workers in general.
Much remains to be seen, however. The use of AI will need to be well thought out by many channel firms, applied in the right areas, and done so with business outcomes and human impact in mind. But as you've read above, the potential to use AI to improve your channel business across all the main pillars of customer experience, sales/marketing, HR, data and financial growth is very real.
Want to learn more about artificial intelligence?

Get the answers you need by joining the conversation in