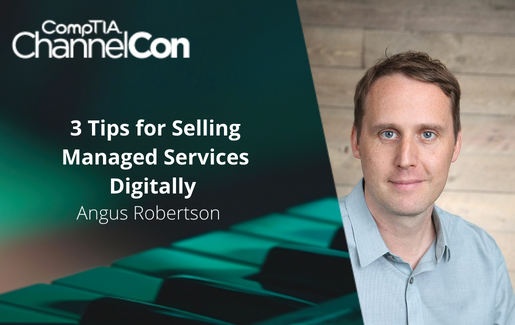 When it comes to the digital marketplace, the adage to not judge a book by its cover does not apply. Presenting a cohesive, clean, informative presence online is a must if companies want to compete in the competitive digital marketplace.
"Today's tech buyers are doing their research online first as part of their specific decision-making process," said Angus Robertson, partner and CMO at Chief Outsiders and co-chair of CompTIA's Business Applications Advisory Council. "In other words, your digital presence is critical if you want to be considered by the modern buyer."
How does a company do that? With a cohesive, impactful digital sales and marketing approach.
A digital sales and marketing plan uses a coordinated strategy of digital channels, media and tactics to attract, engage and convert leads. A digital marketing plan includes linking and syncing your website, content (including video), email campaigns, any SEO, pay-per-click, account-based marketing (ABM) as well as your sales team's outreach.
But knowing exactly how, where and in what way to best target your audience is more nuanced than sending emails and posting blogs. During a session at ChannelCon 2022, Robertson shared three tips for highlighting your company as the complete managed services package to attract prospective customers.
1. Identify Your Target Audience
No one wants to waste time, energy and resources blindly casting about for customers. Instead, know exactly the tech buyers you want to reach digitally and zero in on attracting them.
To help find those potential customers, Robertson suggests creating a buyer persona that projects the ideal customer and a path by which to reach them. A thorough persona targets their goals, their challenges preventing them from achieving those goals and what key performance indicators (KPIs) are they using to reach those.
"A buyer persona helps you tailor your marketing efforts toward you target audience," said Robertson. "The more targeted you can be, the better your response rates, and then, make your persona actionable."
Robertson recommends looking to LinkedIn to find titles, work histories and accomplishments of people who match your persona. Also look to see who they follow online, their connections, what kind of content (and questions) they are posting and what interests they have. The more complete your persona, the more avenues you have to find ways your services can help them. Also, look to your current customers.
"There's nothing more effective than one of your customers talking to a prospect and hearing how great you are as a vendor or as a solution provider," said Robertson. "So, when you're looking at your target market, look at those personas with common pain points and try to make sure they talk to one another. That's the best kind of lead that you can get."
2. Supercharge Your Online Presence
To be competitive in the digital marketplace, you must put all your tools to work—especially your website and social media presence. A successful online presence is constantly evolving, adapting to the trends and needs of those in the channel. By incorporating a streamlined user experience and attentive response rate, your website and social media pages can become helpful resource hubs for customers—and, in turn, become a lead generator for you!
"Your website is the 24/7 digital storefront; it's your source of truth in how you present your messaging and value to the world," said Robertson. A useful, impactful website is capturing the traffic and then converting those visitors into prospects with your forms. An effective social media presence is curating and creating engaging content that keeps customers connected and top of mind.
"A good website is visually appealing, clear concise value, easy navigation that drives to call to action," Robertson said. Include brief and readable text, automatic scheduling and simplify the design across all platforms so that your brand, message and overall impression is organized and unified. Most of all, be different and memorable—generic helps no one! But stay in line with your company ethos—especially with social media.
"In terms of putting your messaging together, get your employees on board first," said Robertson. "First, have Sales buy in, then the Marketing team, then customers, then influencers in your sphere then prospects—now all these people are reaching their channels with your message."
3. Implement Content Marketing Strategies
The creation and sharing of online materials via blogs, video, email and print is only helpful if it answers the questions your prospects are asking. Traditional selling has relied on what Robertson calls "right-to-left selling" which is making sure your brand and messaging touts your background, your history, your success stories, your team, your awards and certifications, your accomplishments. And yes, that is important to convey but it shouldn't be the forefront of a prospective customer's interaction with you.
"The right-to-left selling is very tempting to do, because we're all very proud of all the work that we've done, and our amazing services and products," Robertson said, "But at the end of the day, the prospect doesn't really care about that, especially initially. Talk to what they care about, the pain that they're having. That's the conversation that your prospects want to have."
When considering your content strategy, a good exercise is to go through and align your team with the buyer personas, their pain points, and your actionable steps to uniquely solve those pain points. Find the holes and thoughtfully fill them. Find the excess and trim what you can. Every team and department should be on the same page when it comes to creating a positive customer—current and future--experience.
"Often what I see is that management teams and go-to-market teams aren't aligned. So instead, they're doing these random acts of marketing across a lot of different pain points, and they're not consistent in how the message goes to market and it's something that they can control," said Robertson.
In the end, having a comprehensive, thoughtful plan for finding and engaging with prospects online is one of the most valuable tools you can utilize.
"Growth is hard so when it comes to mastering the things that you control, like alignment between your teams, that's extremely valuable," Robertson said. "Know what conversations you want to own and make the plan to make it happen."