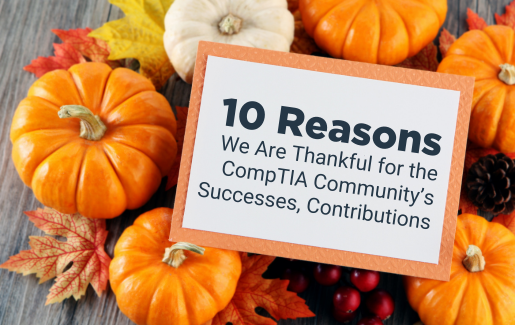 2023 has been a year of unprecedented activity for the CompTIA Community. From new communities, to launching our Spotlight Awards program in the ANZ region, new member benefits, record setting events and increased engagement, this has been a year that raised the bar on activity and impact.
I always look forward to this blog, as it's an opportunity to highlight accomplishments and thank the many staff and volunteers who make the CompTIA Community what it is. So let's dig in and look at just 10 of the many reasons we are thankful for each and every member.
CompTIA Emergency Response Team
This year, we launched the CompTIA Emergency Response Team (ERT) to help anyone in the industry who is impacted by a cybersecurity event. What makes this endeavor so special is that the idea came from our members and is entirely member-led, like so many CompTIA initiatives. I encourage you to visit MSP911.org to learn about the ERT, volunteer to get involved to help your peers and meet the leadership team and staff liaison. This is a living initiative that will continually adapt and be enhanced based on the reality on the ground. You could not ask to be involved in a more worthy and needed program. Thank you to all the members and staff who helped design this much-needed program and get it launched.
CompTIA Cybersecurity Trustmark
CompTIA is known for our industry-leading certifications, training and workforce solutions. It was only natural to extend this unique expertise to help our community in the form of the CompTIA Cybersecurity Trustmark. How do your customers and prospects know that you really have the expertise and employ the best practices around cybersecurity that you say you do? How do you validate what you are doing to protect your business and customers? This is where the CompTIA Cybersecurity Trustmark provides value that isn't available anywhere else in the industry. Think of this like a "Good Housekeeping Seal of Approval" for your business.
Thank you to all the organizations that are working toward their self-attestation or third-party audit. We've been thrilled with initial response this year and look forward to seeing this program prosper and deliver critical value for our members and your customers.
Recognition for Our Most Engaged Volunteers
In October, we launched the ANZ Spotlight Awards program at our ANZ Community Meeting in front of a sold-out crowd in Sydney. It was an amazing night celebrating four individual and four company winners.
This expands our popular Spotlight Awards program to a new part of the world. Before this year, we hosted Spotlight Awards in the North America and UK & Ireland communities. We could not be happier to extend this program to our ANZ Community. And judging by the record attendance, our members could not be happier too.
We also named our 2023 Member of the Year, Alex Spigel with Choice Cyber Solutions. Alex represents the best of CompTIA membership. She is the co-founder of her firm and a passionate cybersecurity leader. Her volunteerism with CompTIA has made a tremendous impact across our community and she serves as mentor and role model to so many. Alex joins a distinguished group of past Members of the Year and we can't thank her enough for all she has done for the CompTIA Community and the industry at large.
Thank you to all our leaders and award winners for all you do for CompTIA and the IT industry.
Community Events
From our flagship events including the CompTIA Communities & Councils Forum (CCF), ChannelCon and the EMEA Member & Partner Conference, to regional community meetings, topical committee meetings, member- and staff-led webinars, meetups and other industry events, we had a very, very busy year. Judging by the reception we receive and the influx of new members this year, we seem to be on to something.
So thank you to everyone who attended one of our events in 2023. Our DACH Community in Germany, Austria and Switzerland really took off and we hosted the first executive council meeting of our new ASEAN community, representing the Association of Southeast Asian Nations, based in Singapore.
With all this activity, we expanded our community team with the intent of raising the profile and impact of the global IT channel and MSP community. Look for even more in 2024.
Our Regional Communities
Speaking of communities, they continue to grow and have a greater impact. We now have six regional communities around the world that meet in-person twice annually, as well as virtually throughout the year.
Thank you to every one of our members who is participating in their regional community and is engaged with their fellow members to help raise the impact of the IT channel around the world.
And we are not stopping at six. In 2024, we plan to launch a Latin America community, marking our first community activity in Central and South America. If you or someone you know would like to be involved in this exciting initiative, please let me know.
Our Topical Committees
Within each of our regional communities, based on the interest and needs of the community, we have topical committees that meet to focus on targeted topics and deliverables to help our members succeed. Examples of some of the committees meeting globally include diversity, equity and inclusion (DEI), managed services, cybersecurity and emerging technology. These are like focus groups within each region and can exist for as long as the community feels they are serving an important need among the membership.
Thank you to all the members of these committees who continue to help CompTIA develop new and much-needed tools and resources for our industry.
Speaking of important needs, CompTIA is pleased to launch a reimagined Advancing Women in IT group in 2024. This group will fit within the DEI committee in each region and focus on ways CompTIA can help to advance the number of women in IT and help enhance the careers of women already in the industry. This is another member-led initiative that will look for ways to deliver unique value, not found elsewhere in the industry. And no, you don't have to be a woman to engage with this group. Everyone is welcome!
Our Industry Advisory Councils
Our Industry Advisory Councils continue to deliver thought leadership around emerging technologies and topics that the industry will face now, and in the future. The councils are comprised of senior thought leaders across a diverse array of topics including artificial intelligence (which no one thought would impact the industry just a few years ago), blockchain and web3, SaaS ecosystem, channel development and IoT.
We're also launching two new Industry Advisory Councils focused on data and workforce issues in 2024. Thank you to all our council members for their continued leadership, expertise and experience. Your contributions have helped all of us learn more about important technologies and how to implement them into real-world solutions.
CompTIA ISAO
The CompTIA Information Sharing and Analysis Organization (ISAO) is a critical cybersecurity initiative that brings members together in a secure, online, cyber forum where our cyber threat analysts share informational and actionable alerts on threats that could impact your business and your customers.
To date, we have more than 800 active users on the CompTIA ISAO's Cyber Forum and more than 3,600 threat reports have been posted—all of which help to better protect your businesses and customers.
Thanks to all our CompTIA ISAO Executive Steering Committee and Industry Partner members for all they do to support the CompTIA ISAO—and to all the members who have made cybersecurity and protecting their customers a priority.
Philanthropic Efforts
Each year, CompTIA sets aside $10,000 USD for each community, industry advisory council and other member groups to make a charitable contribution to help tech-related charities, or in special cases a charity that has a mission that touches or impacts the group making the donation. This year, we proudly donated $130,000 to several worthy organizations.
We also partner each year with ChannelPro Network to award the Cecilia Galvin Scholarship, in memory of Cecilia Galvin, a true pioneer who shattered more than her share of glass ceilings and has been an inspiration to so many in our industry.
Our philanthropy program, along with all of our community programs and the work of CompTIA Spark, our social innovation arm, speak to our commitment to invest our financial resources in the industry for the best possible impact.
Thanks to everyone who supports CompTIA throughout the year, which allows us to support these much-needed initiatives.
Our Team
Finally, I would be very remiss not to thank the incredible team that I get to work with each and every day. From our member experience team to our member communities team, community marketing, cybersecurity programs, Industry Advisory Councils and member programs and operations, the CompTIA Community is supported by a terrific group of professionals who are so passionate about what we do and how we impact your business, your customers' businesses and the industry. It is both a pleasure and privilege to do this work and do it with these amazing individuals.
Thank You
All in all, 2023 has been another great year for the CompTIA Community, and I'm confident that 2024 will be just as great—if not better. While we celebrate Thanksgiving in the United States, I hope that all our members and teams take a moment to reflect on all that we've accomplished this year. You all have my gratitude for everything above and so much more. Thank you again for all that you do for this industry, your customers and CompTIA. I look forward to an even brighter future.
MJ Shoer is the chief community officer at CompTIA.