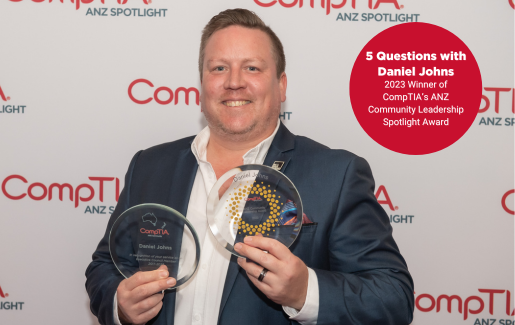 Throughout his career, one that has spanned 25-plus years, Daniel Johns has discovered something that the greatest leaders in IT know—success happens with the help of other people.
Johns, security principal at MyCISO, has worked extensively within intelligence agencies, artificial intelligence, the federal government, banks and defence and technology companies. But it's not his personal accomplishments that he's most proud of. Instead, it's the achievements of the teams he's had the pleasure to head up and collaborate with.
While Johns, winner of the CompTIA ANZ Community Leadership Spotlight Award for 2023, is all for IT leaders gaining tech skills, he stresses the importance of them developing their ability to lead teams because success is a team effort. Read on to learn more about Johns' views on leadership, advocacy in the advancement of IT and giving back to the tech community.
What are you most proud of in your career, and what's helped get you to where you are now?
I'm most proud of the teams I've led and worked with over the years. It took me many years to realise that you can't be all things to all people, and there are things you're good at and not good at. Once you recognize what you don't enjoy or are not good at, surround yourself with people who enjoy those things and are good at them. I had the greatest opportunity to do that a few years ago at ASI Solutions, and when I left after seven years, I was super proud of what the whole team had achieved during that time. There is no way I could have done everything without the support of that team.
What advice do you have for MSPs and other tech businesses to be more successful?
Send yourself and your management team to leadership training and personal development courses. You're already a good tech, and you're working on the tools every day. You know what you're not working on? Being a good leader and all the soft skills that go with it. I can't overstate how valuable this is!
Why is volunteering for CompTIA so important to you, and what are your goals for the Community/Committees?
One of the primary functions of being on the ANZ Community Executive Council is to give back to the community. I've been really impressed with how people from across the industry bring their absolute best to the table when they join the council. It's completely voluntary to be there, and somehow, that encourages the people there to go even further than they would otherwise. It's inspiring.
What challenges and trends do you want to raise more attention/awareness for in your ANZ Community role?
To be honest, it's brand awareness more than anything else. CompTIA is incredibly well-known for its certification body, but people are surprised when they hear that there is a community body responsible for doing all sorts of great things for the industry. Anyone who comes to a community meeting for the first time is always impressed, so I guess the challenge is to get that awareness out there so we get more first-timers to come along and join the community.
How are you working with CompTIA to address those issues and promote more awareness?
Perhaps the greatest thing we can do is get the word out there. Promote the resources, events and people within the CompTIA community via your socials. Join the community meetings and bring along a couple of colleagues from the industry who haven't been to an event before. Some of the best people I've met in the industry belong to CompTIA, so why should we keep it to ourselves? Let's let everyone know!
Get Involved, Expand Your Network
Join your local CompTIA community now and start collaborating and learning!