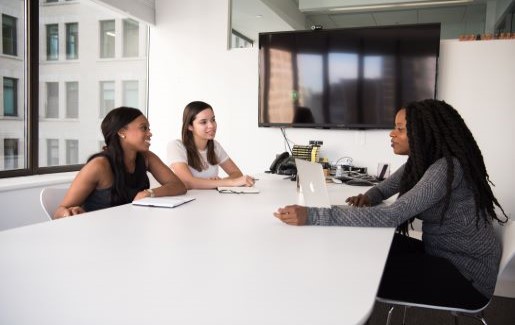 The last year has brought a renewed focus on diversity in the workplace—as well as a call for increased accountability on programs aimed at bringing more women and underrepresented populations into the tech industry. According to CompTIA's 2021 Industry Outlook report:

"After years of talk about the need to improve diversity within the high-tech workforce, the situation has not changed substantially. In fact, things may be going in reverse—data from the Bureau of Labor shows that the percentage of computing occupations held by women has been steadily declining from a high of 36% in 1991 to 26% today. There is no shortage of programs focused on creating more balance for underrepresented groups, and there is no shortage of analysis on the root causes of the problem. However, since these noble endeavors are not producing the intended result, it's time to consider something new. In short, it's time to move from awareness to accountability."
There's plenty of statistics to back up the ongoing gender gap in tech—as well as the lack of representation of minority groups:
According to builtin.com, 3% of computing jobs are held by African American women, 6% held by Asian women and 2% held by Hispanic women. Half of women say they experience gender discrimination at work which creates barriers to promotions and can serve as a career off-ramp.
A recent Kaspersky report revealed major inequities for women in the field. Only 10% of women working in a tech role work in a female-majority team, compared to 48% working in a male-majority team.
A recent report from Exabeam found that, on average, male respondents made $91K whereas female respondents reported $62K.
First-person accounts align with the statistics. According to Madelene Campos, software developer at BrightGauge, a business management platform owned by CompTIA member ConnectWise, "In many industries, not just in tech, being taken seriously due to gender perception continues to feel like an issue. We often need to 'prove ourselves' more than men to show what we're capable of. To help address this, organizations need to work with their HR teams to ensure that their employees, regardless of gender, are receiving equal pay and benefits."
There is still much work to be done, though there are plenty of bright spots. Below, we've rounded up inspiring stories about women who are choosing to challenge the status quo. We've also included links to resources designed to encourage women to enter the industry as well as how you can connect with CompTIA's Advancing Women in Technology Interest Group now to network and get career support.

One Woman's Journey from Stage to Technology Career
Chloe Condon, senior cloud advocate at Microsoft, found her way into technology after facing the financial constraints of her musical theater passion. But in that switch, she became an evangelist for women in technology. Condon shares her perspective and advice, including how to make big workplace diversity goals feel actionable. Read her story.
Success Stories from Women Building Technology Brands
In need of inspiration for your technology startup? Read about three young women entrepreneurs including Riya Karumanchi, the 15-year-old founder and CEO of SmartCane; Chioma Ifeanyi-Okoro, founder of My African Corner; and Vanessa Vakharia, founder and CEO of The Math Guru, who are blazing their own trail in the industry. Read about their journeys.
Closing the Gender Gap in Cybersecurity Jobs
Research consistently shows a gender gap in cybersecurity jobs. For business owners and managers struggling to figure out how to get more women to apply, this article offers actionable steps you can take to attract women and other underrepresented populations to the field of IT security. Read more.
We've also put together a list of resources to help encourage women to pursue cybersecurity careers. You can find those resources here.
Women Leading the Way in Emerging Technology
Karen Gordon, founder and chief design facilitator at WE Design Think in Chicago has been studying blockchain and ideating applications for distributed ledger technologies, and believes it has the potential to do big things. According to Gordon, as the future of blockchain is being sorted, everyone is at square one learning the underpinnings and developing applications. In that neutral space, women are stepping into blockchain. Read more about women in blockchain.
As New York state continues to invest in emerging technology, smart city projects that aid in fleet asset management, public safety, transportation and data collection are popping up across the region with women taking the lead in various ways. Debra Snyder, chief information security officer for the state of New York, oversees smart city technology throughout the state and designs plans so citizens from the Hudson Valley to Lake Champlain can benefit from crime prevention and analytics, faster response times and transparency in local government. Read her story.
Access More Resources with the Advancing Women in Technology Interest Group

The CompTIA Advancing Women in Technology Interest Group is an online forum focused on changing workplace cultures to be more inclusive, raising awareness of the unique concerns of women, and improving opportunities at all levels of the technology workforce. Join now to access meaningful discussions in the forum, discover relevant resources, participate in mentoring and sponsorship, network with women in the industry and more.