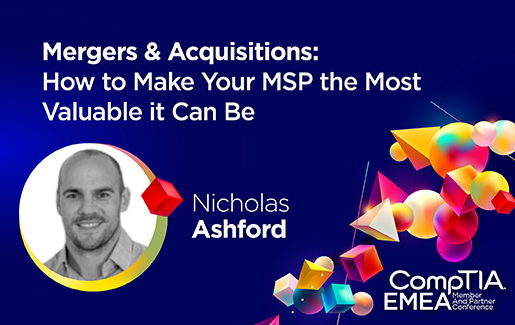 Every MSP owner should have an exit strategy. When they choose to act on it or not is an entire other matter. Not every MSP owner wants to sell their business at the earliest opportunity, whereas some would sell up tomorrow if a decent offer came along.
In either case, every single one of them should be working on an exit strategy now, rather than later, according to Nicholas Ashford, partner at private equity firm Fordhouse, speaking at the 2022 CompTIA EMEA Member & Partner Conference in London.
"The key thing as an MSP owner is to think about the future—what age do you want to retire—40, 60? How much money do you want to make? How much capital do you need to achieve your goals? Just thinking ahead will make your business a lot more valuable," he said.
MSP bosses must focus on both the "science" and "art" sides of M&A—EBITDA and the EBITDA multiple they want to achieve, he explained. But it is important to keep it real and not get carried away with fantasy growth predictions.
"EBITDA has to be believable," Ashford said. "If you have 5 percent growth every year then that is what is going to be your base growth forecast."
It is also key to make any internal/strategic changes at least six months before you sign on the dotted line rather than a week before the deal deadline. That way it is easier to demonstrate how that sales director you fired was not performing, or how quickly your recently appointed salesperson is getting up to speed.
Standing Out from the Crowd
One size does not fit all when it comes to deciding the best multiple for an MSP. Ashford said every MSP business is unique and will eventually command its own multiple.
But there are ways to boost your multiples by taking the initiative rather than waiting for it to happen organically.
You can become a platform for private equity—don't just be another MSP—make your business a strategic target, whether you become a regional powerhouse that the competition needs to take out the picture, or just an easy target for a company looking to expand in the area.
Think about what makes you stand out—do you have a particular IT system that can scale? Do you have automation within your business process? Do you have a SOC or an Azure specialism? Do you have a cybersecurity specialism? By building valuable business capabilities you are a more valuable asset to someone looking to invest.
MSPs (and distributors) that have special relationships could also prove attractive to PE investors. Do you have an exclusive relationship with a particular vendor/supplier? Could you develop a relationship further? This could add further value to your business.
Getting the Mix Right
The UK MSP market differs from the US market when it comes to sector specialists, Ashford explained.
"In the UK there are not that many sector specialist MSPs, so if you are one of those it can increase your attractiveness to PE investors," he said.
The amount of customers an MSP has on their books is also not a massive indicator of success when it comes to PE investment either.
Ashford explained that conversely less is better—a hefty customer longtail is not viewed as exciting. It is far better to have a high revenue with a lower number of solid customers. Also, make sure the percentage of revenue from your largest customer tallies as well. Don't let it get too high, he said.
"For me the perfect MSP is one with 10 customers, each accounting for 10 percent of revenue. Hopefully all locked into recurring revenue. That way if one leaves it will hurt but not as much as it would if that customer accounts for 20 percent or 30 percent of revenue," he said.
Contract length was also an interesting discussion point for Ashford. A five-year contract is not necessarily the most desirable one and doesn't guarantee the customer will stay for that length of time.
"One business I dealt with had rolling contracts of 90 days, and another very unique case had a different 12-month contract for each new starter. I wouldn't recommend that, but it is advisable to have overlapping contracts which make it more difficult for customers to leave," Ashford said.
However, if you have a customer that is coming to within six months of the end of a five-year contract you need to tie them back in before attempting to sell the business.
Taking a Risk (Or Not)
It is important to work out your risk reward appetite when selling your MSP business. If you are someone who wants to exit tomorrow and just take the money that means the risk is all on the acquirer. But if you are willing to wait five years and take more of a risk, then you could get a bigger pay out via an earnout.
It is not always easy letting go of something you have spent many years investing blood, sweat and tears into. Not everyone will want to sell. But planning ahead and having an exit strategy just in case you change your mind, is definitely not a terrible plan to have.
Three key takeaways when selling an MSP business:
Plan your exit: it will help with your business focus
Track adjusted EBITDA
Think about your risk-reward appetite