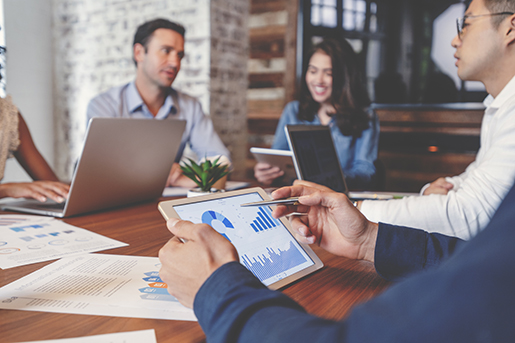 Social media is about more than page likes and memes. It can be a powerful and impactful resource in your toolbox for growing your business and connecting with customers—as long as you're doing it right. Understanding the connection between social media and lead generation is a foundational pillar of any successful business.
At a panel discussion at ChannelCon 2022, Brandi Rogers, director of marketing at CharTec and ARRC Technology, offered several tips and practical steps to harnessing social media for B2B lead generation.
Why Does Social Media Matter?
The first thing any potential customer will do is research online—maybe it's just a Google search or maybe they are digging deep into customer reviews, trade publications, industry forums, etc. However your prospective customer is researching, you want to be sure that the first impression they experience of your company is positive, educational and moves them to engage further. These days, a static website just isn't enough to stay competitive and relevant in the digital marketplace. Social media bridges the gap between "just looking" and "ready to talk."
How Can Social Media Generate Leads for My Business?
Engagement, expertise, experience. If a prospective customer feels appropriately engaged with, associates your company with expertise and has a good experience dealing with your website, representatives or services, that customer is more likely to trust your company and products. People want to work with people they like and trust, so as long as your company is using social media fittingly and proactively, you're on your way to prospective customers becoming current customers.
An important thing to remember about social media and business is that brand consistency is paramount.
"Brand consistency is one of the most important things when posting on social media, you need to keep your brand consistent," said Rogers. "There are different types of posts that drive consistency that show people your brand, your messaging, your services, products and capabilities. All of this helps the customer remember who you are. It helps them build trust; helps them start relying on you."
Rogers emphasizes that consistency encourages trust and positive association. "If you're posting on social media with posts that are all over the board—different colors, different content, different fonts—people are not going to remember you as you want them to and you're not going to resonate with them."
Which Platform is Best for My B2B Company?
Not all social media platforms are created equal, target the same people or serve the same purpose— know what your goal is on each and every platform you use, who you want to target and why. According to Rogers, that means having clear and defined goals.
"For lead generation, it's important to be SMART—Specific, Measurable, Achievable, Reachable, Timely—with your goals and purposes," says Rogers. "Look at what your customers or the channel is talking about and weigh in; offer commentary on trending topics or interesting discussions. Set your own social media profiles to be SEO-friendly so that customers looking for what your MSP provides can find you easily."
LinkedIn is no longer just a resume-holder. According to LinkedIn's internal data, 97% of B2B businesses use the social media platform (with continued growth each year) to keep up with the trending topics of discussion, what customers and competitors are posting and engaging with and to understand what their pain points are.

Rogers said that it's easier to connect with a target audience on LinkedIn and you can grow your presence both organically and with ads. "At the end of the day, LinkedIn is a business platform, so you want to post anything that's going to capture attention and give useful information that's going to help your ideal customer," Rogers said. "Make sure you're posting your challenges, the challenges that businesses have, and of course, the solutions you can offer. That's ideal content they want to have."

Facebook is good for its 2.89 billion users, including 1.93 billion daily users. Seventy-four percent of people leverage their Facebook activity and presence into business leads through product research, company engagement or sharing content. Simply put, it's the most used social media platform in the world and choosing to not utilize can send a different (not-so-flattering) message to your forward-thinking, future-minded prospective customers.

Google Business Profile (formerly Google My Business) offers a one-stop-shop for customers researching online. Optimizing your listing can help ensure that your SEO keywords match what people are searching for.
"The more specific and targeted, the more likely you'll reach customers who need exactly what you're offering," said Rogers, "instead of it not quite hitting the mark and wasting everyone's time."
What Should I Post?
While social media can be fun with viral video and life hacks, Rogers warns against mixing your company messaging with your own personal ideas. Posting about your own activities, sharing unrelated memes, or commenting on things unrelated to your business don't translate well to customers looking for your knowledge and expertise.
"It's a wasted opportunity," said Rogers. "Remember to stick to your brand's messaging and tone and to keep it consistent." Instead, Rogers suggests staying relevant and informed about topical industry news and how it relates to your products, services, or company culture.
"Talk about what's happening in the channel, industry, world and how it affects your customers and how your MSP or company is positioned to fix it," said Rogers. "For example, if you set a Google Alert for the term data breach, each time it comes up, you can have content ready about how your MSP manages security."
Experiment with different kinds of content, such as a Q&A with the CEO, offer free content like e-books or webinars, start conversations online with thoughtful questions and prompts, include video content and customer testimonials.
Rogers also suggests filling in the topical content with a more personalized look at your company as a whole. Including live discussions with the CEO, or highlighting the team that develops your product, or some of the activities your company does to stay focused, grounded, and dedicated are good ways to showcase the softer, more human side of your business.
"Company culture is a big deal, not just to the employees and morale, but prospective customers, who want to know more about who they are doing business with," says Rogers.
The biggest takeaway? Think of social media as another branch of your marketing strategy for finding your target customers, building trust and showcasing your expertise, and you won't be disappointed.