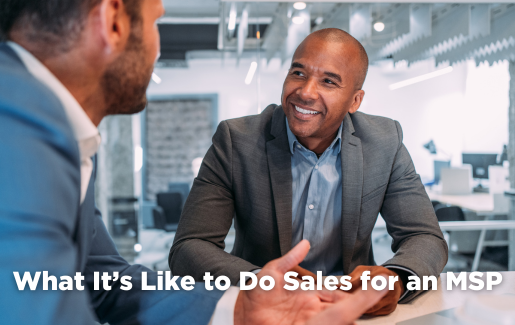 A great managed services salesperson is one part rainmaker and one part business superhero. A great IT provider works wonders for its clients. A great salesperson for that IT provider deserves a lot of credit.
"They don't know any of the team behind you," observes Carrie Green, vice president of strategy at Alt-Tech Inc., a MSP and solution provider based in Sherwood, Alberta. "You're the one who's coming in and you're saving the day essentially."
The salesperson is also directly responsible for much of the money on paychecks, which makes them popular with co-workers as well.
"If you talk to successful MSPs, they generally have one sales rep who's doing 70% of the revenue," says Dave Cunningham, a senior case manager and sales leader at Alvaka Networks, a security-focused MSP in Irvine, Calif.
Not everyone has what it takes to work in sales for a MSP, but those who do have lots of reasons to love their job.
Successful Salespeople Have a Competitive Drive
As in any industry, a tech salesperson spends a lot of time speaking with current and potential clients. Doing that well is one of the most critical skills.
"Communication is huge," Green says. "You need to be able to have those conversational skills to get your message across in a way that shows someone how you're going to benefit them."
Listening well is just as important. A good salesperson pays close attention to what the client says and how they say it. "They need to have a high emotional quotient," explains Oli Thordarson, Alvaka's president and CEO.
Having "business smarts" is also important to understand where the client is struggling and devise a solution to help fix it. "There should be a very thin indistinguishable line between a great consultant and a great salesperson," Thordarson says.
Given that they're proposing IT solutions, of course, some knowledge of the field is essential. "It helps to have technical aptitude and a general understanding of technology," Cunningham says.
But only a general understanding is necessary. True IT expertise is always useful but never required. "The most effective salespeople are good salespeople," Cunningham notes. "They're sales first, technical second."
They also have the flexibility to adapt what they sell and how they sell it to each customer. "You have to kind of tailor your conversation around what they're looking for," Green says. "If you're just following a script, you're going to be less likely to make that sale."
Given all the time they spend speaking and listening to people, an outgoing personality is a must. "You have to be really willing to go out there and talk to people," Green says. "If you're not, then sales are probably not the right place for you to be."
The same holds true if you need a lot of handholding from management. Top salespeople work best on their own. "For us, we want somebody in that role who doesn't need someone telling them what to do every step of the way," Green says.
Alt-Tech looks for "go-getters" with the competitive drive to turn sales opportunities into wins too. "They have to be kind of hungry," Green says.
Successful Salespeople Are Solving Problems, Making Money
How hungry though depends on whether they were hired to be a hunter or a farmer. In sales parlance, hunters venture out in pursuit of new customers and new sales openings. Farmers function more like account managers, keeping existing customers happy while watching for cross-sell and upsell opportunities.
"They're almost different skill sets," Green says. Farmers are nurturing and service oriented. Hunters are determined and assertive.
Both enjoy the satisfaction that comes with solving problems for others, while making it rain for their employer. "They like being involved with the client, making a difference in the client's life and having a positive impact on the business," Cunningham says.
Still, working in sales has its downsides too. There's the constant pressure to meet your quota—or suffer the consequences. "You have to hit your numbers," Green says.
That's never easy and can be especially hard in a recession-wary economy like the present one. "You're going to be facing a grind for sure," says Alt-Tech CEO and part-time salesperson Daniel Mitchell.
And be prepared for a lot of rejection in any economy, Green adds. "You're going to get 100 no's before you get that one yes," she observes.
Successful Salespeople Are Professional Superstars
The financial rewards of fighting for that yes can be substantial, though. Tech salespeople usually receive a base salary plus a commission on every project deal they close and product they sell. In an MSP environment, they also typically earn a percentage of the monthly subscription revenue they generate for the entire lifetime of a client relationship.
"It can be extremely lucrative," Mitchell says of the job. "If you work with a good ownership group and you're supplied the tools and the budget to execute, it can absolutely be profitable."
Over time, a career in sales can lead to a role in sales management, a chief revenue officer position or even a seat in the captain's chair at a company of your own. More than a few MSPs were founded by former salespeople.
Working for one of the big hardware, software and cloud vendors you'll end up collaborating with on sales is even more common and just as enticing, according to Cunningham. "There are all these manufacturers and service providers that market to MSPs, and now you can go out and win 300, 400 accounts," he says.
Which, in addition to more commission, means even more gratitude from hundreds of businesses for the goals you've helped them accomplish and the challenges you've helped them solve. "You really are their superstar," Green says.