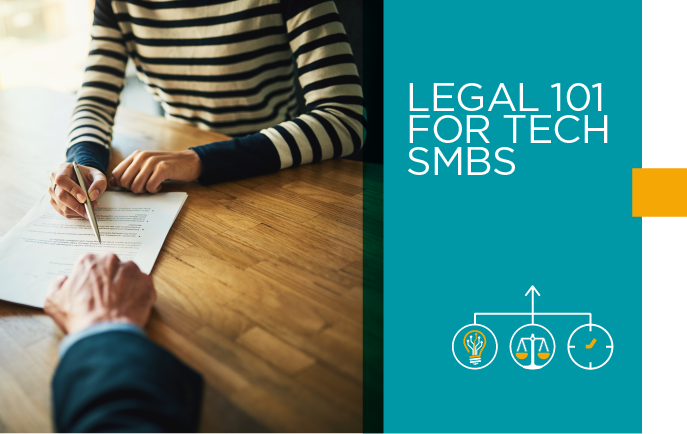 We hear a lot about self-care these days and the concept is pretty straight forward—it's all about doing certain things to put yourself and your needs first. The idea is that when you take care of yourself, you will, in turn, be able to take better care of others. The same thing applies to your business. Taking care of your internal business needs puts you in a better position to serve your clients, and ultimately grow your organization.
Sorting through legal issues is one of ways you can tune up your business. These issues have a way of falling to the bottom of the to-do list because they can be daunting. That's why CompTIA created a new members-only playbook, Legal Resources for Tech SMBs. Consult this guide when you're ready to give your business a legal checkup.
Not a CompTIA Member? No problem. Join here to gain access to members-only educational content like Legal Resources for Tech SMBs.
Is Your Paperwork Up to Date?

Maintaining proper paperwork isn't the most exciting task, but it's an important one. Whether you're starting a new company or you've been in business for years—proper corporate formation and continuing governance can't be ignored. How your business is structured affects how you pay taxes, how you sell services and where liability resides. These are pretty important factors and they require your careful consideration.
Legal Resources for Tech SMBs will walk you through the organizational documents that solution providers must prepare, as well as documents associated with corporate governance. These files may include annual reports, annual budgets and accurate corporate balance sheets.

Do Your Key Contracts Need Attention?

In most cases, solution providers are working with two types of contracts: master service agreements (MSAs) and employment contracts. While the MSA governs the relationship between your business and your customer, the latter sets parameters for your own employees and contractors. Even if you have these documents established, it's a good idea to review them periodically—and make updates when necessary.
Legal Resources for Tech SMBs not only provides guidance on what should be included in each of these key contracts, but it also offers CompTIA members the opportunity to request a free MSA template from the law firm SmithAmundsen LLC. CompTIA members can access the MSA request form when they log in here.

What Else Should You Consider?

With paperwork and contracts under control, it's time to review other business considerations that can impact the health of your company. We're talking about issues like insurance coverage, backup protections and proactive maintenance—all of these can affect your company from a legal standpoint. Are your policies and plans up to date and is there more you could do to protect your company? The world is constantly changing and proactive planning can be a life jacket in times of distress.
Legal Resources for Tech SMBs lists these business considerations for you. Consider everything from proactive planning to leveraging your team's certification credentials and client testimonials for marketing purposes.

Can You Prove Compliance?

Knowledge is power, but it's only useful if your team is educated about what they need to know to remain in compliance. As regulation continues to be a major factor in the technology industry, staying abreast of current compliance laws and policies is essential. While there's no harm in coordinating these efforts yourself, this is an area where many solution providers rely heavily on their legal counsel.
Legal Resources for Tech SMBs walks you through privacy and data compliance, security testing, third party compliance and CompTIA certifications. The key is making sure your company is paying attention to all of these areas—not just a few of them.

CompTIA's legal playbook isn't a substitute for legal counsel. It's intended to provide you with a starting place to understand how to hire and engage with legal counsel as well as enhance your relationship with your legal staff and further integrate your business objectives into the ongoing operation and maintenance of your company. Just like your annual visit to the doctor isn't a one-stop shop, this resource is meant to spur additional conversations and act as a springboard to ultimate legal self-care for your organization.

Members: Download Legal Resources for Tech SMBs and access a free master service agreement (MSA) template and a free list of CompTIA-reviewed legal providers who specialize in everything from employment and tax to intellectual property and litigation.