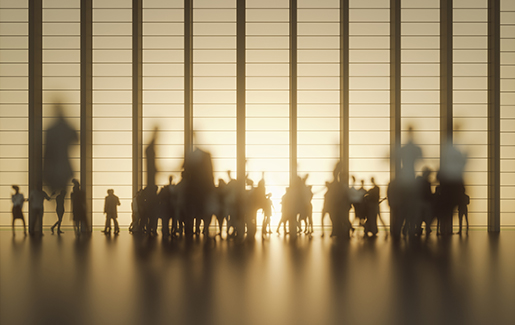 It took nearly 16 months—thanks COVID-19— after launching the CompTIA ISAO to finally meet some of our members in person at IT Nation Secure. But it was worth the wait.
The conference provided a great opportunity to catch up with old friends, new members and hear firsthand about the latest opportunities and challenges facing the IT industry today. With a sharp focus on cybersecurity, IT Nation Secure felt like it had a sense of urgency and importance that may have been magnified by the shared experience of the pandemic we are all hoping is almost over. The new realities we all face after so much time apart has put even more focus on the need to work together for the good of the industry and our collective customers.
To that extent, the CompTIA ISAO hasn't been hibernating. We've continued to build and expand upon a robust platform to share critical threat intelligence and best practices with each other, but most importantly we've onboarded more than 1,200 members and their teams. But after the long wait, it was nice to have a great coming out party in Orlando and keep the conversation moving forward.
It was nice to hear that there is keen interest in the work the CompTIA ISAO is doing to raise the cybersecurity resilience of the global tech industry. MSPs, solution providers, vendors, and other tech companies recognize that only by working together and sharing our experiences and challenges can we hope to gain the upper hand in the fight against bad actors.

Face-to-Face Meetings Amplify the Need to Work Together
ConnectWise, a CompTIA ISAO Industry Partner, delivered superior content at IT Nation Secure. The sessions were well attended and well received, including a session I was privileged to lead titled "How and Why an ISAO Completes Your Security Stack." I talked about how our members use the information we share to improve their service offerings, and how they can optimize and correctly configure tools and technologies in order to provide the best possible defenses for customers.
During the course of the event, I talked with many attendees about the need to "practice what you preach" and secure your own business before protecting others. We also discussed how to monitor these deployments to ensure that you have the earliest possible warning to any potentially malicious activity.
It's important that MSPs and other IT services providers know how to properly monitor logs and alerts and what actions may be necessary based on what you are seeing. The bottom line is that, as an industry, we have to become more proactive than we have been or we will be stuck responding to the whims of the attackers, rather than making their work less impactful on our economy and society as a whole.
The CompTIA ISAO helps by providing threat intelligence; a trusted community to share best practices and ask questions; an opportunity to build connections with peers and thought leaders; industry insights and more. Our members have access to time sensitive details that have real-world impact on their businesses and their customers. Organizations such as the CompTIA ISAO help demystify and clarify an often-daunting topic that can easily overwhelm even the best organization.
Continuing the Dialogue to Stay Cyber Resilient
By working together, we can deliver actionable alerts that help companies that may not have cybersecurity expertise on staff to those that are more highly cyber mature. The response to the CompTIA ISAO at IT Nation Secure exceeded my expectations. The conversations we held were stimulating and thought provoking. We recruited several new members who recognize the value in collaborating with other companies to raise our collective cyber resilience.
Going forward, I look forward to more opportunities to share the exciting work that we are doing at the CompTIA ISAO. Be sure to register for ChannelCon, which will take place virtually on August 3-4. As part of ChannelCon, we plan to host several face-to-face receptions around the country, Aug. 2-4. The CompTIA ISAO will gather at two of those receptions: Scottsdale, Ariz. on Aug. 2 and Tampa, Fla., on Wednesday, Aug. 4. I hope to see you there!