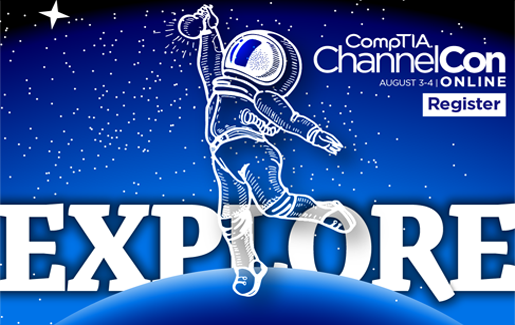 There's a whole world of opportunity waiting for your technology business—are you ready to spread your wings? ChannelCon Online 2021 is your launch pad. With a mix of virtual sessions on the latest developments and hottest trends in technology on August 3 and 4, and in-person networking receptions at locations across the country on August 2, 3 and 4, now is the time to get engaged with everything CompTIA has to offer.
ChannelCon is the top annual event for anyone interested in the business of technology. Business owners, marketing and sales professionals, tech executives and IT pros attend to:
Expand their networks.
Get the most out of their CompTIA membership.
Discover the latest and greatest tech solutions.
Learn important trends in the industry, based on CompTIA research.
This year, the education and information portion of ChannelCon is comprised of four main themes: cybersecurity, workforce development, emerging technology innovation and business building solutions.
There's a lot to discover at ChannelCon Online 2021. Consider this your roadmap to everything the event has to offer.

Watch an out-of-this-world keynote presentation by Theresa Payton.
Theresa Payton, the first woman to serve as White House CIO and one of the nation's most respected authorities on cybersecurity, will examine the anatomy of a cyberattack. You'll learn how an attack can damage a company and its customers and the steps that can be taken right now to stop them. Learn more.
Launch your next move in the Solutions Showcase.

Explore the ChannelCon Online Solutions Showcase and discover the latest and greatest tech products and services as you interact with the experts that know them best. Use the MyChannelCon app to search exhibitor profiles, join company-hosted events, receive special offers and much more. Learn more.
Connect with CompTIA communities in sessions tackling relevant business of tech topics.
Not a community member? No problem. While we're still virtual, all are welcome to attend CompTIA community sessions like: Practical and Profitable Applications for Emerging Technologies, What's Your Cyber IQ? What Every MSP Must Know When Selling Security Solutions and Only 39% of Your Employees Fully Engage at Work – How Do You Get to 100%?

Join CompTIA Council member-experts for discussions about implementing emerging tech solutions.
The CompTIA Councils are leveraging their expertise to bring you insight around emerging technologies with sessions like: What to Consider When Implementing an AI Solution, Tech Together 2.0: Addressing the Needs of the Remote Workforce and Evaluate Your Cloud Readiness.

Learn the latest channel trends to help your business succeed as we debut new research.
Customer experience (CX) has become a top initiative for channel firms as they embrace new types of clients, new communications and technologies and new demands—and the partner experience (PX) is just as important. Tune in as Carolyn April, senior director of industry analysis at CompTIA, expands on key findings from CompTIA's 9th State of the Channel research that demonstrates how crucial top-notch CX and PX is for success. Learn more.

Develop peer relationships when you attend an in-person networking reception.
Craving in-person contact? Attend one of the ChannelCon regional in-person meet-ups. Receptions are planned for August 2 in Naperville, Ill., and Scottsdale, Ariz.; August 3 in Hamilton, N.J., and San Antonio, Texas, and on August 4 in San Diego, and Tampa, Fla. Details on times, locations and registration information will be announced soon.

Spend 1:1 time with an industry genius.
Reserve a timeslot with key industry leaders in our virtual Genius Café to ask questions or take a deep dive into a discussion on sales, marketing, operations, cybersecurity or AI. CompTIA Corporate members can reserve appointments—an amazing member benefit and opportunity to improve your business by getting advice from the experts. Learn more.
Meet the 2021 CompTIA Member of the Year.

The identity of our 2021 Member of the Year is top secret, but you'll want to be there as we announce our honoree and celebrate everything they have contributed to CompTIA and the technology industry as a whole. This is the most prestigious acknowledgement that a CompTIA membership can bestow on one of its own. Learn more.
Grab your copy of the new CompTIA World magazine.

The latest issue of CompTIA World will feature the 2021 Member of the Year and focus on futureproofing the tech industry. Keep an eye out for the digital issue during ChannelCon Online 2021 or grab a printed copy at one of the regional in-person meet-ups. Read the current issue.
Get the t-shirt and support a great cause.
Purchase your very own CompTIA ChannelCon 2021 commemorative t-shirt! All proceeds will be donated to Creating IT Futures. Learn more.
If you're already registered to attend ChannelCon Online 2021, that's fantastic! Download the MyChannelCon app to coordinate your schedule, book time with vendors at the Solutions Showcase and connect with other attendees.
Not registered? What are you waiting for?
Register for free here and stay tuned for more information about our regional in-person meet-ups.