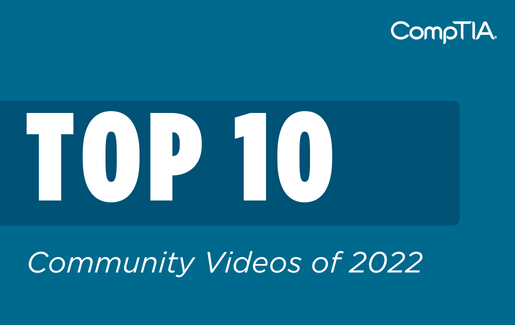 From live streams to business-building sessions at our biggest events to weekly series that covered the tech industry's biggest trends to special episodes that helped showcase vendor, distributor, and solution provider power, along with showing the strength in our worldwide community, the CompTIA Community YouTube channel had something for everyone in 2022—and then some.
CompTIA has produced an abundance of YouTube content this year and we've compiled some of our—and your—favorites here. Here's a look back, with a focus cybersecurity, new tech trends to watch, internet of things and more.
In this Tech Together project, industry experts and thought leaders from CompTIA's
AI
,
Blockchain and Web3
,
SaaS Ecosystem
,
Channel Development
,
Cybersecurity
and
IoT
Advisory councils collaborated to create a story illustrating how their respective technologies integrate together to permanently change the way we work. Watch now to discover how tech has changed the way we work.

In this episode of Tough Talk on Cybersecurity, Wayne Selk, vice president of cybersecurity programs at CompTIA, discusses the importance of two-factor authentication with Patrick Burgess, technical director for Nutbourne Ltd., in the U.K. Discover why two-factor authentication should be applied and the benefits it can bring along with how important it is now in a remote-working world.

With the current economic uncertainty, the research shows that SMBs feel fairly optimistic. Goals for technology have shifted from immediate tactical needs to long-term strategic objectives, and businesses are exploring many new paths for procurement. Technology partners that have traditionally led with products should shift more toward services such as consulting and integration. Join Carolyn April and Seth Robinson as they talk about the current SMB tech trends.

In this episode of From Promise to Profit, we follow Greg Plum, senior vice president of strategic alliances at Markee and chair of the CompTIA Emerging Technology Community, discusses how cybersecurity solutions are leveraging artificial intelligence (AI) technology to help protect customers with Joseph Steinberg, cybersecurity expert and a member of CompTIA's Cybersecurity Advisory Council. Watch this video on how we can beat cybercriminals at their own game.

Carolyn April, senior director of industry analysis at CompTIA and Seth Robinson, vice president of industry research come together to focus on four topics basing around the lost focus on computing power. Watch as they share their insights on technology trends, information technology channel business and timely technology news useful for any CompTIA member, from managed service providers to business technology leaders. Catch up on the latest from the research team at the CompTIA Resources Center.

The current partner experience trend to watch is the shifting dynamic between vendors and their partners. Our very own Carolyn April breaks down key factors partners consider when seeking out new vendor relationships and the challenges vendors face in providing quality partner experiences. Dive deeper into data centered around partner experience (PX), the totality of a partner's engagement with the technology vendors that they are involved with.

This episode of Tough Talk on Cybersecurity, featuring Wayne Selk, vice president of cybersecurity programs at CompTIA, discusses the importance of monitoring the dark web with Drew Sanford, vice president of global security operations at ConnectWise. It's estimated that only about 20% of the content on the internet is indexed and sitting below the surface is the dark web. Watch for more.

As a large community, it is important to support each other around the world. CompTIA's global communities provide professionals working for technology businesses around the world with a connected gathering place and vibrant peer network. With business guidance, education, and resources, CompTIA members in North America, the UK, ANZ, and Benelux regions participate in dynamic industry events and initiatives designed to unlock business potential, solve real-world business problems, and inspire innovation.

Catch Seth Robinson in this episode of Trend Watch as he dives into technology adoption and how businesses across the world are dealing with their skills gaps. He highlights three areas where these gaps exist within most companies: cybersecurity, cloud computing, and integration and emerging technology. With more companies going through digital transformation, companies must address how they will close these gaps. Watch the video to learn more.

Have you ever put something down and forget where it is, within minutes? Just imagine the challenges faced by businesses with thousands of employees, large warehouses, or manufacturing facilities. The major ability to better track inventory and assets presents a big opportunity for MSPs and solution providers to help customers improve their operations. In this episode of From Promise to Profit, Khali Henderson, senior partner at BuzzTheory and vice chair of the CompTIA Emerging Technology Community, discusses the benefits and strategies for implementing inventory and asset-tracking solutions with internet of things (IoT) technology with Jonathan Weiss, Principal Specialist, AWS for Industrial and member of CompTIA's IoT Advisory Council.

Don't miss another CompTIA Community YouTube Video.