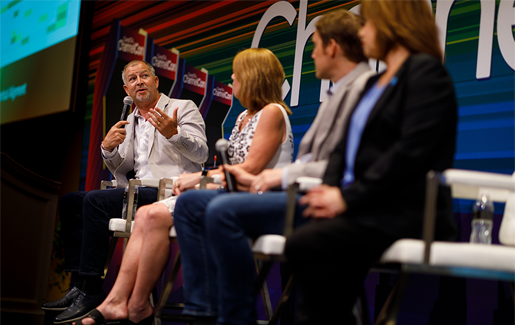 The lifeblood of technology businesses today revolves around two factors: generating an ever-increasing stream of recurring revenue and landing new clients to strengthen that cash flow equation. When properly designed and effectively supported, vertical market specializations increase the chances for IT services companies to succeed in both areas.
What's the best way for tech firms to maximize their growth potential through expansion? "There is a real opportunity for MSPs to plug in more advanced services and be a resource to their clients," emphasized Marc Haskelson, president/CEO, Compliancy Group, LLC, a member of the CompTIA Business Applications Advisory Council panel at ChannelCon 2019. During this interactive session, the group shared valuable industry insight and best practices and introduced some of the latest collaborative resources that can assist providers in their new market penetration efforts.
The cloud is a common topic in any IT specialization discussion, and it plays a prominent role in channel specialization, too. "Companies have to easily migrate applications, from old to new, from on-premise to cloud, and the services and consulting opportunities for providers are huge," said Wendy Petty, senior vice president, field sales and services, for erwin, Inc. She suggested IT services firms capitalize on their own strengths and listen closely to customers and prospects before pitching solutions outside their comfort zone.
Demand for expertise in digital transformation is rising at an exponential rate, creating a variety of implementation, support and consulting prospects for channel professionals with the proper skills sets. "Many businesses have absolutely no clue about the cloud," said Angus Robertson, chief marketing officer for Axcient. "They depend on MSPs and SaaS vendors to make the transformation, which means there are potential opportunities for all involved."
Vertical-specific applications help providers fill in some of the gaps. It's nearly impossible to be proficient and knowledgeable in every industry, so IT services professionals can implement specialized solutions to help overcome their inexperience and speed up their client onboarding processes. Partnering with peers, vendors, distributors and other industry experts can lower the adoption curve too. "Leverage your unique capabilities, stay in your lane and become the expert," added Petty. That's where many providers get in trouble, attempting to take on clients in new markets or with compliance or technical requirements that push or exceed their skill or bandwidth limits.
Focus on Solutions, Not Technology
Some providers spend too much time focused on upgrading networks and applications and forget their real purpose of their businesses. "Your clients want to write you a check to make their problems go away," said Haskelson. "There are a lot of vertical options, but while your mind may be on the tech side of the equation, your client may be thinking about peace of mind." For example, lawyers bill on an hourly basis and may be struggling to accurately track the time they spend performing activities for each client.
Each IT services company must also look at its internal strengths when evaluating vertical market opportunities. "What's your intellectual property, domain experience, support capabilities, and application development capabilities?" said Nellie Scott, global channel development manager for the SAS Institute Inc. Before reaching out to partners, providers should undertake a gap analysis to determine what holes exist in their portfolios and proficiencies compared to the needs of each vertical and specific client.
One of the end goals for every IT services company should be to understand all the potential business issues for its customers, from creating competitive advantages to meeting specific compliance needs—and then develop end-to-end solutions that address each pain point. "That's where MSPs have an opportunity to plug in more advanced services and be a resource for their clients," added Haskelson. After building or procuring baseline solutions, providers can drive additional margin with customization and support options.
Change Agents Needed
Vertical expertise requires more than technical know-how and support capabilities. Organizations need IT professionals who can help develop platforms that deliver greater operational efficiencies, provide new revenue streams, and attract adequately target audiences.
"It's not just digital transformations they're after today, but disruptors that transform their businesses," said Scott. Research solution options and focus on the opportunities that align with your current client base, then double down on innovation.
Regulated markets are a great place to start. Rules and guidelines prescribe the processes and technologies those organizations have to implement, and most small businesses need help implementing and managing those pieces. "Office 365 is the perfect example," suggested Robertson. "The attach rates are low, but MSPs can increase margins with complementary applications and software as part of their value proposition."
The challenge is identifying the needs of each industry. What do those organizations want to improve or need to address various business and compliance issues? IT services firms must provide a compelling reason for prospects in each new vertical to spend their money if they wish to succeed. The solution is in their value-add.