While the water crisis is global—844 million people globally lack access to clean water—Africa's resources are significantly limited. This places a burden on farmers to conserve and manage water more effectively and efficiently on the continent than elsewhere in the world. Using emerging technologies, such as IoT, business intelligence and automation, farmers can change their communities for the better by producing healthier crops and ensuring there's plenty of water to drink.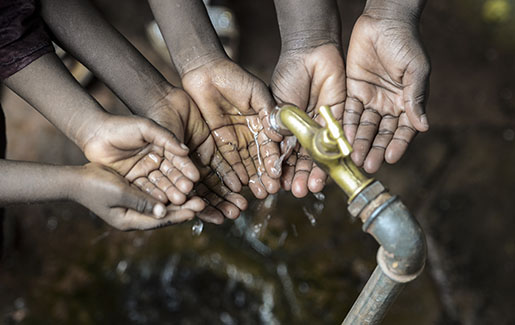 "Water is a scarce commodity in Africa, and hence, critical to manage with care and responsibility," said Deon du Preez, executive, intelligent enterprise go-to-market, at Britehouse, a division of Dimension Data, an IT services company based in Johannesburg, South Africa.
By 2030, 75 million to 250 million people in Africa will be living in high-water stress areas where water resources are limited, according to estimates. Of the 800 million people living on the continent today, 300 million reside in water-stressed environments.
Opening Doors, Improving Lives
Britehouse became involved in the mission to help with delivering clean, accessible and safe water to people living in sub-Saharan Africa after an existing customer reached out about the opportunity. In addition to seeing how Britehouse's technology could make a positive impact, it also furthered the company's strategic goals.
"It was an opportune solution to build out for Britehouse, and therefore, take us on a new journey," du Preez said. "The new strategic journey is to become a more application-led business, steering away from traditional projects-based business. Having an IoT opportunity with a good customer to build out applications was a very timely event—where we could be brave and bold—and take great strides in venturing into our new strategy."
The project presented several challenges to Britehouse, including communication barriers and change management obstacles; however, the company overcame these difficulties by approaching the project differently; instead of leading with technology, the company put the desired results first.
"For too long, we've had a situation of technology first, and then we kind of hoped for good return," du Preez said. "Doing it business first, in other words, having a clear understanding of what business, or social problem, you are trying to solve, and the using technology as the enabler to the business problem is the key."
To educate its team on agriculture—since it's a new industry for Dimension Data as a whole—Britehouse had to seek assistance from leaders outside of the technology field.
"We had to partner with agriculture domain experts who enriched our IT-based world with the key challenges in agriculture," he said. "We are still learning, but it is very exciting to be part of this vertical now."
A Brighter Future
Britehouse's teams have already learned a lot, including a "very clear understanding of the problem statements and the vast opportunity in agriculture—especially in Africa," he said.
Britehouse's bulk water management solution, which was built from the ground up, is comprised of three SAP solutions. "It also has components of edge computing, data management and sensor management," Du Preez said. "The original solution took about three months to build, but it was preceded with about four months of prework." The company has plans to add more bulk water management and harvest vehicle scheduling capabilities to the overall solution.
"Having the data visibility and predictive analytics on water consumption, rain prediction and an enclosed application, provides huge value and insight—not necessarily available in years gone by," Du Preez said.
While agriculture is a new vertical for Dimension Data, using technological advances to improve productivity, increase profitability and drive growth, has been a top priority for agricultural companies for a long time. "One should not underestimate the farmers and agriculture community to be late adaptors to technology," Du Preez said. "They've been doing it for years."
"The results in water management has been good with better visibility, but we are now really in a position to scale much more," he said. "Water is a strategic component of sugar crop farming, and equally the responsible use thereof will provide for way more visibility and management of the resource as we now scale and build in more water management functions and visibility, especially where it impacts people."

C.J. Arlotta is the managing member of CJ Media Solutions, LLC
To learn more about how CompTIA members and partners are using tech for good, read the latest issue of CompTIA World magazine.