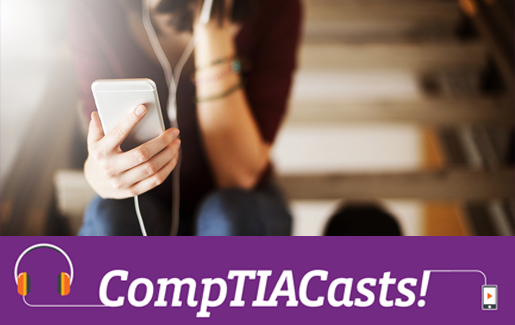 As the coronavirus pandemic continues to disrupt lives and communities across the globe, tech companies and professionals are figuring out a new normal, as best we can. Listen to honest conversations about best practices for security, how to quickly and effectively move into a remote work environment safely and securely, and what options exist for professional development and education in tech. Take a look at what we overheard on CompTIACasts in March then check out all of our podcasts.
Secure Data, Protect Clients and Avoid Phishing in a Pandemic
With the unprecedented measures taken in response to the global pandemic, various IT sectors are already seeing issues in cybersecurity and data protection—from companies scrambling to get remote work up and functioning safely to data breaches and business email compromises. On the Layers with the IT Security Community podcast, Philip Burnett and Charles Hughes of Hire Wire Networks talk about what IT companies and individuals can do to mitigate potential blind spots in uncertain times.
"As with any disaster recovery, you first have to find out what is essential to your business that you have to protect. There's a lot of control mechanisms, protection, monitoring, alerting. You also need to make sure people can do their jobs comfortably and securely. Remote access is a huge issue. Looking at VPN and secure access are vital."
Phil Burnett, CISO, High Wire Networks
New Grad or Career Changer: Ideas for All Technologists
The IT job market is always a hot topic, especially with college graduation season around the corner. The Technologist Talk podcast spent March doing a deep dive into three pervasive topics for today's technologist—both those beginning their careers or in the middle of it. In Episode 23, CompTIA's Amy Kardel, vice president of strategic workforce relationships, and Angel Pineiro, vice president of strategic academic relationships, discuss the way the IT industry communicates with the next generation of technologists—and the people teaching them.
"There's such work to be done making sure education and industry are talking to each other; there's an unnecessary gap between the two worlds. So we talk about what quality certifications the industry is looking for because they want to produce students who are ready to go into the workforce, and who knows that better than the people who are close to the industry? We need to be at those tables and share that information and talk to the quality of standards that we see."
Amy Kardel, Vice President, Strategic Workforce Relationships, CompTIA
In Episode 24, Mark Plunkett and Jason Mangold of CompTIA consider another branch of the IT job landscape. Listen in as they explain why organizations investing in IT receive the highest ROIs for their businesses, and most importantly, the workers in their local communities.
"If we're going to build the pipeline as we need to and shorten the skills gap, we need to break down the perceived barriers to a career in tech. A lot of that goes back to the flexible approach and creating opportunities for individuals to learn, of going against the norm to try new things and putting different methods out there."
Mark Plunkett, Senior Director, Custom Training Solutions, CompTIA
According to the National Science Foundation, in just two years, there will be more than three million unfilled skilled technical jobs. Episode 25 of Technologist Talk interviews award-winning author and social innovator Charles Eaton about the new CompTIA Tech Career Academy and how it is designed to grow tomorrow's tech workforce by helping more adults land IT jobs today.
"Right now we're just not seeing a lot of that form factor out in the market. Either very long courses or test prep, which is great, but for a number of people—especially for career changers—they need something more robust that focuses not only on the technical skills but also the soft skills and the business acumen."
Charles Eaton, Executive Vice President, Social Innovation, CompTIA and CEO, Creating IT Futures
The Latest on Managed Services Trends and Thoughts on Working from Home
Volley hosts and CompTIA research analysts Carolyn April and Seth Robinson take a look at CompTIA's new report about the latest trends in managed services. They touch on the evolution of the complexity of the managed services space, especially in the two more popular facets: IoT and security.
"Where I think MSPs will really benefit is if they can up their game in the data collection and analytics area. All of these sensors involved in IoT are collecting reams of data and if you, as a third-party, know how to analyze that data, and then be proactive and prescriptive with your clients, that is high end service, and these higher level services can bring you bigger profit margins."
Carolyn April, Senior Director, Industry Analysis, CompTIA
Later in the month, Carolyn and Seth tackle a topic on everyone's mind: remote work. So many people and companies have had to pivot immediately to a remote environment and try to maintain some normalcy in a very not-normal time. Carolyn and Seth share their own experiences while addressing common or unexpected tech topics related to the current work conditions. They also cover different remote work set-ups and tips for how to find pockets of productivity.
"I started off thinking I could throw open the laptop wherever. But over the long term, it helps me to have a space set up that I feel like I'm entering a workspace. It took me a little while to figure out how important it was to set something up to feel that I was working rather than limping along."
Seth Robinson, Senior Director, Technology Analysis, CompTIA